Are you itching to make a change in your living room?
Even if it's on the smaller side, you can still have fun playing with space.
Decorating a smaller space can be a positive experience!
It pushes you to think of unique ways to develop a charming room that'll garner plenty of attention. Plus, it's so much fun coming up with a new design!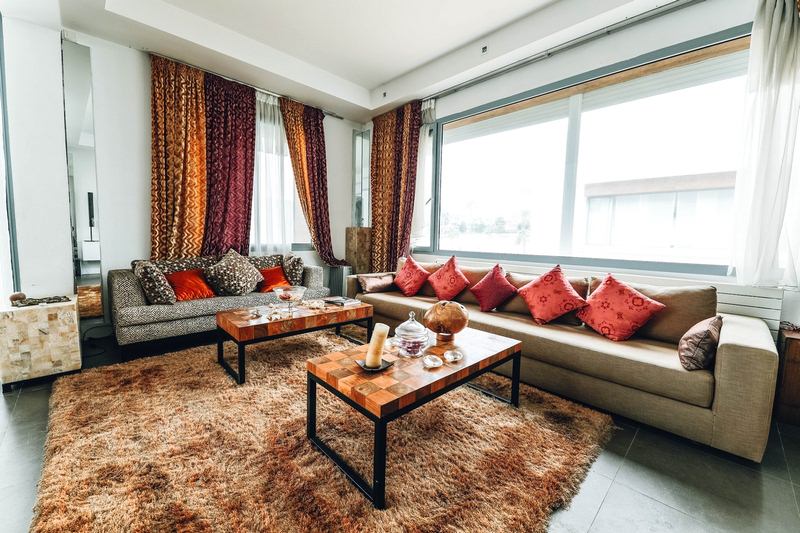 If you're curious about how to do this fun decorating project, you've come to the right place!
We have five ways you can start redesigning your small living room starting today.
These ideas should inspire you to come up with new concepts on how to improve your living room.
We also provide some secrets on how to make a small room appear larger!
---
Read Also:
---
Pair Fun Patterns and Colors Together
To visually enhance the square footage in a small living space, keep the eyes in motion. Trick your eyes into believing your living room is larger than it is!
It's actually quite clever if you think about it.
To keep the eyes busy (but not too busy), be bold in your living room. An easy way to jazz the space up is by going with bold colors and various patterns.
Don't go so crazy that the room becomes obnoxious. However, by pairing fun patterns and colors together, you can create a mesmerizing interior.
Guests will be in awe over your uniquely decorated space!
Select a Large Rug
We have another trick for you to try to make the living room appear larger.
Ready?
Select a large rug — maybe in a fun, bold pattern — that will make a statement.
Adding a larger rug does a wonderful job of making the room look bigger. It also gives you an excellent staple piece.
You'll want to stay away from adding smaller rugs; otherwise, the layout in the room will look off-kilter.
Smaller rugs visually break up the floor, highlighting how small the room is.
If you haven't already put together the rest of your living room, allow the large rug to be a starting point for the rest of your decor.
Use Windows to Your Advantage
Many times rooms feel small because their ceilings are low.
One easy way to make a place feel bigger is by emphasizing the vertical areas.
If the first thought that came to mind was vertical windows, then you're onto something! Some apartments have floor-to-ceiling windows. Emphasize these types of windows, and you can make the room appear bigger than it is.
Here's how to make a living room look larger using windows:
If there isn't one already, place a rod above your floor-to-ceiling windows. After the rod is in place, install drapes with a vertical pattern such as stripes.
Vertical window treatments look fantastic, and they highlight the length of the windows.
Another way to use windows to your advantage is by placing a mirror opposite a window. The idea is to bring the outdoors in and create the illusion of a bigger space.
Positioning a mirror opposite a window will also bounce natural light around your living room. Once again, this results in an illusion of space. Pretty cool, right?
Get Creative with Seating
As you decorate your living room, stay away from cramming in too much furniture.
Instead, select furniture that is proportional to the size of the room.
You may only have enough space to include a single sofa. To top things off — a love seat may only fit.
If you plan to have a lot of guests over, having only one sofa presents a problem.
Luckily you can have some comfy furniture on standby.
Find some comfy poufs that everyone will love sitting on in your living room. Poufs are an easy way to make use of the space without using bulky chairs. Plus, they're easy to maneuver in the room and tuck under a table.
Storage cubes are another seating option that also conveniently fits under a table.
If the table is by the sofa, this is an easy way to put a few blankets and living room accessories in the "hidden" cubes. You can also "secretly" stash some sweaters, socks, or whatever you'd like.
If the cubes are sturdy enough, you can use them as seating options, as well!
Decorate Vertically
When you don't have enough space, sometimes you may have to take things in a vertical direction.
Now, if you can't use nails in the walls, use elements such as a leaning ladder or a narrow, vertical bookshelf.
As long as you don't make the room look overly cluttered, you should be able to fit one or more vertical bookshelves.
And, if you want to hang some comfy blankets and use the storage cubes for something else, that might work too.
If using nails is an option, you can hang baskets on the wall.
It's nice knowing that even if you have a small living room, you can take advantage of every square inch.
Decorating in a small space gives you the chance to be innovative in ways you didn't think were possible. It's exciting to think outside the box and use unique ways of decorating.
A living room is the hub of your apartment, and you should treat it that way.
Choose the furniture and decor you want in the living room with care. You'll have no problem putting everything together.
It's all about being clever and making the most of a smaller space!
---
Author Bio:
Janine Palatucci has recently joined Alliance Residential as a Business Manager for 360 Huguenot. She is an experienced manager with a demonstrated history working in multifamily and hotel hospitality. Janine has industry experience in New York City, Westchester County, and South East Florida Markets. She is passionate about her work and consistent in providing a welcoming environment for her team, residents, and community.
---