Looking for an interesting and fun JB theme park trip in Malaysia for a weekend getaway or a day trip? Look no further than Johor Bahru. located just a short distance away from Singapore, where you'll find an array of exciting international theme parks.
Johor Bahru offers a wide range of fantastic selection of theme parks that guarantee a fun-filled experience. So, I will share with you the top 5 Johor theme parks!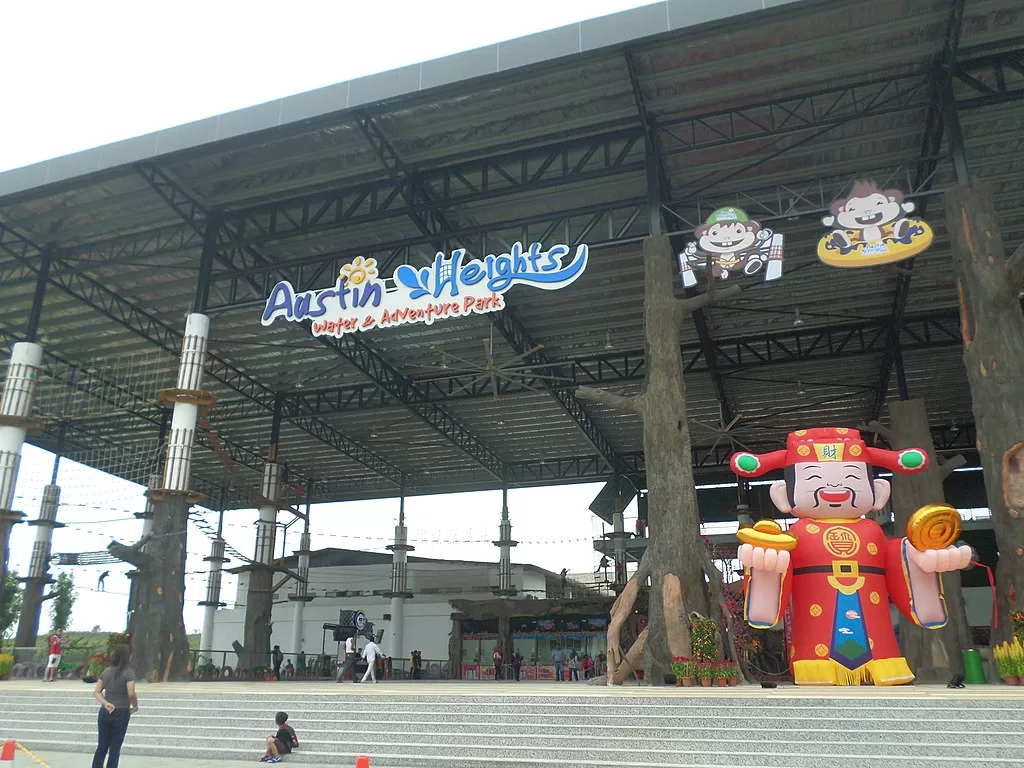 1. Austin Heights Water & Adventure Park
Austin Heights Water & Adventure Park is a thrilling destination that encompasses an adventure park, water park, and sports & leisure park. The adventure park has exciting challenges that are better for adults. Also, the water park and sports & leisure park have lots of fun things for kids to enjoy.
Get ready for the adventure as you zoom down exciting water slides. Including, Supersurf, Yellow Wall, G-Force Alley, Uphill Battle, and Racer Bowl. Feel the thrill of freefall before splashing into the cool pool below. It's an adrenaline rush undoubtedly worth a visit!
Have a blast racing around the track in go-karts, or experience the sensation of flying at Jump Street. Jump and bounce on different courts, dive into a big Foam Pit, and land safely on an Air Bag. It's all about having fun and defying gravity! If you've ever dreamt of perfecting your slam dunk, this might just be the place to showcase your skills.
2. LEGOLAND Malaysia
LEGOLAND Malaysia has established itself as a beloved tourist destination, captivating visitors of all ages. Its wide range of attractions and activities caters to both the young and the young at heart.
There are over 70 rides, slides, and attractions to enjoy, spread across 7 different themed zones. Such as Lego World, Miniland, Imagination, Lego Technic, Lego Kingdoms, Land of Adventure, and Lego City. Each park in this incredible destination has its own unique specialties and a wide range of exciting attractions to offer
For an even more immersive adventure, consider booking a stay in one of the themed rooms at LEGOLAND Hotel. By doing so, you can truly dive into the world of LEGO. Don't forget to consult our Family's Guide to Legoland for additional ideas on how to make the most of your visit!
3. Adventure Waterpark Desaru Coast
Adventure Waterpark Desaru Coast offers a thrilling experience for both young ones and adrenaline junkies. It is a water theme park at Bandar Penawar Johor. With a blend of kid-friendly play features and thrilling rides, there's something for everyone.
Immerse yourself in the ambiance of a traditional Malaysian fishing village as you explore the water park's five themed zones. If you crave excitement, brace yourself for the heart-pounding Super Twister and Wild Whirl rides. There is a ride that you'll plummet down steep entrances on a raft. If relaxation is your goal, head over to the tranquil Penawar River, a 350-meter-long lazy river perfect for leisurely floating.
The Kids Ahoy zone caters specifically to toddlers, providing three play areas designed with their age in mind. This special area is full of exciting water play equipment and a total of 13 different water slides. It's guaranteed to provide endless entertainment for the little ones. They'll have a blast splashing around and sliding down the water slides all day long!
4. X Park Sunway Iskandar
X Park Sunway Iskandar is the perfect place for people who love excitement and adventure. It's a thrilling destination that offers a wide range of motorized and non-motorized sports. Whether you prefer indoor or outdoor activities, this dedicated park has something for everyone. Get ready for heart-racing action and satisfy your adventurous spirit at X Park Sunway Iskandar!
Whether you're into archery, ATV rides, flying fox, go-karting, rollerblading, wall climbing, kayaking, or paddleboarding, X Park has it all. Get your pulse racing as you engage in these thrilling pursuits, surrounded by the scenic beauty of the park. With an array of activities available, there's something to cater to every thrill-seeker's taste.
In addition, they are spacious with a lot of seats. They also provide food and drink for guests after playing go-kart when they are hungry. The theme of the store design is modern and grand, which is a great photography spot for guests.
5. Fanpekka
Fanpekka is a charming "town" that has been enchantingly brought to life by Santa's mischievous little fairy helper, Tonttu. This indoor theme park is a whimsical wonderland where young children can immerse themselves in various forms of play and imagination.
At Fanpekka, children can unleash their creativity and let their imaginations soar in a world filled with magical experiences. The themed play areas are a special place where kids can pretend to be different characters and use their imagination. It's a wonderful opportunity for them to play and have fun while also developing their social and thinking skills. These play areas help children grow and learn in an enjoyable and creative way.
Fanpekka is more than just an indoor theme park—it's a magical realm where children's dreams come to life. Fanpekka is a place where young adventurers can have a truly amazing time! It's filled with imaginative play areas, fun activities, and an exciting ball pit.
Get ready for endless joy and enchantment as you create good memories at Fanpekka. It's a magical place where the fun never ends!
If you're seeking a theme park adventure, I highly recommend opting for the Singapore Johor taxi service with SGMYTRIPS! It is a trusted taxi service between Singapore and Malaysia and provides dependable and easy transportation. Also, their welcoming and expert drivers will pick you up from your chosen location.
SG MY Taxi by SGMYTRIPS is your go-to solution for all your transportation needs. Including traveling from Singapore to any destination in Malaysia. Their expert taxi drivers are well-versed in complying with traffic laws throughout the country, guaranteeing a safe and smooth ride. They're experts in finding the fastest paths, making sure you arrive at your destination promptly.