"I'll do it tomorrow," said everyone everywhere at some point in their lives. It's the most common phrase uttered when it comes to putting off doing something that we don't want to do. And more often than not, that something is cleaning our bedroom.
For most of us, the bedroom is a sanctuary. It's a place to relax, unwind and escape from the outside world. So why is it that so many of us are happy to live in a state of squalor? Fresh laundry waiting to be folded. Clothes lying everywhere. Unmade bed.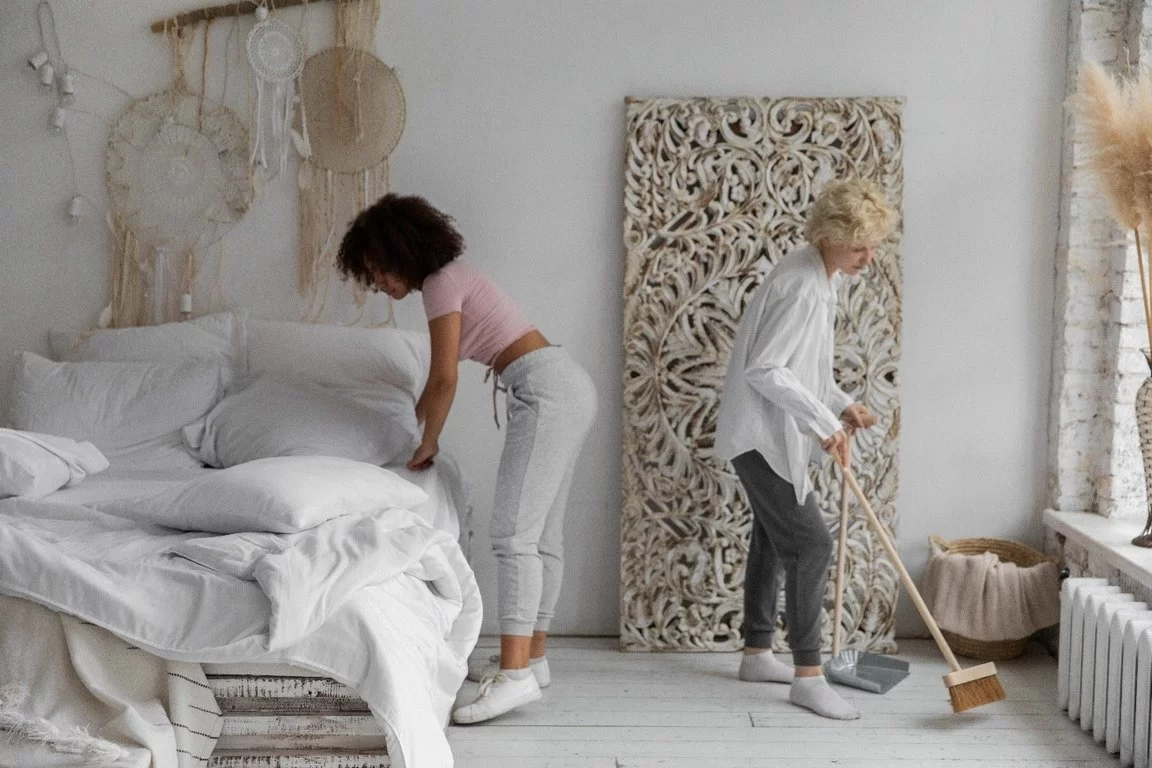 It's not exactly the haven we dreamt of when we fancied a relaxing night.
Having a clean and tidy bedroom can positively impact our lives. So, if you're ready for cleaning motivation, head straight for that mop.
An Amazing Night's Sleep
Every time you toss and turn in bed, struggling to get peaceful shuteye, you blame your workload, your stressful day, or that dinner you ate right before bed.
But have you ever stopped to think that maybe, just maybe, it's your messy bedroom that's keeping you up all night? Or worse, you have bed bugs!
A cluttered, noisy, and dirty environment is not conducive to a good night's sleep. It is distracting and secretly triggers anxiety. So, if you wish to keep your eyebags at bay, make sure your bedroom is clean and tidy.
And if there are any creepy critters, Ecoforce bedbug services should be on your dial. They are experts at bed bug removal, termite treatment, and cockroach extermination.
Adding an essential diffuser and some lavender oil can also incorporate a spa-like ambiance in your room. It'll do wonders for your sleep.
---
Read Also:
---
A Boost in Your Productivity Levels
We all recognize the feeling of waking up to a messy room. The feeling of being overwhelmed by the mess can leave you feeling stressed and unmotivated. It's like the universe is conspiring against you to have a bad day.
The good news is you only need some sweeping and dusting to change that. It'll help you by detangling your thoughts and giving you a sense of control. Once your bedroom is clean and tidy, you'll be able to think more clearly and be more productive.
You can also place some chests of drawers and shelves to organize your things and have a designated place for everything. It will help you keep your room clean and tidy and make it easier to find things when needed.
Goodbye Allergies
If you're constantly sneezing and sniffling, it might be time to take a closer look at your bedroom. Dust mites can cause allergies like asthma, rhinitis, and eczema. But they don't stand a chance when you have a sparkly clean room. So, get rid of the dust bunnies under your bed and say hello to a sneeze-free life.
You can also invest in an air purifier to filter out dust, pollen, and other allergens from the air. And if you want to reduce the number of times you have to dust, consider using hardwood floors instead of carpets.
Of course, keeping your shoes out of your bedroom and washing your bedding works too.
Improve Your Connection with Your Boo
We tend to project our stress and mental state onto our partners. So, if you're feeling stressed about your messy bedroom, chances are, it's impacting your relationship too.
A survey conducted by Marie Claire UK found that women who described their bedroom as 'cluttered' or 'messy' were more likely to report that they're unhappy with their sex life. On the other hand, women with 'clean and organized' bedrooms were more likely to be pleased with their sex life.
The takeaway? A messy room can make you feel stressed, affecting your libido. So, if you want to spice up your intimacy with your partner, a clean room should be at the top of your list. You can also place some candles, spritz perfume, and put on soft music to set the mood.
You'll Be in Good Mood Throughout
Little acts of self-care, like making your bed in the morning and keeping your room tidy, can significantly impact your overall mood.
Starting your day with a sense of accomplishment sets the tone for the rest of the day. As a result, you'll feel more motivated and be in a better mood to take on whatever comes your way.
And at the end of a long day, you'll be happy to come home to a clean and tidy room. You can also take some time to pamper yourself with a hot bath or a face mask. It'll help you relax and unwind after a long day.
You're Working Out Without Realizing It
Cleaning your room is a great way to get some exercise. You might not think of it as working out, but it does require some physical activity.
Every time you squat to get something from under your bed or reach up to dust the ceiling, you're working your muscles. And if you do it for long enough, you might even start to break a sweat.
We all know how good exercise is for our health. It helps improve our mood, reduce stress, and boost our energy levels.
It'll Help You Declutter
Are you running out of space in your closet? Are new shopping bags sitting on your ottoman because you don't have anywhere else to put them? If your answer is yes, it's time for a serious decluttering session.
Some homeowners dedicate weekends to getting rid of the old. But why spend an entire day covered in dust and belongings when you can declutter little by little every day? When you keep your room clean, it's easier to spot the things you don't need anymore. So, you can donate or sell them and declutter your space in the process.
Final Thoughts
Cleaning is therapeutic. It can help you relax and de-stress. And when you get immediate results, the heightened sense of accomplishment can do wonders for your confidence.
Maybe you can finally invite your friends for a party or game night. Regardless of the reason, we can all benefit from a clean room. So, stop putting it off and get to cleaning!