Not all types of glass cookware are designed to be oven-safe.
While most glasses can withstand high temperatures, there are limits as to the temperatures glasses can handle. One leading cause of glass shattering in an oven is due to temperature shock, where the glass is subjected to a sudden and drastic change in temperature, causing uneven expansion and breakage.
Generally, you can avoid temperature shock by gradually transitioning the temperature of the glass from room temperature to a moderate-temperature preheated oven.
However, there are times that you need to have your cooking and baking done under a limited time, and gradually increasing the temperature is no longer practical. For these instances, you need glass cookware that is specifically designed for oven use.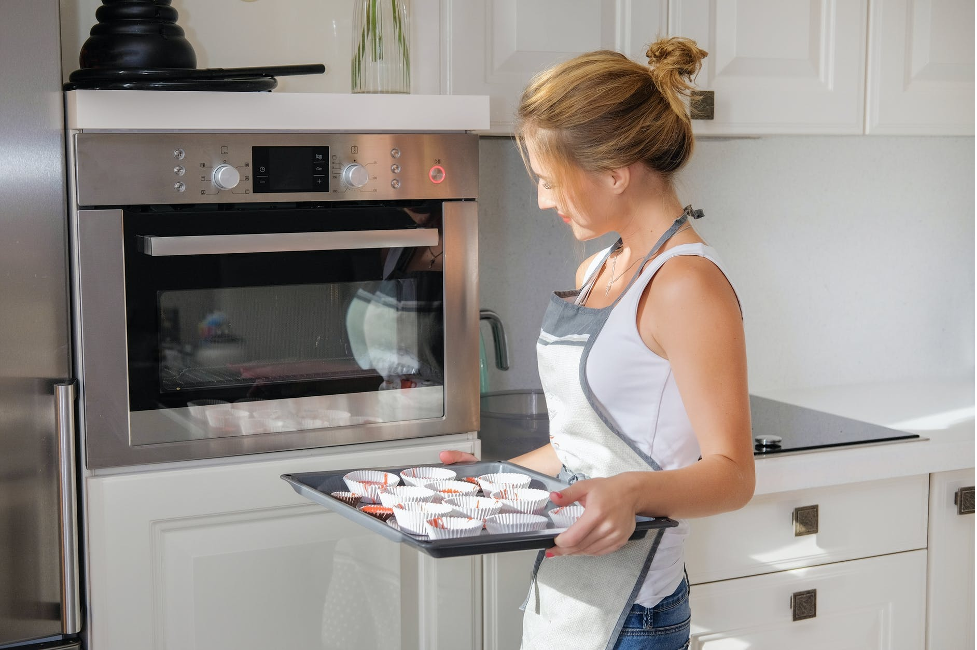 To ensure safety while cooking, we will share here some tips to know if your glass cookware is oven-safe.
Check if it is Pyrex Glass
Pyrex glass is a revolutionary invention that changed the kitchen and cooking scene of many households. It was introduced in the market in the early 1900s as a line of clear and low-thermal-expansion glass products for laboratories and kitchens.
As mentioned earlier, the shock from sudden thermal expansion of glass causes it to break or shatter. One can safely place glass in the oven if it is pyrex glass. It is a kind of soda-lime glass with a low thermal expansion, making it an ideal container for cooking, baking, cooling, and freezing food.
Pyrex glass is also used in laboratories because it can safely contain most chemicals and corrosive substances and can be a vessel for chemical reactions. Pyrex glass can withstand heat reaching 350 to 450 degrees Fahrenheit (177 to 230 degrees Celsius), making it safe to use in baking where moderate to hot temperatures are required.
Check if it is Borosilicate Glass
One should note that pyrex is not the only type of glass that is safe to use in ovens. It is a type of glass made of boron trioxide and silica, with the former giving the glass a very low coefficient of thermal expansion.
It means that borosilicate glass will not crack, break, or shatter when subjected to extreme temperature changes. Borosilicate glass was invented 22 years earlier than the first production of pyrex glass.
Pyrex glass manufacturer, Corning Consumer Products Company, made its first cookware and bakeware product lines from borosilicate glasses. Company operation changes shifted to using soda-lime glass for cookware and bakeware that we now use.
There are several notable brands of borosilicate glass cookware and bakeware, such as Anchor Hocking, OXO, and CorningWare.
If you are buying glass kitchen products for cooking or baking, read the labels carefully and check if the product is from the aforementioned brands or if the product is made of borosilicate glass.
How is borosilicate glass different from soda-lime glass? While both types of glass have low coefficients of thermal expansion, borosilicate glass can handle higher temperature ranges.
It can easily handle moderate to hot oven temperatures of 177 to 230°C (350 to 450°F) and can tolerate up to 400°C (752°F) for a few minutes.
It also has a higher thermal shock resistance, meaning you can immediately wash your borosilicate glassware after cooking or baking, or you can even cook or reheat frozen food in the oven without worrying that the glass will crack or break.
Check if it is a Tempered Glass Cookware
Another type of glass you can rely on for safe oven use is tempered glass. It is up to five times more durable than regular glass because it has undergone tempering, which toughens the glass after the process.
Tempered glass can be tempered by a thermal or chemical process, with the former being used for food-grade containers and glassware. Tempered soda-lime glass is the most common type of tempered glass used for cookware and bakeware.
It makes tempered glass have high thermal shock resistance and low coefficient of thermal expansion, which are essential qualities of oven-safe glasses.
An added advantage of tempered glass cookware is its enhanced durability, making it able to withstand breakage from being dropped. It, of course, depends on the size and weight of the glassware. However, drinking glasses made of tempered glass have a 65 to 70 percent lower chance of breaking than regular drinking glasses.
It means that a tempered drinking glass will not break until the third or even fourth time you drop it, whereas a regular drinking glass would immediately break on the first drop.
Another safety feature of tempered glass is that it breaks into small, rounded chunks instead of sharp, jagged pieces, reducing the risk of injury, and making its disposal safer.
Make Sure There are no Metallic Components
This oven-safe feature is essential for baking and cooking using conventional and microwave ovens. Metal has a high coefficient of thermal expansion, as opposed to glass cookware or bakeware.
It means that if your glassware has metallic components, it is more susceptible o cracking or breaking due to the differences in thermal expansion of glass and metal.
Also, the cooldown rates of glass and metal differ, with the former having a slow cooldown and the latter having a fast cooldown. It is another factor that can contribute to breaking due to thermal shock.
Metallic painted edges and trims are also not advisable for microwave oven use. Microwave ovens work by having microwaves bounce back and forth in their interior metal walls.
The food's water component then absorbs the microwaves and makes the molecules oscillate back and forth, generating heat and cooking the food from the inside out, the outside in, or uniformly, depending on the location of the water.
How is metal bad for microwave ovens, you ask? Metal deflects microwaves and disturbs the oscillation of these waves, affecting not only how your food is cooked, but also damaging the interior and circuitry of the oven.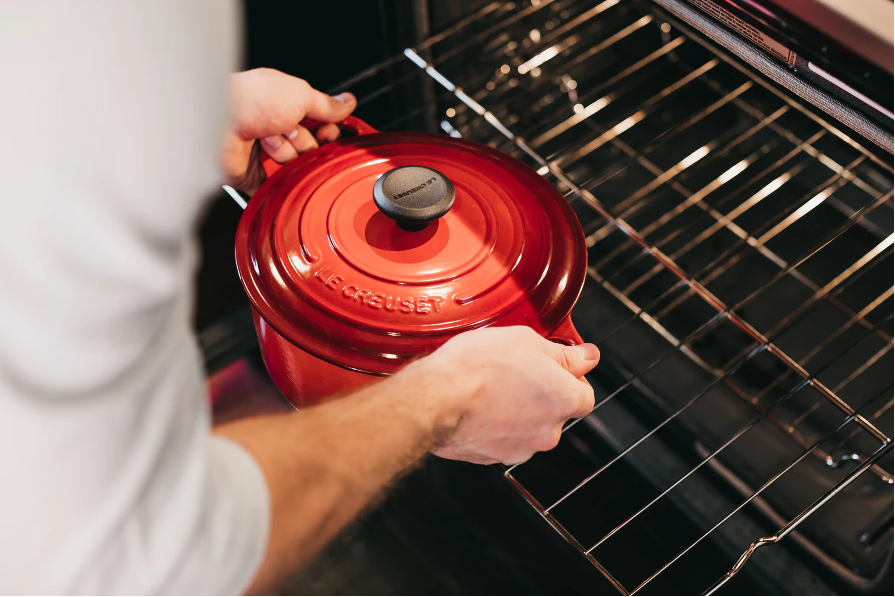 When we think about glass cookware or bakeware being oven-safe, it just doesn't concern the glass being able to withstand high temperatures.
It also includes the compatibility of the glassware with the oven, meaning the glassware should also not impede or disrupt the operation of the oven.
Knowing these details can help you decide which type of glass to use for cooking and baking and put your mind at ease.