If you have a patio on your home that you only use occasionally because the weather often keeps you indoors, investing in enclosing that space may be worth the money for you.
By taking an existing patio and enclosing it, you can reduce your costs compared to adding an addition to your home, and you can repurpose a space that you aren't making good use of.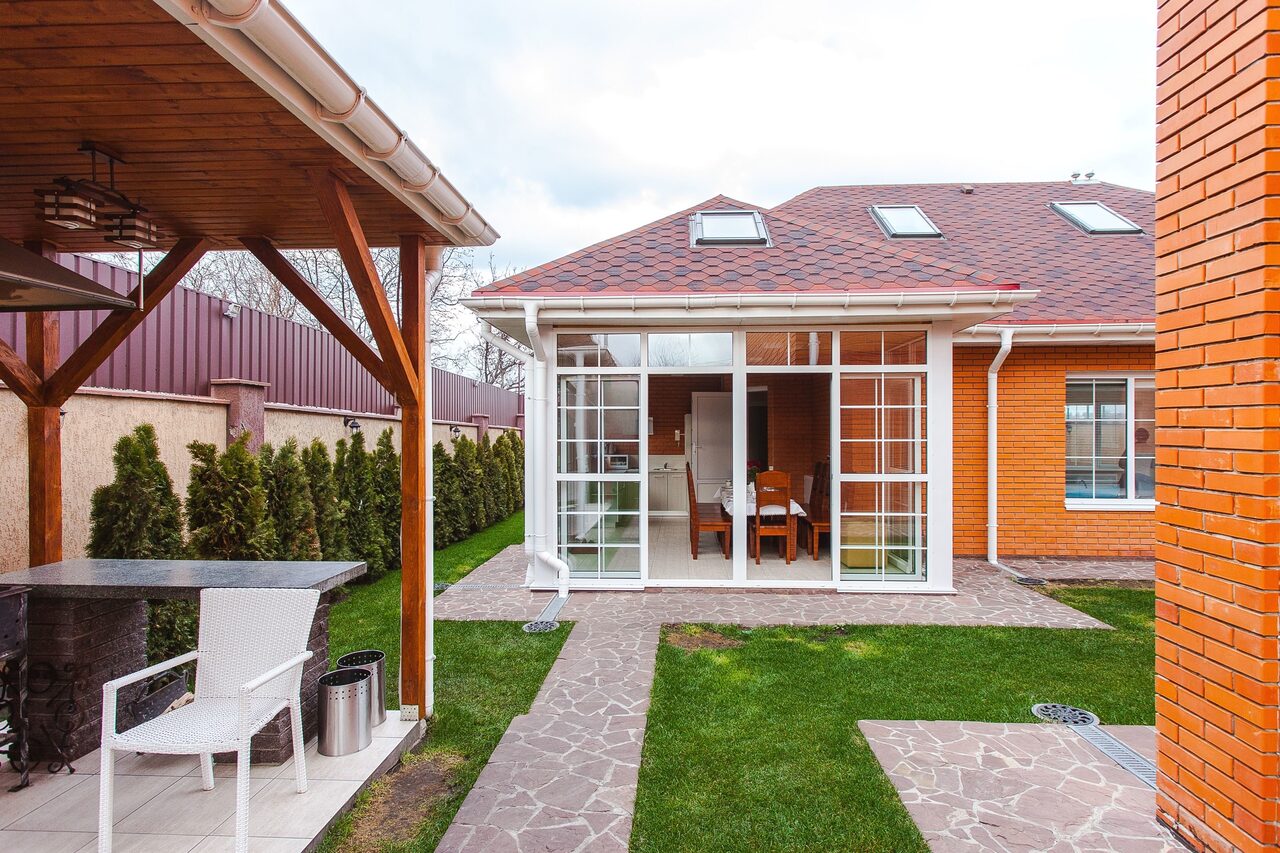 There are many different ways to enclose a patio, but some are significantly more expensive than others. Learning how to retain your space without spending more than necessary will help you get the results you're looking for.
There are a few different options worth considering, but it will be up to you to choose the one that will help you accomplish your goals. Look at the most affordable options below, and decide on the one that fits your needs best.
There are different types of patio enclosures, but it's up to you to determine which is best for your needs.
Invest in a Patio Cover
The most basic way to close your patio a bit is to add an overhang to block the rain. This could be through the addition of an awning, a pergola, or other more permanent cover options such as a metal roof.
You'll also want to consider whether you want overhead protection at all times or if you would enjoy being able to open up your patio to receive more sunlight. There are retractable options and pergola-style options you could utilize that allow you to let sunlight in whenever you like.
An overhead patio cover gives you significant weather protection but won't keep out insects or most other pests. It will enable you to enjoy your patio in the rain, but the bugs may still drive you indoors as dusk approaches.
If you plan to sit out on the patio during the evening, you may want to consider a screened-porch enclosure instead. It's a more significant investment, but you get more protection for your money.
---
Read Also:
---
Screen in Your Patio Completely
The next step up from a simple overhang is a complete screened-in patio. This requires adding wooden framing around the patio, building a roof over the space, and creating a door that opens and closes.
The framing is wrapped with durable screen material and then finished with trimming for a neat and tidy final look. Adding a good screened porch to your patio completely changes the look and feel of the space and makes it more enjoyable during the evening on warmer days.
You'll love being in the area when mosquitoes and other pests are out and about, and you may find yourself using your patio much more often as a result.
Screened-in spaces aren't cheap, though, and will cost much more than simply adding an overhang would. If this is an option you're considering, be sure to talk with local contractors to learn what costs you should expect and consider all the different options available.
Create a 3-Season Room
Going from a standard patio to a three-season room is a significant investment and a considerable step up in cost from a screened porch. Your contractors will have to install thicker framing and add windows to space throughout.
Many homeowners also opt to have insulation installed during this process. This is a major investment and will cost more than $20,000 when working with many contractors. It's a significant decision, but it will allow you to use the space comfortably even when the temperatures are colder.
If you live in a northern climate, you will have to invest even more into the space if you want to use it during early spring and late fall.
Consider what you want to accomplish with your porch space, and then decide which type of enclosure is right for you. For some homeowners, simply adding a roof to the space is enough.
Roofing the patio enables them to use the area in the rain. For others, it makes the most sense to enclose the whole space to make a screened room. This makes the patio much more enjoyable to use during warmer months when insects are a major concern.
For a small number of homeowners, it makes sense to convert a patio into an enclosed room complete with insulation. This is a significantly more expensive option, but it helps the space remain warm during cooler weather, especially with the addition of a small heater.
Consider what budget you have to work with, how much of the year you want to enjoy your patio, and then decide on the solution for closing it in that works for you.