The living room is often the heartbeat of a home – a space for relaxation, entertainment, and connection. Integrating plants into this space can breathe life into your decor, offering both aesthetic appeal and health benefits.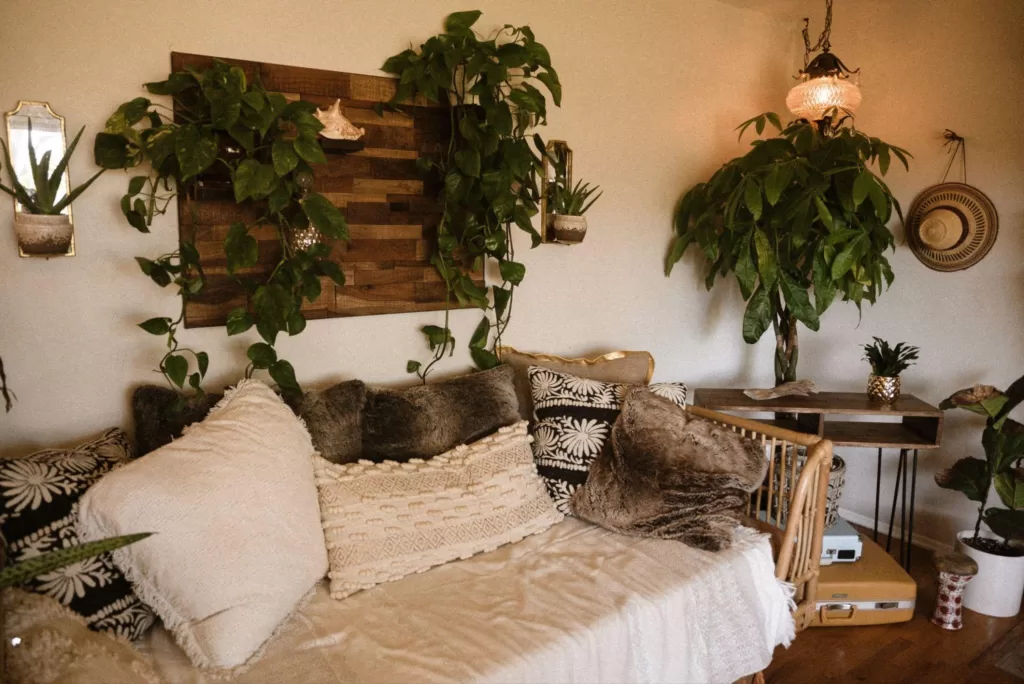 In this guide, we'll explore creative and practical ways to turn your living room into a verdant sanctuary that not only impresses guests but also becomes your favorite place to unwind.
1. Start With The Right Indoor Plants
Embellishing your living room with plants begins with choosing the right species. Lively indoor plants not only infuse your space with vitality but also improve air quality and enhance your mood. When selecting plants, consider those that require low to moderate care, so they remain vibrant with minimal effort.
Snake plants, for example, are a fantastic choice; they stand tall and proud with striking vertical stripes, tolerating low light and sporadic watering. Pothos, with their heart-shaped leaves and trailing vines, can adapt to a variety of lighting conditions and add a cascading elegance to shelves or mantels.
Peace lilies, another excellent option, offer glossy leaves and occasional white blooms, signaling when they're thirsty by a noticeable droop. Place these lively specimens in areas where they'll be most visible – like atop a stack of books on your coffee table, in an empty corner that needs dressing up, or within an unused fireplace to add a natural flair to a traditional feature.
2. Layer Plants At Different Heights
To create a lush and engaging environment with plants, consider the verticality of your living space. Just as a painter works with a full palette, your living room can benefit from the richness of greenery at various levels.
Start with low-lying plants, like a collection of succulents in a shallow planter, which can sit comfortably on a low-side table or an ottoman tray. Build up from there with medium-height plants on standard plant stands, and perhaps a robust rubber plant beside an armchair.
To really draw the eye and add interest, install hanging planters from the ceiling – macramé hangers can add a bohemian touch, or sleek metal hangers for a more modern vibe. These elevated plants could be trailing vines or a selection of ferns, which will thrive as they cascade down toward your living space.
By layering plants at different heights, you create a sense of depth and an immersive experience that can make your living room feel like an indoor garden.
3. Incorporate Colorful Planters And Pots
The pots and planters you choose are as crucial as the plants they house. They are the frames of your living green art and can significantly influence the room's aesthetic. When selecting planters, think about the color palette of your living room.
---
Read Also :
---
A monochromatic scheme could be enlivened with planters in bold hues like coral or turquoise, which can introduce an energizing pop of color. Alternatively, if your room has a vibrant decor, white or terracotta pots can calm the visual landscape.
The materials of the pots can add texture too – ceramic pots introduce a classic touch, metal pots can add an industrial edge, and woven baskets bring a warm, rustic feel.
Play with contrasts; place a tall cactus in a bright, squat pot for an element of surprise, or let a delicate air plant reside in a geometric glass terrarium. Grouping pots of different shapes but similar colors can also create a cohesive yet visually interesting display.
4. Create A Focal Point With A Statement Plant
Every living room benefits from having a focal point, and a statement plant can serve this purpose exquisitely. A large, vibrant plant can anchor the room, drawing attention and setting the tone for the rest of the space. Consider the majestic fiddle leaf fig with its large, glossy leaves which can grow to impressive heights, making it a natural centerpiece.
Another great option is the bird of paradise, which can bring a tropical flair to your living room with its large, banana-like leaves. These plants do well in bright, indirect light and can be placed in a decorative pot that complements the room's theme.
Ensure that the chosen spot for your statement plant gets adequate light and is visible from different angles of the room. It should stand alone, free from clutter, allowing its natural beauty to stand out and enhance the overall ambiance of your living space.
5. Use Plants To Define Spaces
In an open-plan home or a larger living room, plants can be more than just decorative—they can help delineate different areas without the need for walls or traditional dividers.
For example, a series of tall plants such as dracaenas, bamboo, or even indoor trees like the rubber plant can create a natural screen that subtly separates the lounge area from the dining space or home office corner.
This use of plants adds a layer of functionality to their aesthetic value, providing a soft partition that maintains an open feel while defining distinct areas within the room. The key is to choose plants that are tall enough to create a sense of separation but not so dense that they block light or sightlines.
By doing so, you'll maintain the fluidity and openness of the space while introducing a green, lively element that enhances both privacy and style.
6. Balance With Minimalism
While the verdant allure of indoor plants can transform a living room, balance is essential to avoid a cluttered look. Too many plants, or too large a plant in a small space, can overwhelm the room, making it feel smaller and cramped.
To strike the right balance, pair your greenery with minimalist design elements. Choose sleek, modern furniture with clean lines and a neutral color palette to allow the plants to be the stars of the show.
Additionally, you can employ the "less is more" approach by selecting a few key plants to serve as the primary focus, rather than an overabundance of foliage. This doesn't mean the room should feel sparse; rather, it's about creating intentional spaces around your plants.
For instance, a singular monstera beside a simple, elegant sofa can have more impact than a dozen plants crammed into the same area. The minimalist approach ensures that each plant has its own space to shine, contributing to a serene and spacious atmosphere.
Conclusion
Decorating your living room with plants is a rewarding endeavor that brings nature's beauty and tranquility into your daily life. With these tips, you can create a living space that not only showcases your personal style but also promotes a healthy and inviting atmosphere. Start small, experiment with different arrangements, and watch as your living room transforms into a lush and restful oasis.