Welcome to the world of timeless elegance and enduring beauty – teak outdoor furniture! If you have teak outdoor furniture pieces at your home, you're in for a treat.
Teak, with its natural golden hue and unparalleled durability, has long been the go-to choice for enhancing outdoor spaces with a touch of sophistication.
But as with any cherished possession, proper care is key to preserving its splendor and ensuring it stands the test of time against the elements.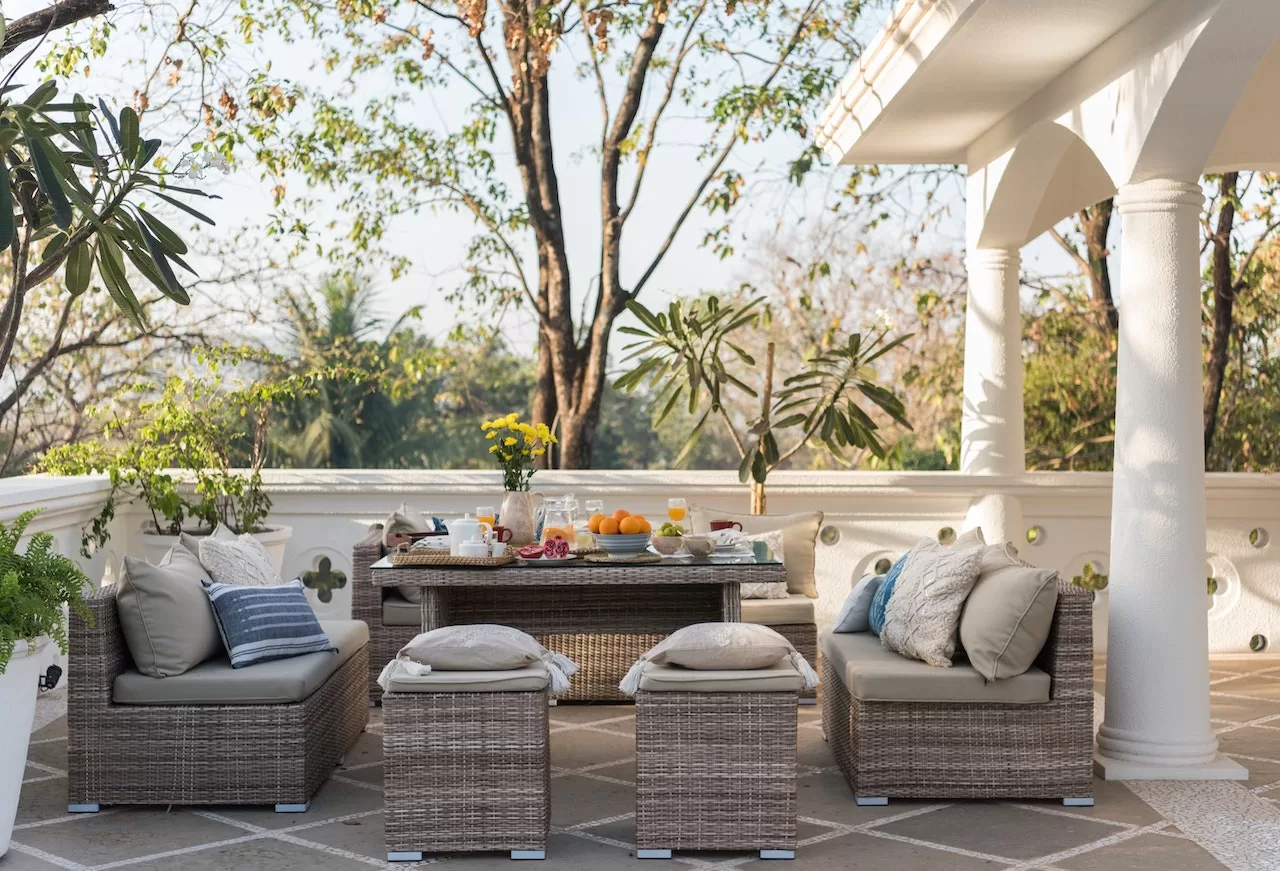 Here we'll unlock the secrets of caring for teak outdoor furniture, unveiling the art of maintaining its lustrous appearance and structural integrity.
Join us on this journey to unlock the secrets of teak outdoor furniture care, and let your outdoor sanctuary radiate with the warm embrace of well-maintained, breathtaking teak furniture.
First things first,
Understanding teak wood
Teak is a dense and highly prized hardwood having exceptional qualities.
Teak trees are predominantly found in Southeast Asia in the countries like India, Myanmar, Thailand, and Indonesia.
The wood is known for its amazing qualities like durability, insect-repellent properties, and resistance to decay.
Its strength and density make it a perfect choice to be used as outdoor furniture.
Due to its protective qualities as compared to other woods, teak furniture is usually more expensive than other types of metal furnishings.
What finish do you prefer for your teak furniture?
When you newly buy the teak pieces, you might have seen its beautiful golden color.
But with time and exposure to weather, it gives you a silvery gray finish. The care tips depend on the finish you prefer.
If you prefer the weathered finish, use the furniture pieces as you like.
Within six months to a year of use, it will start giving a silvery appearance. While if you like its golden color, you need to take steps to preserve it.
And that's why we have gathered here. Let's find out the tips for the same.
Regular cleaning
Outdoor furniture is easily prone to dirt, mold, and bird droppings.
You cannot put a stop to these natural contaminants from coming. However, you can take a few measures to protect your exterior pieces.
---
Read Also :
---
Do regular cleaning using a brush and mild soap? You can also add vinegar to get rid of stubborn grime. Don't forget to dilute the vinegar a bit.
It is advisable to clean the furniture pieces at least four times a month.
Doing this regularly will keep your furniture pieces away from the cobwebs, leaves, and other debris accumulated on its surface.
Avoid using metal brushes or steel wool; otherwise, it will damage the finish of the furniture.
If you are washing the furniture pieces (which you should do once in a while), ensure to dry them completely after each furniture cleaning session.
Removing stains
Even if you take the best care of teak furniture, it can still fall victim to stains and mildew, especially when the climate is humid.
So what are the materials that you can use to eliminate the stains? The good news is: The materials are present just at your home – mild dish soap and water.
You can also go for the teak cleaner to remove harsher stains but don't overpower it.
Another way is to make a paste of baking soda and water and apply it to the affected area.
Let it sit for a few minutes before rinsing and drying.
If you want to remove heavy stains like red wine or food residue marks – use fine-grade sandpaper.
Sand with the grain to keep away the teak away from scratching. Use a commercial-grade teak cleaner to get rid of grease stains.
Teak sealers
The Teak has a honey-brown tone. As this wood ages, it fades to a silver-gray patina.
This process is called weathering. If you want to retain its original brown shade, using a teak sealer is the way to go.
Spray the sealant onto the furniture before wiping it off with a cloth.
It delays the process of weathering by keeping the wood's natural oils from depleting.
What's more? These sealants protect the wood from water damage and UV radiation.
Follow this process for the best results –
Leave the furniture in the sun for two weeks. It will open up their grains.
Now, spray the pieces with the sealant.
Rub sealer into the wood with a lint-free cloth.
Following this process annually or semi-annually (depending on the climate) helps keep your teak outdoor furniture in first-class condition. Remember to clean and dry your furniture before applying any product.
Keep it away from the sunlight
Who doesn't want to keep their furniture as new as possible? If you want the same, keep your furniture away from the sun as much as possible.
The reason is: the sun produces a bleaching and dehydrating effect on teak. And avoiding direct sunlight not only minimizes the weathering process but will also maintain its golden color for a long.
Protecting it from the harsh weather
There is no denying the fact that teak furniture is naturally resilient. However, extreme weather conditions can definitely ruin its appearance and longevity.
How can you protect your teak furniture pieces from heavy rain or snowfall? Use weather-resistant covers for them.
It will keep the water from pooling on the surface at bay and hence minimize the risk of damage.
If you have the space, consider storing your teak furniture indoors during the off-season.
This extra precaution will shield it from the harshest elements and extend its lifespan.
To make a long story short
Teak outdoor furniture is a testament to nature's splendor and craftsmanship, and with proper care, it can be an enduring centerpiece of your outdoor sanctuary.
Regular cleaning, stain removal, sealing, and protecting it from harsh weather will ensure your teak furniture stays beautiful and functional for generations.
Embrace the evolving charm of the weathered patina or restore the golden hue—it's all about making your teak outdoor furniture a delightful reflection of your personal style.
By following the guidelines in this care guide, you can savor the timeless allure and durability of teak, creating cherished memories with family and friends while basking in the charm of your well-maintained outdoor space.
So, invest in the care of your teak furniture and let it reward you with countless moments of relaxation and enjoyment amid the great outdoors.