Choosing a bench vise is not as straightforward as one might think. There are numerous considerations to go over to find one that suits your intended purpose.
For instance, if you're looking for heavy-duty bench vises, you especially want to focus on the force they can deliver, among other factors.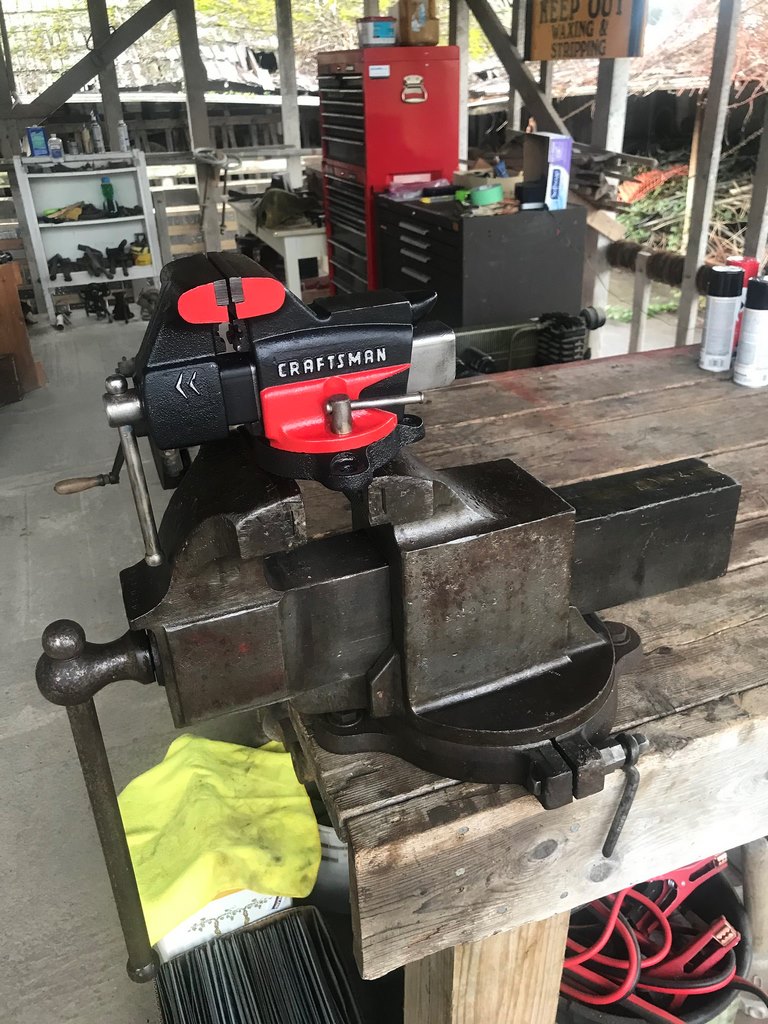 Then again, other features are as important to scrutinize. After all, they could factor into the tool's safety and effectiveness. So, let's take a look at some of the key elements for selecting a bench vise.
Why Do You Need a Bench Vise?
Also known as an engineer's vise, the bench vise is a wood or metal tool used to hold an object in place while you work on it. It can apply varying degrees of force, depending on the item in question.
Usually, users stop applying pressure as soon as the object becomes immovable, though some may go a bit further to reinforce safety. A vise ensures nothing less than a tight grip for activities like sawing, drilling, and other tasks.
Main Considerations for Choosing a Bench Vise
Choosing a bench vise for a very specific task means assessing the nitty-gritty of these tools. However, generic applications usually don't require more than the following considerations:
Jaw Width
The key element that determines how useful a bench vise is
Jaw Opening
Determines how wide or narrow the jaws can grip
Mounting Method
Choose from three- and four-bolt options for mounting
Jaw Type
The bench-type is the most popular, but pipe and combination types also have their uses
Mounting Area
Build a good workbench
The Force of a Bench Vise
A bench vise is a staple equipment piece in the tool production industry. In fact, they are responsible for manufacturing the pliers and wrenches we use today.
High-quality forged models can inflict force of more than 90,000 PSI as opposed to 19,000 to 60,000 PSI for cast vise options.
Types of Bench Vise
The two main categories of bench vise are the yoke vise and chain vise. The latter secures a pipe in place via a chain; the former clamps down on a pipe using a screw.
Either one or both these mechanisms are what govern the following bench vise types:
Clamp-on Vise
Combined Vise
Pipe Vise
Angle Vise
Handheld Vise
Metalworking Vise
Woodworking Vise
Of the seven, the woodworking vise is the most popular, followed by the metalworking option. In particular, the metalworking vise is often associated with parallel iron jaws set on a wide-opening base.
Household Bench Vise Size
A bench vise might often be associated with industrial tasks, but they are also making a mark in the commercial world.
Most household DIY versions have four-inch to five-inch vise sizes, which is usually enough to address most daily tasks.
Note that this measurement's basis is the jaw's length from one end to the other. It's also the vise's maximum contact length with the workpiece.
Vise Caps, C-Clamps, and Force Applications
In a metalworker's vise, vise caps refer to the two soft copper guards fitted over the jaws. In the same type of bench, these work in tandem with the C-clamp to prevent workpieces from getting damaged. The C-clamp is also present in the woodworker's vise.
To truly ensure no harm comes to your work item with or without these additional protective features, apply only the amount of force the object can take. Basically, don't go beyond the required pressure for gripping the workpiece securely.
Also, don't forget to lock the object in place with the handle in horizontal orientation. Leave it in "vertical," and there could be chances for it to come loose.
The Ideal Workbench and How to Make it
Your bench vise is only as effective as your workbench, so decide as effectively on the latter as you do on the former. Most of the time, this entails building your own workbench.
A good workbench should measure somewhere between 30 and 35 inches in height, 45 and 95 inches in width, and 30 and 35 inches in depth. However, your available workspace should dictate the width and depth of your bench.
Make sure your bench is neither too small for a room that space is underutilized. It also shouldn't be too large for it that you barely have space to move around in.
Constructing a workbench is pretty straightforward; you just do the following, step by step:
Gather tools and materials necessary for construction, including protective equipment.
Start building the frame.
Attach the bench vise to the top of the frame.
Apply the finishing touches.
What Are Some Really Good Options on the Market?
Unless your needs are generic, it can be difficult to choose the right bench vise. Even so, one thing you should know is the market offers some outstanding options in the following versatile vises: Wilton 11106 Bench Vise, TEKTON 54004 Bench Vise, Yost LV-4 Home Bench-Vise.
All things considered, you should be able to count on these three to address most bench-vise needs, generic and otherwise.