A garage is only a safe place for a car or two-wheeler if it has a stable gate. The costs for purchasing and installing a new garage door are in the lower four-digit range.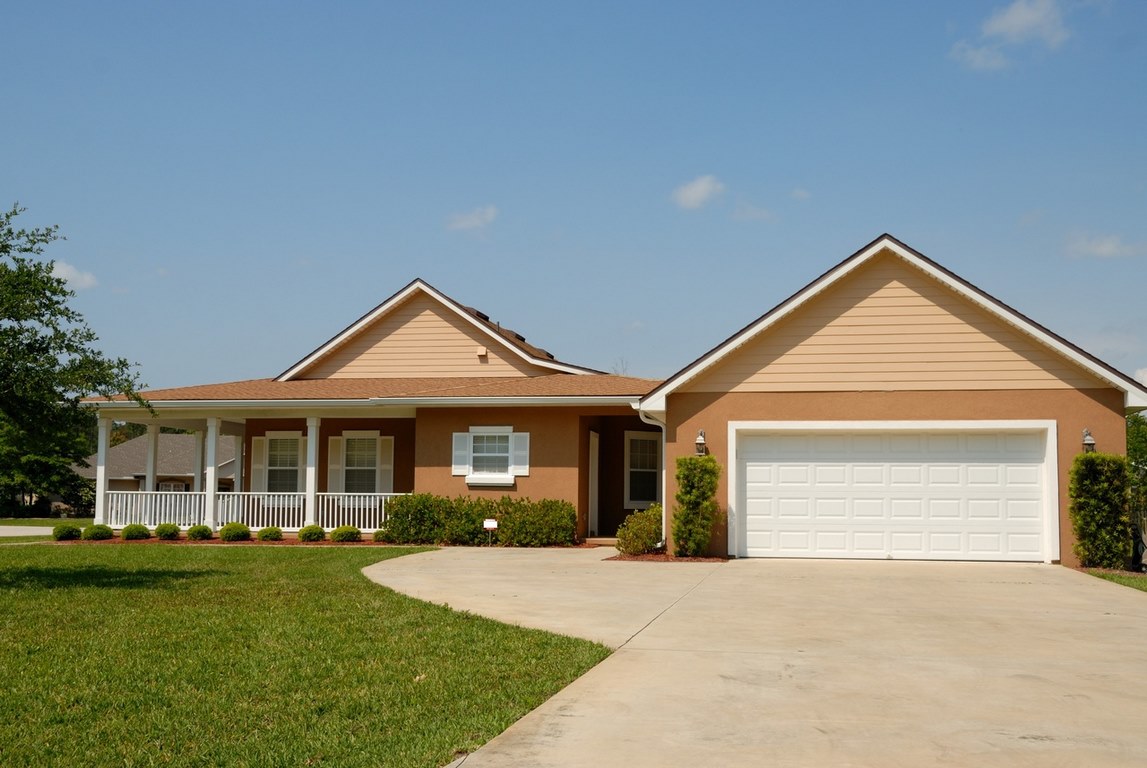 The Cost of Garage Doors in Detail
Modern gates with a lot of comforts are significantly more expensive than simple versions. It also makes a difference whether the manual operation is sufficient or whether a motor should take over the work of opening and closing.
Garage Door Prices
Normal wing doors are already available for 400 euros. Versions with two wings cost between 600 and 800 euros. Up-and-over doors are in a similar price range to double-leaf doors.
Plastic roller shutters with motors cost between 900 and 1,100 euros. For versions made of metal, 1,400 to 1,600 euros are to be estimated. Sectional doors are commercially available for 1,000 to 2,000 euros.
This information relates to garages that offer space for one car. Double garage doors cost about 1.5 times that of single garage models.
These Costs are to be expected for the Installation of a Garage Door
Hinged doors are installed by specialist companies for 500 to 1,000 euros. Up-and-over doors are easier to assemble, so only 300 to 500 euros can be expected.
The installation of roller or sectional doors also costs 300 to 500 euros. This information also relates to single garages. Installation costs are usually 25 percent higher for larger garages.
Things to Note When Installing Garage Doors
Before making a decision, homeowners should understand the pros and cons of each option. There may also be conditions imposed by the municipality that limit the options.
---
Read Also:
---
Swing Gates are Obsolete
The classic among doors was replacing the garage door with other designs in garages a long time ago. A swing gate takes up a lot of space in front of the garage.
The car must not be too close to the gate, otherwise, it cannot be opened. Open gates are also problematic when there is wind, as they offer a large wind-bearing surface.
A major disadvantage of these gates is that they cannot be automated. It is not possible to use a motor, so they cannot be operated with remote control.
Up and Over Doors – Inexpensive and Good
The up-and-over door moves upwards in a semicircle and therefore takes up less room to move. When open, it is located under the roof of the garage. These models can be moved using a motor and can also be operated using radio transmitters.
Roller and sectional doors offer a lot of comforts When opening, roller doors wind around an axis like a roller shutter, while sectional doors slide on rails under the ceiling. What both versions have in common is that the door opens vertically upwards. So it doesn't need any room to move.
Motorization is common, as is operated via radio. Sectional doors are also available with insulation and with window areas.
This is Something to Consider When Choosing a Garage Door
The space requirement in front of the garage is important if the garage is close to a road and there is only room for one car in front of it. If you install a swing gate or a swing gate, you accept that part of the car has to be on the road when opening and closing.
Of course, requirements regarding insulation, fire protection regulations, and safety equipment are important. An automatic gate must also be able to be opened in the event of a power failure. In addition, it must stop immediately if it encounters an obstacle. It is very important that the door can always be opened from the inside.