Your choice of flooring is going to have a monumental impact on the final look and feel of your home, so it's vital that you make the right decision.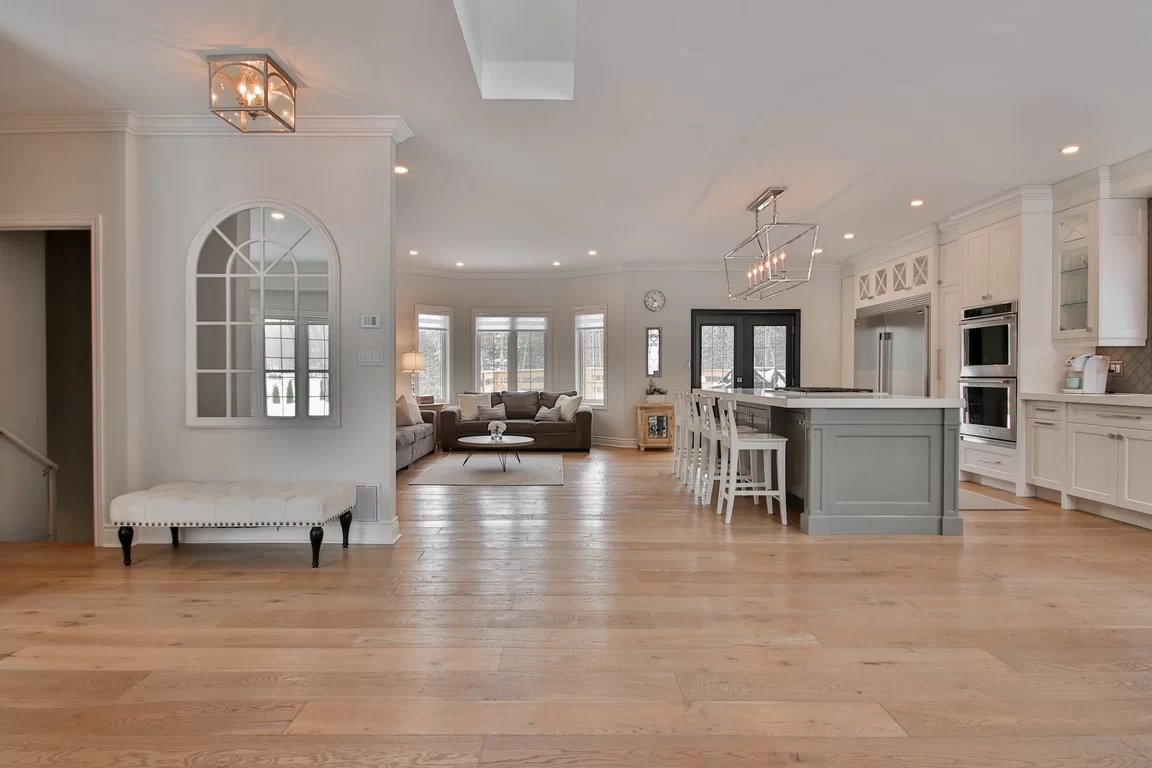 Of course, with so many different flooring options to choose from, this can be a daunting and even overwhelming task.
In this guide, we'll talk you through the different flooring options available and the advantages and disadvantages of each, ensuring you pick the right style for you and your home!
Hardwood Flooring
There are good reasons why hardwood flooring is so popular in homes all around the world – it's classy, timeless, and practical. As well as being easy to clean and maintain, hardwood flooring actually looks better as it ages, as the wood gains character over the years. It is also versatile, with all manner of wood choices, colors, and plank sizes available.
Hardwood flooring can be a really effective option for living areas, kitchens, hallways – basically, anywhere that isn't a bathroom. This type of flooring is very easy to clean, which is especially useful if you have pets (or people!) who shed a lot.
Naturally, there are some downsides to hardwood flooring which need to be considered. You need to be careful with water and general moisture, especially when cleaning, as this can damage the wood long term.  It's best to use a mop that isn't dripping wet in order to maintain the quality of the planks. Termites can also be an issue, although this can be easily avoided by avoiding certain types of wood that attract them.
---
Read Also:
---
Carpet
Arguably the most versatile flooring option is carpet, as you can choose from all manner of styles, colors, lengths, and textures. The carpet is also ideal for young families, as it is soft enough for young children and babies to play on without hurting themselves.
The three most common styles of carpet are cut pile, looped pile, and cut-loop pile. Depending on the area you're looking to floor, different carpets may be more suitable.
Cut pile carpet is perfect for areas such as hallways and living rooms where there is a lot of traffic. This is because it's made of carpet fibers twisted together to form a more stable structure. On the other hand, the fibers in the loop pile carpet are tightly bound so that the tips are not exposed.
This allows a level of diversity in the carpet design, as the loops can be bound at different heights. The cut-loop pile is a mixture of the two styles, allowing for even more options in design, color, and texture.
Carpet is extremely versatile and perfect in many situations, but it is also worth noting some of its downsides. The greatest disadvantage of having carpet throughout your home is of course the cleaning and maintenance requirements, especially if you have pets. It can be difficult to get rid of stains on carpets, so keep this in mind when considering your flooring options.
Laminate Flooring
Laminate flooring has become one of the most affordable yet attractive flooring choices. Splashing the cash for natural timber hardwood flooring can rapidly add up, especially if you intend to cover large areas of your home.
Laminate flooring provides an extremely cost-effective solution without losing the charm and aesthetic of natural timber, as it's made of heat-pressed composite wood with a protective layer on top.
Aside from the relatively low price, this type of flooring has a number of other benefits. The protective layer means that the boards are hardy and water resistant, making them resilient to almost all nature of spills, foot traffic, and other everyday wear and tear.
And if there is a spill, it's easy to clean with a microfibre cloth. Due to the protective top layer, however, one of the downsides of laminate flooring is that, unlike traditional hardwood flooring, it can't be refinished.
Floor Tiles
In terms of design, no type of flooring has more options than tiles, thanks to the limitless amount of colors, sizes, and shapes available. Their versatility means that no matter the space, you can create essentially any effect you want.
Tiles are also extremely durable, able to withstand the test of time as well as years of high traffic. This is also true for spills or pet accidents – porcelain tiles are waterproof.
It's worth noting that tiles are necessarily hard, cold and loud. They won't hold warmth and sound tend to bounce off them. However, depending on the climate you live in and the other acoustics in your home, this may not be an issue.
Concrete Flooring
Concrete flooring is becoming increasingly popular in modern homes looking to achieve a rawer, stripped-back aesthetic. While maybe not the most conventional, and definitely not suitable for all homes, concrete flooring can provide a striking look to a space.
In most cases, it's best installed when the house is under construction – however, there are options to retrofit existing homes to achieve the concrete look. These are slabs or tiles, which are installed in a similar manner to hardwood floors or regular tiles.
Much like hardwood and tiles, concrete is extremely hard, which is important to consider with pets and young kids around. Somewhat surprisingly, concrete can also be susceptible to stains so if you spill something, make sure you get onto it straight away! Of course, being a smooth surface makes it easy to wipe up spills and other messes.
One last thing to consider with concrete flooring is that it gets very cold during the winter months. It may be worth considering installing underfloor heating if you're committing to concrete flooring, depending on the climate in which you live.
There are Great Flooring Choices for Everyone!
No matter what aesthetic you're looking for and what your price range is, there are flooring options for every need. If you do your research and scope out all of your potential choices, you'll be sure to land a floor that you'll be happy with for years to come.