Colorful, pretty, inexpensive, and great for the environment, wildflowers are wonderful. It's no surprise they have experienced a surge in popularity recently.
Whether planted in patio pots or sown across lawns, more and more people are incorporating these whimsical flowers into their garden designs. And why not?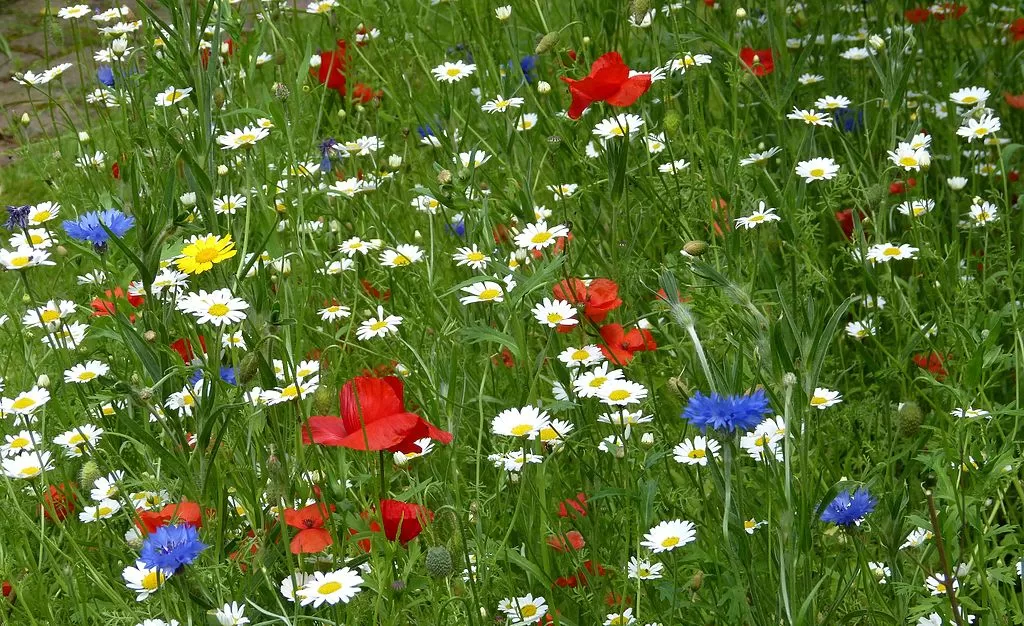 The rise of wildflowers in the garden started with people planting native wildflowers for environmental reasons and making a positive contribution to their local ecosystems.
However, they really gained momentum when the cottage-core trend took off. The natural look and charm of these delightfully colorful flowers made them a perfect match for this aesthetic.
Buy wild flower seeds at Gardeners Dream.
The Benefits of Growing Wildflowers
Even if cottage-core isn't your thing, there are many great reasons to plant wildflowers seeds, from their attractive appearance to ways they help the environment. Here are just some of the benefits of growing wildflowers:
They Provide Food for Pollinators
Wildflowers are a valuable source of nutrition for bees, butterflies, and other pollinators. According to the WWF, a one-acre wildflower meadow can produce enough nectar per summer day to feed almost 96,000 honey bees. That's quite a lot!
Bees, butterflies, and other insects don't just pollinate flowers. They are also vital to the pollination of food crops, and without them, humans wouldn't have much to eat. So it's worth our while taking care of pollinators by planting their favorite food sources.
They Encourage Biodiversity
As well as pollinators, wildflowers also attract other local wildlife, including birds and small mammals, such as hedgehogs. Native wildflowers are perfectly suited to local wildlife and provide food and shelter to various different species.
They Are Low Maintenance
For many people, the best thing about wildflowers is that they are so simple to take care of. Native flowers are accustomed to the environment and happily flourish without the care and attention of a human.
By their very nature, they are used to looking after themselves, taking all they need from the soil and weather around them.
They Inject Show-Stopping Colour Into the Garden
There's no denying that a wildflower meadow is an eye-catching sight. Wildflower seed mixes produce a rainbow of flowers in brightly colored shades of red, yellow, blue, purple, orange, pink, and white.
Alternatively, stick with one color for a more intentional look. A meadow of vivid red poppies makes a dramatic yet beautiful focal point.
They Stabilise the Soil
Wildflowers have complex root systems, which can stabilize the soil. In turn, this leads to less water runoff, a lower risk of flooding, and more nutrients retained in the soil.
---
Read Also:
---
When is the Best Time to Plant Wildflower Seeds?
Wildflower seeds can be sown successfully either in spring or late summer/early autumn. Many gardeners prefer to sow wildflower seeds in March/April, as this will produce a show the same year.
This time of year is perfect when working with heavy soils that might retain water in winter, and rotting seeds sown in autumn.
Seeds sown in September/October when the soil is still warm from summer will have time to germinate and start developing a strong root system before the winter frost kicks in.
You might even notice some leaves sprouting in late autumn with early germination the following spring. Fading wildflowers sow their own seeds at this time of year before dying back for winter, don't be afraid to follow nature in planting wildflowers in autumn.
If you want to cover all bases, spread some of your seed mixes in September and the rest in March.
Growing Wildflowers from Seed
Wildflowers don't compete well with other plants and grasses, so the first thing to do is clear the area and prepare the soil. Wherever possible, sow seeds on bare soil and use seeds native to your local area.
Measure the wildflower patch and allow 5g of seed per square meter. Sprinkle the seeds evenly over the prepared soil. Five grams isn't much to spread, so you may wish to use sand or bran as a carrier to make this easier.
Wildflower seeds don't need to be buried deep in the ground, so rake over them and then step on top to ensure they all come into direct contact with the soil.
Seeds are most likely to succeed in moist but well-drained soil. Water the area during dry spells to help the germination process along. Birds find seeds (and bran if you've used a carrier) irresistible, so you might want to use netting for protection until they have established.
How Long Do Wildflower Seeds Take to Germinate?
Germination is the process of a seed turning into a seedling. Many wildflower species germinate quickly and easily, while others take a little longer. Wildflower seeds generally germinate within around 2-3 weeks. When the seeds have successfully germinated, you'll start seeing sprouts poking up through the soil.
Flowering
How Long Before I See Bloom?
Obviously, this depends on whether the seeds got planted in spring or late summer/autumn. Either way, wildflowers start to bloom in spring.
Once germinated, wildflowers take a further 45-60 days to start blooming. So you should start seeing flowers appear around 5-6 weeks after planting.
When Should I See "Full Bloom"?
Annual wildflowers are reliable and bloom quickly, flowering from around April. On the other hand, perennial species like to take their time, and flowers appear in May or June. Some perennial wildflowers won't bloom until the second year.
Summer is the prime season for wildflower meadows when lots of colorful and vibrant wildflowers bloom at the same time.
How Long Do Wildflowers Stay in Bloom?
Wildflowers bloom for weeks on end, which is one of the reasons why they are so popular. Depending on weather conditions, you can enjoy a wildflower meadow for 3-4 months, with some flowers lasting until the first frost.
How can I extend the bloom time of my wildflowers?
The easiest and most effective way to ensure wildflowers last the whole season is to keep them well-watered. While wildflowers can thrive with little to no attention, they appreciate a little helping hand during dry spells of summer weather.
Choosing a seed mix with different species allows a wildflower meadow to look great for longer. Not all wildflower seeds will grow and flower at once, but a good mix will see flowers bloom throughout the season.
Most seed mixes are designed to produce plants that flower in turn, creating a changing burst of color all summer long.
It may sound counterproductive, but cutting the heads off annual wildflowers can help to extend their bloom time. Removing the heads before seeding encourages the plants to produce a further bloom. Cut annual flowers before they turn to seed pods, and they will bud out, producing a second show to eventually self-seed.
Is There a Way to Speed Up the Wildflower Growth Process?
Wildflower plants grow best in poor soil and don't like to compete with other plants for nutrients. To create a wildflower garden bed as quickly as possible, remove the top layer of soil and clear the area of plants, grasses, and other vegetation.
If you're in a rush to see wildflowers growing in the garden, you can always choose a wildflower seed mix containing some fast-growing species. Sweet Alyssum, Cornflower, and Annual Phlox are great for quick-blossoming wildflower meadows.
Those who are very impatient may want to consider using plug plants instead of seeds. Plug plants are perfect for introducing wildflowers that are particularly slow to germinate and grow from seed. They are supplied already sprouted and can be planted out in the garden between September and April.
How Can I Tell the Weeds from the Wildflowers?
Weeds are unwanted plants growing where they haven't been invited. These unwanted plants can be the curse of a lawn, and it can sometimes be tricky to tell weeds and wildflowers apart. For example, daisies are technically weeds but look the part and could easily be mistaken for intended wildflowers.
Weeds tend to be more vigorous and invasive than purposefully planted wildflowers, and this is the easiest way to tell them apart. Keep an eye on how fast a suspected weed grows and spreads. If it shows a more rapid growth rate than the other flowers in the area, the chances are it is indeed a weed.
If you've cleared an area ready to watch wildflowers bloom, hold off sowing the seeds for a couple of weeks. This will give any weed seeds buried in the soil time to germinate and sprout. It's much easier to remove them now than when the area is covered in beautiful wildflowers.
Why are My Wildflowers Not Flowering?
If you've done everything right yet there is no sign of any seed sprouts, never mind the stunning wildflower meadow you anticipated, there could be several reasons.
Weather Damage
When you plant wildflower seeds in autumn, there is always the risk that they haven't had time to mature before a killing frost has wiped them out or they've been rotted by soggy ground. Extreme weather at the time of planting or a particularly harsh, cold winter might also be to blame for the lack of blooms.
The Wrong Spot
Wildflowers love full sun and well-drained soil. Wildflower seeds sown in a boggy spot or shaded area will struggle to grow well and achieve full bloom. If you'd like to create a wildflower garden in these areas, ensure you have the right mix of species that will work well here.
Competition
One of the most common issues is that the soil hasn't been properly cleared of weeds, grasses, and other plants before the wildflower seeds are sown.
This means the plants have to compete for nutrients from the soil. Usually, grass and weeds win that competition, so wildflower seed has the best chance when planted in bare soil.
Slugs
Wildflower seeds and seedlings are a magnet for slugs, who view them as a tasty snack. Choose native blooms, which are more resilient to British pests, and hand-pick slugs off in the evening, moving them far away from the area.
As the wildflowers grow, they will become more resistant to slugs, and it's really just in the early days that they can be a huge problem.
Whether you want to create a striking garden bed or cover the whole lawn in pretty wildflowers, planting seed mixes is the easiest way to go about it. Plant wildflowers in autumn or spring for a gorgeous show in summer.
Some perennial wildflowers will come back stronger the following year, while annuals can self-seed and return naturally in different spots. This leads to a wildflower garden that changes from year to year.