While a fun and potentially rewarding line of work, real estate photography can also be challenging.
If, however, you prepare yourself adequately and acquire the right gear, with some bit of practice, you can succeed in the photography work, doing it as a side job or even a full-time job.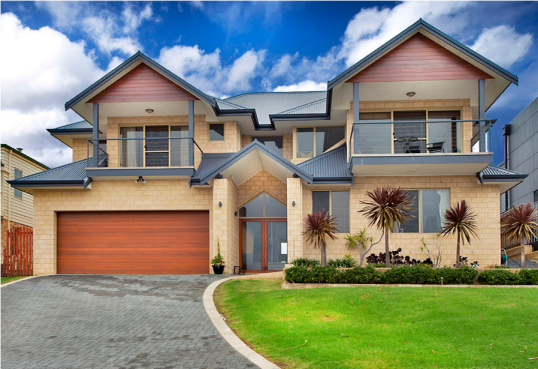 But before you can handle your first real estate photography project, you probably want some tips to help you get started.  Here are steps to help you become a real estate photographer.
Obtain the Right Gear
Even though doing real estate photography requires camera equipment, believe it or not, few are expensive or rare.
The reason is that much of real estate photography work involves photographing static subjects – such as property exteriors and interiors.
So you don't need to have a camera with fancy, expensive features like high frame rates or action-tracking autofocus, although having such equipment can only improve your work.
What you need is probably a camera with flash capabilities and doing multiple exposure bracketing.
But the good thing is that you can find these features in almost all advanced cameras, even with beginner models.
An important piece of gear that you need is a solid tripod and a wide-angle lens. With these items, you can get your photos done with almost any camera.
Another item you need is a wireless flash.It helps illuminate the interior by bouncing the flash off the rooms' ceiling and the walls behind your real estate photography camera.
If you are taking photos of large exteriors where flash isn't an option, HDR software may provide better results.
Find Image Editing Tools for Real Estate Photography
Besides your photography gear, you also want to have an easy-to-use editing tool for your images.
A must-have tool is a RAW image processing program. A good RAW photo editor can edit RAW files while also preserving color accuracy and image quality.
You can use Photoshop and Adobe Lightroom as they all can get the editing job done.
An HDR software like Photomatix Pro helps create beautiful photos of high-contrast scenes.
Some scenes, for instance, a picture of sunset, require HDR image capture and editing to appear in a photograph the way they do to a person's naked eye. Therefore an HDR software becomes a handy tool for such purposes.
---
Read Also:
---
Learn How to Photograph Real Estate Subjects
It's crucial that before taking a paid photographing job, you practice your photography skills. It will help you understand precisely what your camera can deliver.
Practice allows you to build confidence and get experience before you become an expert in the field.
You can start by photographing your house and rooms or your friends' houses before jumping into a paid photography project. These tips can help get started.
What Image to Capture
Understand the right images you need to capture. Closely study pictures of property listings and the things captured.
Using sample properties such as your home, try to get photos of every interior room and the house's exterior, including the backyards and front yards.
See how your photos compare to those of the property listings.
Angling the Camera
Ensure you don't angle the camera downward or upward too much because vertical lines need to look almost perfectly.
While you may correct this during the post-production stage, It is better to have it set up from the get-go.
Dynamic Range of Camera
High Dynamic Range (HDR) is the latest technology to allow you to get the best photos. You need to understand what your camera can offer in terms of HDR capabilities.
Try to shoot a dramatic sunset with other subjects or real estate properties in complete shadow.
Save your highlights and determine how many exposure values allow you to brighten the exposure before seeing clearly into the shadow.
Because exterior property images tend to be best at twilight or sunset, ensure you capture the full dynamic range of a particular scene.
Play around with your camera's EV to find out how exactly you bracket a scene pretty quickly. This is crucial because every camera has different setups for exposure bracketing.
Build a Portfolio
Real estate photography is among the fields you can quickly build a good portfolio. You want to get your best professional images to showcase to potential clients.
And the nice bit about it is that you can start basic. Use your house as the subject, but make the rooms as presentable as possible.
Again, if you have a friend with a great home, you can ask them to photograph a couple of rooms.
Another way you can build your portfolio is to cold-call real estate agents within your area. Ask if they have photography projects they need assistance with.
Find Real Estate Photography Clients
Establishing your brand name in the real estate photography field is a pretty demanding process.
However, you can start it small, and you grow over time. Reach out to agents in your area and ask if they need any real estate photography done.
Ask if they have clients who want to list their properties and need photos.
You can also network with other photographers in your area and ask those who may need assistance on their big photography projects.
Consider different ways to reach out to customers, such as setting up your website, doing SEO, and paid adverts to showcase your work and advertise your photography services.
You can also consider in-person sales at local events.
Real estate photography has constant demand and offers new, exciting opportunities for just about any individual.
Taking quality photos of real estate properties can help expand your photo shooting skill set and even provide a part-time job.
Over time, you can transition to a full-time job. Continue practicing and learning more tips about real estate photography to sharpen your skills.