Gardening plants in pots on the patio or deck are just a hobby but a full-time job.
Tomatoes grow well in minimum soil conditions, and the only thing you need to keep in mind is the regular irrigation of the plants. However, a common mistake to avoid is making the wrong decision about pot size.
The practice usually put forth by successful gardeners is to use larger pots of dimension 5 gallons or more. Small to mid-size containers which have a carrying capacity of 1-3 gallons or the hanging baskets makes for root bound tomato plants.
Tomatoes need to grow with extensive root systems to allow for maximum production. For a beginner gardener, a general rule of thumb to follow is the use of a larger pot to allow for maximum growth.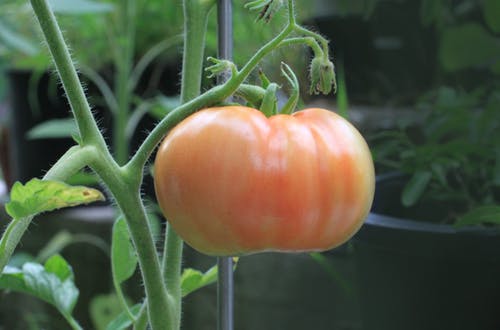 The Perfect Guide for Growing Tomatoes in Pots
The following article lists all that you need to know about growing tomato in your garden. For your tomato gardening manual, read on!
---
Read Also:
---
About Drainage
Potted tomato plants, similar to homegrown crop varieties need good drainage. The excess water content in the soil will lead to root rot of the plants which results in stunted growth, lower production of tomatoes and ultimately death of the plant.
Making sure that the container has drainage holes at the bottom that allow for excess water to pass through is extremely important when it comes to choosing the right container type. In case your container doesn't come with drainage facility you can punch holes in it and text the drainage yourself.
The container additionally should also have enough room to allow for adequate watering. Tomatoes require proper irrigation, so you can invest in a self-watering tomato planter for the best results. Self-watering tomato planters are installations with a reservoir that you can fill up with water and additional plant nutrients according to the capacity.
The irrigation kit will make sure that adequate water seeps into the pot when required. With the help of self-watering tomato planters, you don't need to worry about over-watering or daily irrigation for your potted plants.
Container Materials
The container materials are varied, and each offers its unique advantages.
Clay
Terracotta and clay pots are the most common because they blend well with the home décor. Natural materials are better for the circulation of air thereby keeping the plants cool. Both air and water pass quickly through them, and due to their heavy weight, they are less prone to tipping over and breaking.
However, these clay containers do dry out quickly when the temperature rises and can crack. You might need to replace your clay pots at regular intervals.
Plastic
Plastic is the most practical and inexpensive alternative to clay pots. These withstand heat as well as freezing temperatures and retain moisture under any climate condition. There are a variety of style and colors available, so you can never go wrong with plastic containers.
On the flipside, plastic pots are lightweight and might not hold a large number of plants along with soil and water mixture.
Wood
Wooden varieties of plant pots include Cedar, Redwood, and Cypress. Wood containers provide excellent insulation and are rot resistant. Avoid pressure treated woods as the chemicals used for treatment might be harmful to plants. On the downside, wooden pots don't come cheap.
Alternatively, you have the options of concrete, fiberglass, metal, ceramic pots and tomato grow bags. Consult an experienced gardener before making a choice.