As a business owner, there is nothing more frustrating than discovering that your wall has been vandalized with graffiti. You cover it up only to be hit again a few weeks later with a new tag.
Keeping on top of graffiti tags is important because once a wall becomes an established tag target, the work will spread to other surfaces and buildings. But most graffiti attacks are not planned, they are opportunistic.
So, how can you reduce your risk of being targeted? Simply by reducing the opportunities on your property for the taggers.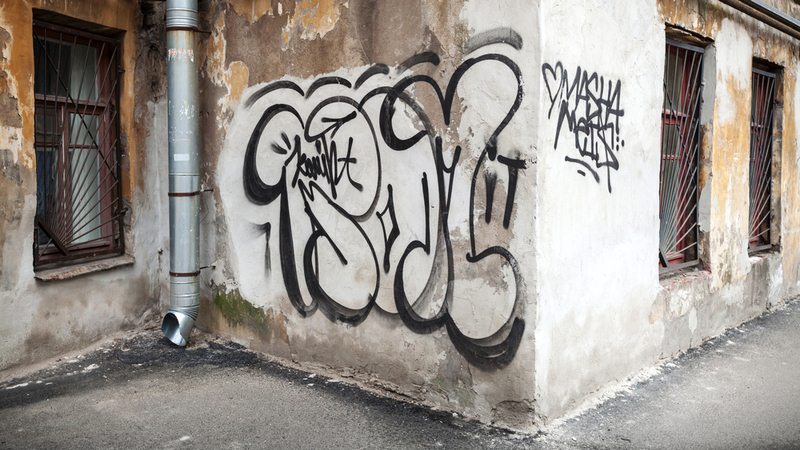 Let's look at the steps you can take to reduce the risk of having to clean up or repair your property. Some of them may be strategies you can take on with an existing property, but others will need to be planned or discussed with body corporate or property management.
---
Read Also:
---
Reduce the Appeal of Surfaces
A graffiti vandal will seek out walls and surfaces that are clean, smooth, and light in color. This is because the spray paint and ink markers they use work better and look more impactful. The completed work is also more challenging to remove.
A stone or brick surface is less graffiti-friendly. Non-porous materials will also impact the ink and paint from setting in and consider painting your walls a dark shade. Even better, install a permeable or semipermeable fence, instead of a wall.
Use Graffiti-resistant Materials
You can also look into graffiti resistant materials or coatings, which are required on all new buildings by some Australian councils. Most walls are suitable for using anti-graffiti coatings.
The material makes it quick and straightforward to remove graffiti without the use of harsh chemicals, reducing the time and costs involved by up to 50%. They also reduce the damage done to the wall.
Here's another selling point! Insurance premiums are often reduced when you can show your provider you have protected your property with graffiti-resistant materials.
There are different types of coatings. Sacrificial anti-graffiti coatings have to be removed and replaced with each graffiti removal. The benefit is that they are very affordable.
Non-sacrificial anti-graffiti coatings usually only have to be applied as a one-off and give a more permanent protective layer. The benefits are that it makes for easy graffiti removal and lasts for up to 10 years.
There are also invisible coatings available that won't change the look or nature of the surface of your walls. What to look for in an anti-graffiti coating? You want a product that will provide a barrier on the surface to stop paint being absorbed. It should still allow the masonry surface to breathe and let moisture escape.
Change Your Lighting
When vandals hit your property, they usually do it during nighttime to avoid being detected. One way to deal with this is to install a light with a sensor, so it turns on whenever someone approaches your property.
It's a simple but very effective deterrent to vandalism. Your local council may also be open to installing new lighting if you can show them it will make the community safer.
Hit the Nursery
Plants make your property look more attractive, and by installing new vegetation, you can help prevent vandalism and graffiti. Creeping plants, hedges, or trees will all work, and once they are well established, your property will be a lot less at risk.
It will be an investment on your part, but think of how your graffiti maintenance costs will be significantly reduced in the long term.
Go for Simple Signage
It seems too simple actually to work, but it does. A wall sign that warns people not to tag your property, and reminds them that is a criminal offense, works as a deterrent. Include information such as your security patrols or video surveillance too.
Explore all Prevention Methods
Here are other simple strategies:
Limit access to target surfaces but making it difficult for vandals to reach areas. For example, bins placed near the walls, outdoor furniture, ladders, and drainpipes.
Install rails and barriers to limit access where possible.
Fight Fire with Fire
What about getting to your walls with graffiti before the vandals can? One way that business owners approach the issue is to commission artists to paint a mural on their wall.
This can add to the aesthetic of the building and bring creativity into the neighborhood. Graffiti vandals respect other artists and will not deface the work of someone else.
A proactive and multi-tiered approach may be necessary to get rid of your graffiti troubles for good. However, once you have given your property the protection it needs, graffiti vandals will realize the risk of being caught is too high, and that their work will not look good on your walls, and will move on to easier targets.