How to Faux Painting Cabinets to Create a Shabby Chic Distressed Effect — Wondering how to faux painting cabinets or paint faux aged cabinets? Several techniques, from using crackle glaze to sandpaper, can be employed, to give a realistic shabby chic distressed or aged effect, to any bathroom or kitchen cabinet.
Preparation, How to Faux Painting Cabinets
Learning how to faux painting cabinets or paint faux aged cabinets is an easy process, and there are several ways in which you can achieve your desired look. Faux gilt, crackle glaze, using sandpaper, or even using a simple candle, can create amazing faux aged effects for that shabby chic distressed look.
No matter which method you choose to faux age your cabinet, several layers of medium are required for each one, therefore your cabinet surface needs to be thoroughly clean. The bathroom or kitchen cabinet should be free of any dirt, oil, or wax and completely dry before you commence any work. Depending on the surface, it may also be necessary to sand down the cabinet and add a coat of primer.
Crackle Glaze, Create a Faux Aged Effect
A crackle glaze emulates the effect of old paint or varnish that cracks over time. A crackle glaze consists of an oil-based undercoat and a water-based topcoat. The crackle effect occurs as the water-based topcoat dries quicker than the oil-based undercoat. A similar effect is sometimes used in pottery, using a glaze on specific sections before a pot is fired.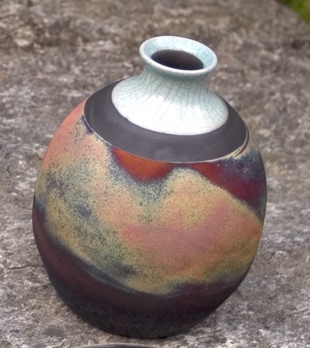 There are many different crackle glazes on the market, and it is a case of trial and error to create the look you particularly want-some will cause bigger cracks, while others are more subtle. Temperature and humidity also have a great bearing on the finished result, but by using one of the new age acrylic glazes you are likely to achieve more consistent results.
Another option is to make your own glaze. The most popular way to do this is by using glue as the topcoat. When one layer has dried, apply a second to create a more crackled effect. By blasting it with a hairdryer immediately after application, you can speed up the drying process, to create bigger cracks, and a more faux aged effect to your bathroom or kitchen cabinet.
When the crackle-effect is achieved, you can then brush over with a brown paint to emphasize the cracks, or use a water-based varnish over the top to seal the surface.
Create a Distressed Effect Using Sandpaper and Gold Paint
Brush a layer of white or cream matte paint and leave to dry. Apply small amounts of furniture polish to a cloth, and rub onto the cabinet following the grain of the wood. Rub it all over with wire wool. To create a more detailed distressed effect rub the edges down with sandpaper concentrating on any corners or details on the cabinet door.
For a shabby chic style bathroom cabinet, you could also add a gold border around the edge. Mark out a panel using masking tape, and use gold paint to complete the fine border. When this is dry, remove the masking tape and distress slightly when dry, again using the sandpaper.
Under-painting with gold paint, over-painting with white, and using sandpaper to expose the gold underneath, is another easy method to create a faux painting cabinets or faux aged cabinet. This under-painting technique is especially effective on bathroom cabinet doors that have a panel, or some kind of detail, that can be brought out with the gold peeping through.
Must Read:
Creating Further Aged Effects
Many household objects, and items found in your toolbox, can be used to create faux aged effects on your bathroom or kitchen cabinets. Distressing an object by using chains or a hammer works in the same way as using sandpaper but takes it one step further.
On bathroom or kitchen cabinet doors with detail, picking out sections by rubbing over them with a candle before under-painting, will highlight further details when the over-painting and distressing stages are complete.
Now you know how to faux painting cabinets or paint faux aged cabinets to give a shabby chic distressed look, you can add character and "age", suitable for any bathroom or kitchen cabinet, or to whichever room your newly acquired skills take you.
Resources, Faux Painting Cabinets
Image Credits