Before coronavirus, college students never imagined a time where they'd stay at home for so long that they'd miss going back to school.
Because of how fast COVID-19 spreads, learning institutions had to shut down and send students home.
Social distancing counters the widespread transmission of the virus so that we can soon get back to our normal lives.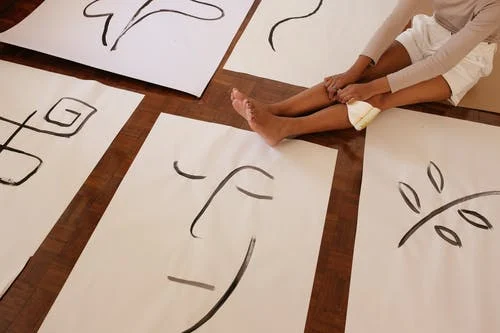 In the meantime, you should work on your Art assignments so that you don't forget the concepts you had already learned in school.
Educators' hands might be tied, but yours aren't because you can still access the resources you need for DIY home workshops.
With so much free time in your hands, it's the perfect season to work on all projects you've always dreamed of but were too busy with school work.
Right now, you've probably gotten used to being in a pandemic and have established a routine that allows you to stay productive.
Adding art workshops to your to-do list ensures that the time you spend at home is fruitful and fulfilling.
You can even ask your family members to participate in the projects and use this time to bond with them and get to know your siblings better.
As an art student, your imagination can create scenarios that get you anxious and scared. The best way to get out of this headspace is to channel your creative energy towards beautiful DIY projects.
Creating something from scratch allows you to focus on the beauty of your gift, and with time, you will eliminate all the negative thoughts trying to invade your mind.
While every art student has a unique way of creation, it does not harm trying out something outside your comfort zone.
It might just be what you need to discover your other abilities. So keep reading to get ideas for your art projects as you spend time at home with your loved ones.
Source: Pixels
1. Trying Out Alternate Paint
If you love painting but cannot access paint when you're at home, you should consider trying out alternate paint.
In today's information era, there are alternatives ways for doing everything, including your assignments.
If you are lagging behind on your homework, click here to find the best academic writing assistants you can turn to for help.
For most art students, the school provides all the paint they need for their projects, and being home means they no longer can access the school's resources.
Thankfully, artists have discovered alternate paint students can use to continue expressing their creativity.
You might just love working with these new alternatives and adopt them even after you go back to school.
Most alternative paints are naturally sourced, which means they reduce your carbon footprint and allow you to appreciate nature's beauty.
Think about artists who created before civilization; they must source their paint from nature, right? Here are some paint alternatives you can try out:
Coffee
Fruit and Vegetable Paint
Paint Made with Spices
Food Coloring Watercolors
2.  Found Object Ideas
Aside from exploring natural paints, you can also use found objects to make art. Found object art-making has been around for years, and it might be time to try it out.
The beauty of found object artmaking is you can use just about anything to create. In addition, creating like this connects you with all the artists through the ages who make art this way.
If you are conscious about your artmaking, found object ideas allow you to let go of the illusion of control and just flow with the process.
Since you have no idea what you'll end up with, you won't be anxious about what you're working on.
This is a low-budget project that allows you to make beauty with the things in your immediate surroundings.
---
Read Also:
---
3. 3D Lesson Ideas
If you want a project that's a bit more challenging, try planning activities and lessons for 3D classes.
You can use ceramics and sculptures that you have at home. While this project will not be easy, it will be fulfilling to engage your mind with problem-solving.
Even if you don't succeed in truly emulating the happenings of a ceramics class, being able to plan a class is a huge responsibility that will teach you leadership and delegation skills.
Before you embark on this project, ensure you have enough clay for the classes.
4. Lessons with Limited Supplies
When it comes to learning about working with limited supplies, the best project to embark on is a drawing project because it guarantees the most success.
You can draw with the materials you have because all you need to draw is anything that can make marks and a clean piece of paper.
If you want to work on a canvas, ask your parents to purchase some for you from the nearest art store.
Wrapping Up
Finding projects you can work on while you're at home helps you pass time, so it doesn't feel like you're doing nothing with your free time.
You also have the opportunity to learn skills you have not yet mastered. You can also consult with your art teacher for more art ideas to try out at home.