DIY garden retaining walls will help make your garden more beautiful and functional.
Use concrete interlocking blocks, cinder blocks or poured concrete for the long-lasting DIY rock retaining walls in your garden.
A backyard cinder block fence will cost about $10 to $30 per square foot, including the cost of professional installation.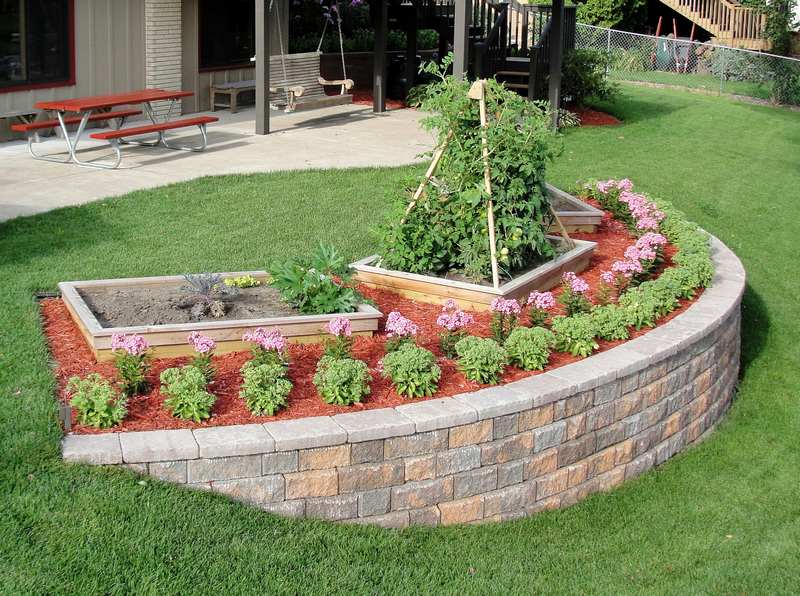 DIY Garden Retaining Walls, How to Build a Retaining Wall
Adding DIY retaining walls can make any landscape stand out. It can also add value to your home.
Create your own DIY garden retaining walls if you're not able to get help from contractors like https://newliferockeries.com/ that are both decorative and functional.
Choose from reinforced or poured concrete, concrete interlocking blocks, or cinder blocks to make your retaining walls last.
These DIY retaining walls are also excellent choices for building low garden walls to create outdoor rooms or raised planter beds.
---
Read Also:
---
Segmental Block Systems
This latest technology involves the use of interlocking blocks without the need for mortar. Segmental block systems are less cumbersome to install than most retaining wall materials, making them ideal for your DIY retaining wall projects.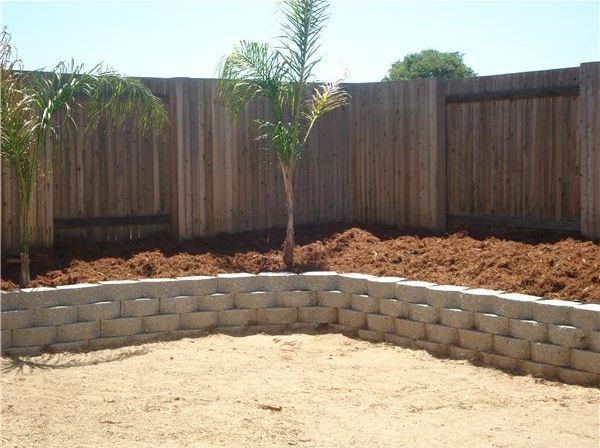 Highly recommended for short walls no more than 3 feet tall, the idea is to fill the cavity behind the wall with earth to create pressure that will push these blocks forward and hold the joints firmly with the underlying blocks.
Higher walls, however, require greater preparation to withstand tilting and slanting effects. Utilizing reinforcement grids, anchors or steel can strengthen the structure when designing taller retaining walls. Consult or hire a licensed engineer to determine the proper design and installation requirements.
Poured Concrete
Using poured concrete for your DIY rock retaining walls for your garden can be tedious and challenging; however, it is sturdier than concrete blocks. For the mold, use an exterior grade plywood sheathing measuring at least 3/4-inch thick.
Use studs to support the mold and add spacers to maintain proper spacing. Use wires to tie structures for added security against pressure build up.
Two horizontal walls are enough to create a concrete form, provided the structures are at least 30 inches from the center of the area. Larger walls should have separate pours for the footer and the wall, while lower walls will do just fine with simultaneous pouring.
For proper drainage, put coarse gravel behind the wall and create weep holes using rows of 2-inch plastic pipes or 3-inch drain tile inserted into the wall.
Pour the mixed concrete to form your horizontal wall, from the end to the center. Position the concrete using a ramp and control the flow by using a splashboard.
Remove your spacers as you work along. Form the concrete around the reinforcements after pouring each layer.
Pour each layer as quickly as possible to avoid leaks in between joints. Give ample time to let the concrete hold before inserting anchor bolts and wooden caps.
Cure the concrete at least a week before removing the forms. For the finale, pack gravel into space behind the wall and fill the top foot with topsoil.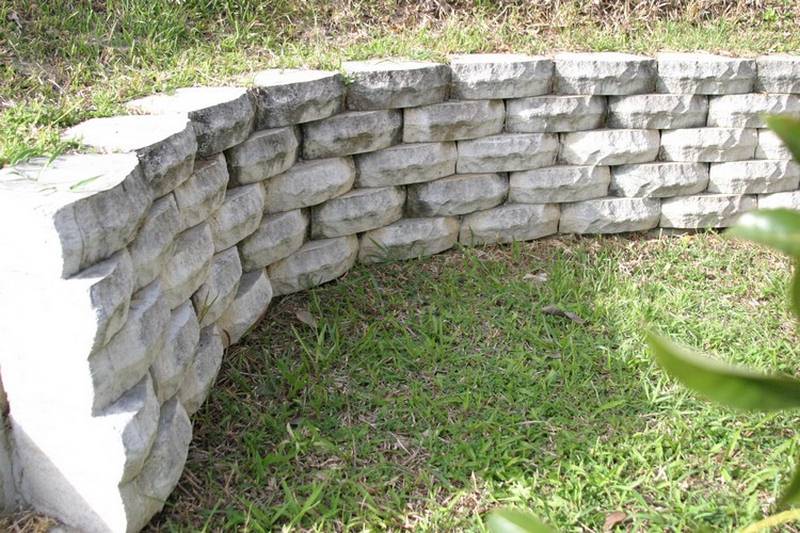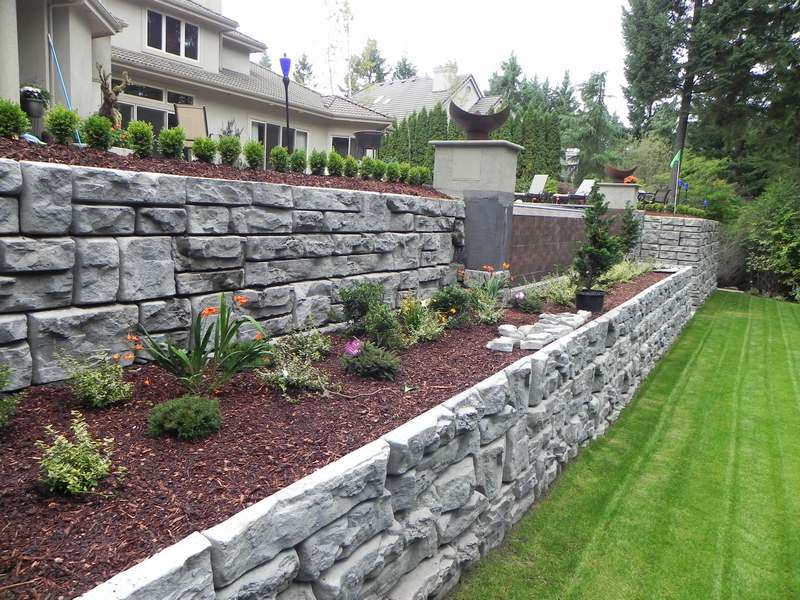 Cinder Blocks
Of the three, using cinder blocks made of concrete is the cheapest way to create your own DIY retaining walls. Also known as, hollow blocks made of concrete molds, cinder blocks are ideal for creating garden walls of varying heights. Place the first row of cinder blocks inside a 12-inch leveled trench filled with gravel.
Apply mortar evenly on the top edges before you apply the next rows of cinder blocks. If you want to create a retaining wall that is tall, use reinforcements such as steels and cement mixture to make the walls sturdier.
Insert the steel reinforcement and pour cement in the hollow part or cavity of the blocks. Apply stucco, tiles or sheets of simulated rocks to cover the cinder blocks and add visual appeal. Leave them bare for a more rustic appeal.
Finish off your DIY garden retaining walls by adding caps on top. Adding caps on top will make low walls function as added seating.
Furthermore, give your garden a new lease of life with outdoor furniture, outdoor settings & dining.
That's a How to build a retaining wall.
Resources & Image Credits
---
Frequently Asked Questions When Building DIY Garden Retaining Walls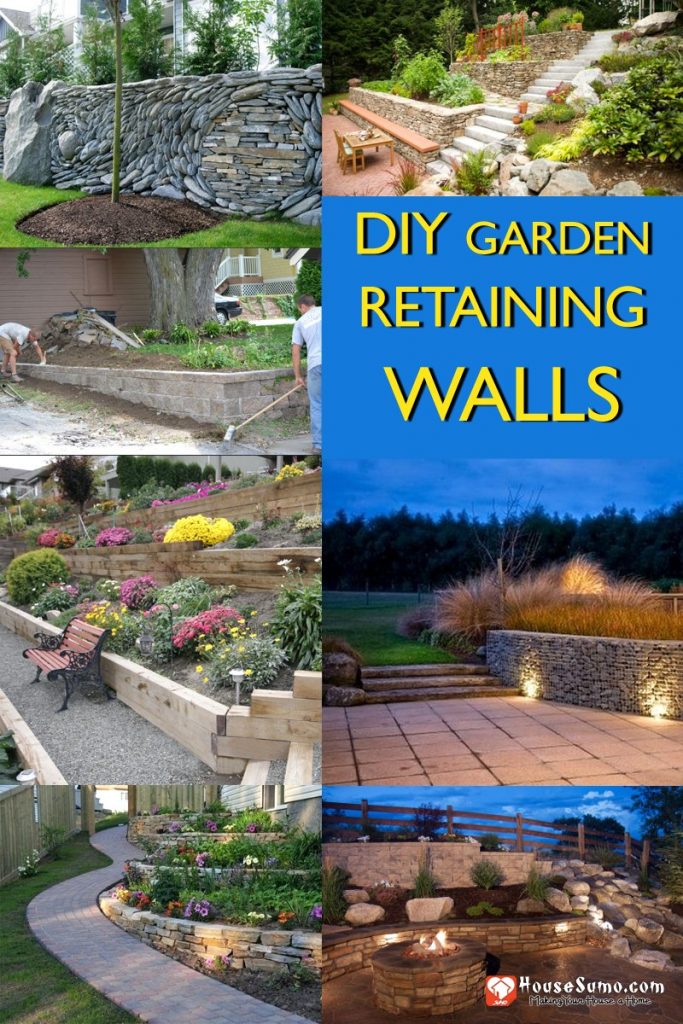 1. Do you need a footing for a retaining wall?

---
2. How do you build a retaining wall with concrete blocks?

---
3. What materials can be used for a retaining wall?

---
4. How is retaining wall build?

---
5. How do you build a retaining wall on a slope?

---
6. How high can you build a retaining wall?

---
7. How much does it cost to build a retaining wall?

---
8. How do I build a garden retaining wall?

---
9. How deep do post holes need to be for a retaining wall?

---
10. Do you need a permit to build a retaining wall?

---
11. How many blocks do I need to build a retaining wall?

---
12. How wide should a concrete retaining wall be?

---
13. How do you cut retaining wall block?

---
14. How do you build a cinder block retaining wall?

---
15. How do you build a stone wall?
Table of Contents:
Set Course of the Wall.
Dig Trench with Depth and Width Guide.
Tamp Down Gravel.
Place and Level Stones.
Saw Odd Stones.
Put in Drainage With PVC Pipe.
Fold Liner Fabric.
Backfill Wall.
---
16. Are retaining walls covered by insurance?

---
17. How much does it cost to get a building permit?