When it comes to choosing the right interior slab doors for your home, there are a lot of factors to consider.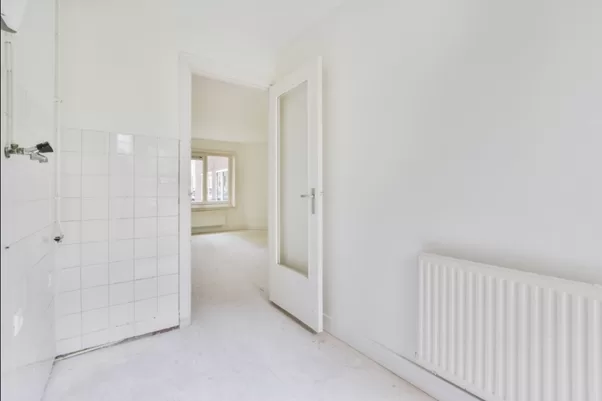 With so many materials, styles, and types available, it's easy to get overwhelmed and need help knowing where to start.
However, it's essential to take the time to carefully consider your options to make an informed decision that will not only enhance the look and feel of your home but also provide you with the functionality and durability you need in a door.
What Are Interior Slab Doors?
A slab door is a flat, rectangular piece of wood, fiberglass, or steel cut and shaped to fit an opening but does not have the frame, hinges, or hardware that a pre-hung door typically has.
Slabs can come in various styles, including those with glass or ornate moldings or simple rectangles made of wood or plywood without hardware. They are often used for interior passageways, closets, or other areas of the house that are not visible to guests.
Pros and Cons of Interior Slab Doors
Pros
Interior slab entryways are an affordable option compared to pre-hung doors since they do not include a frame or hardware.
Interior slab doors are highly customizable and come in various materials, styles, and finishes, allowing you to find the perfect match for your home décor.
Slab doors are easier to move and install than pre-hung ones because they are lighter and do not include a frame, making it possible for one person to install them.
Choosing interior slab doors can provide more design flexibility than pre-hung units. While many traditional entry styles may be available in either type, opting for slab doors can offer more personalized and unique options. Additionally, antique doorways or other repurposed options typically only come as interior slab doors.
Particular interior slab doors are insulated, enhancing energy efficiency and lowering heating and cooling expenses. In addition to these benefits, insulated entrances can provide better sound insulation, creating a more peaceful and comfortable living space.
Insulated doors can also help regulate temperature and humidity, preventing damage to valuable belongings such as musical instruments or artwork.
Cons
Interior slab doors require a separate purchase and installation of the frame, which may not be an issue if you replace an existing one. But additional maintenance work will be required if you need a new door frame or plan to install a sliding slab entry.
Professional Installation
Installing slab doors requires a high degree of precision and carpentry skills, as it involves cutting mortises and installing hinges. Ensuring the door is aligned correctly and flush with the frame is vital, which may take some practice to perfect.
Additionally, it is crucial to select the appropriate tools and materials for the job, such as a chisel and a drill, and to ensure they are in good working condition.
---
Read Also:
---
Factors to Consider When Choosing Interior Slab Doors
Before you buy an interior slab door, there are several factors you should consider.
Door Size
When selecting interior slab doors, measuring the height, width, and depth of the entrance opening is essential to ensure a proper fit. Standard door sizes include a height of 80", a width of 36", and a thickness of 1 ⅜" or 1 ¾".
Other joint widths include 24", 28", 30", 32", and 36". To ensure the correct frame size, measure horizontally across the opening's top, middle, and bottom and vertically on the left, center, and right sides, recording the smallest measurements as the width and height. Additionally, record the location, width, and height of all three hinges.
Material
Interior slab doors are available in various materials, including wood, fiberglass, and steel, and can come in solid or hollow options. While wood is the most popular material for interior slab entrances, other materials, such as fiberglass and steel, can also be used. While hollow interior slab doors are less expensive than solid ones, they are more prone to damage and have a shorter lifespan.
Style
Interior slab doors are available in various styles, such as panel, flush, and glass. When choosing the style of the entrance, it is essential to consider not only the level of privacy needed but also the overall look and feel of the space. For instance, if you are looking to create a more open and airy atmosphere, a glass door may be a great choice.
Door Sound Ratings
When choosing an interior door, it is crucial to consider its STC rating. A lower rating means more sound can pass through the opening, with the lowest rating being 25, indicating poor soundproofing for doors with a hollow core. Those with an STC rating higher than 60 provide excellent soundproofing.
Cost
Consider the cost, material, style, and finish when choosing an interior slab door. A solid wood panel costs more but provides better insulation and soundproofing.
Decorative panel doors cost more but add character to a room. The finish affects durability and maintenance. Choose one that fits your budget and meets your functional and aesthetic needs.
Maintenance
It's essential to consider the maintenance needs of the door material and finish when choosing an interior slab door. Remember that some materials, like wood, may require more maintenance than others.
Conclusion
Choosing the right interior slab door for your home involves several considerations, including size, material, style, sound rating, cost, and maintenance. While interior slab doors offer many benefits, such as affordability and customization, they also require more precision and carpentry skills to install than pre-hung ones.
By evaluating your options and considering your needs and budget carefully, you can find the perfect interior slab door that will not only enhance the look and feel of your home but also provide you with the functionality and durability you need in a door.