As you probably know, a water heater is one of the most important utilities in the house.
Without it you can't have hot water and life without hot water is rather inconvenient. Unfortunately, due to everyday usage, water heaters tend to break down every once in a while.
Repairing it requires time and skill most people usually don't have. Therefore, if your water heater breaks down, you will probably have to call a professional to fix it.
This, of course, can be pricey and it's safe to say that you definitely can do without this expense. But, how can you prevent your water heater from malfunctioning?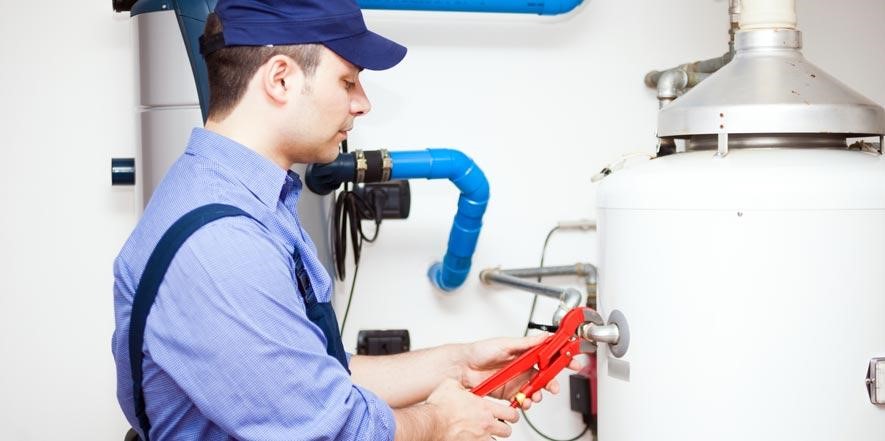 Even though it may seem like a complicated task, it's not. All you have to do is arm yourself with knowledge and invest in prevention.
This is exactly why today we are going to talk about the most common causes of water heater failures.
Here's what they are.
Rust
When it comes to water heaters or any other appliance that uses water, rust is probably your biggest enemy. The experts from waterheaterleakinginfo.com claim that rust is the most common cause of water heater leakage and other failures.
Therefore, the best way you can take care of your water heater and prevent breakdowns is to check and maintain it regularly.
In case you didn't know, the water heater has parts that keep the metal in the heater from eroding.
Those parts are called sacrificial anodes. As the name suggests, those anodes will tend to erode themselves after a while and you must replace them.
There's no exact estimation, but the usual lifespan of a sacrificial anode is a few years. However, you should try your best to check the condition of the anodes every year.
This way, if there's damage, you will be able to see it in time and prevent your heater from corroding.
The Cold and Hot Water Inlet and Outlet are Not Properly Connected
If this is the case, you are in luck because this is a rather easy thing to fix. In most cases, when there's water leakage the culprit is usually a poorly connected hot water inlet or outlet.
Those pipes tend to loosen up after a while, therefore, if your water heater is leaking, the first thing you should check is the pipes.
Maybe the only thing you have to do is tighten the pipes and connect the inlet and outlet better.
Incorrect Water Pressure
A lot of plumbing experts say that incorrect water pressure can cause a lot of damage to the water heater. Unfortunately, most people tend to ignore that fact.
You must know that if the water pressure is too high, the water heater, other appliances in your home, and the pipes may be in danger.
Fortunately, there's a simple way to detect this problem. All you have to do is to identify any leakage from the hot water system and call a professional plumber.
The good thing is that you can fix this problem all by yourself. If you notice some kind of change in the water flow, simply adjust the pressure.
Even though the pressure level depends on the water heater and the pipes, you should try to keep it at 80 psi. If you continue to have problems with water pressure, make sure to replace the pressure relief valve.
A Broken Thermostat
One of the things that can cause a water heater to break down is a broken thermostat. The easiest way to spot this problem is to check the heating elements.
If they are working properly, but the hot water feature is not working, you have to check the thermostat.
The good thing is the fact that changing the thermostat is not expensive, but if you don't have any plumbing experience, you shouldn't do it all by yourself.
Call a professional to fix this problem and cold showers will be the thing of the past.
Old Age
Much like most home appliances, water heaters are also not immune to time. An average water heater usually lasts for up to 12 years or less.
Most of them start breaking down after ten years. This, of course, is not always the case, but most experts say this is the average lifespan of a water heater.
Problems caused by old age are easy to recognize and prevent because there are a lot of signs. For example, the flickering of the pilot light, rust, and unstable heating levels.
If you notice any of those signs, watch the behavior of your water heater closely. This might mean that you will have to buy a new one soon.
Bad Electrical Connection
When a water heater breaks down, most people automatically assume that there's a problem inside the heater itself.
To be fair, in most situations that is the case, but not always. Therefore, if the heater looks fine, but doesn't work properly, you have to check other things too.
For example, in some cases, the reason why a water heater is malfunctioning is the faulty electrical connection.
One faulty wire, a broken power cord, or a blown fuse can cause all sorts of problems for a water heater. Therefore, if you notice that your water heater isn't working properly, check the electricity in your home.
If there's nothing wrong with your wires and voltage, make sure to call a professional to take care of the water heater.
Final Word
Having a water heater makes your life much easier and more enjoyable. In fact, it's safe to say that it is a privilege most people simply can't live without these days.
However, much like other appliances in your home, a water heater is also a product that can malfunction, especially if it's old.
Poor maintenance and the age of the heater are the two main reasons why this appliance can suddenly stop working. However, there are also other causes of failure that we mentioned in today's article.
If you want your water heater to work properly and stay healthy, you simply have to maintain it regularly.