Ask any interior designer, and they will tell you that color is one of the most important aspects of interior design. In fact, it is for this reason that designers spend a great deal of time selecting a color palette for their projects.
Wall color deals with a significant chunk of the visual aesthetic of a room, setting the overall mood of the space. Therefore, you need to carefully choose the color you want your man cave to be.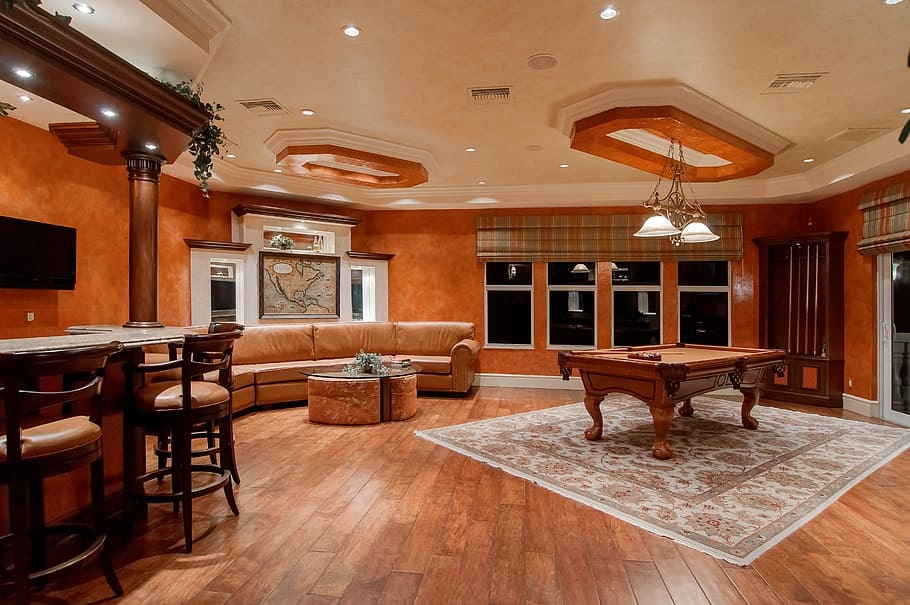 If you are building a man cave, you can find ideas on Tailored Cave to make it a true masterpiece. It is common for men to go for manly colors, which then limits their options. In truth, there is a world of paint colors waiting for you to explore.
Best Color Palettes for Man Caves
For the uninitiated, choosing a paint color for a man cave can be a very stressful experience. You probably find yourself limited to a few shades of paint that complement the style you wish to achieve.
Well, in that case, we have some good news for you. New color palettes for the chicest interior include plenty of shades with dark and neutral accents perfect for a man cave. The key is figuring out which color will work best with your existing furniture or your personal style.
Hues of Gray
Gray is one color that never goes out of fashion. In fact, you can find a shade of gray that goes well for all kinds of interiors be it modern, classic, traditional, and even rustic. Indeed, gray is a classic color for men, dominating the world of gadgets, clothes, and even home designs.
The best quality of this color is that it is pretty subtle, so it doesn't overpower the room. Nevertheless, it is strong enough to add character and the right amount of edginess to any interior. You'd also be able to find many man cave essentials that will look good with this wall color.
You can go for a dark gray color if your man cave is spacious enough. On the other hand, a lighter slate gray is more fitting for smaller rooms. Going this route will make smaller spaces seem more open-spaced while maintaining their masculine character.
You can also opt for a trendier taupe, which is sure to make your man cave look bigger. Gray is also an excellent pick for your home office. If you want your man cave to be multipurpose, serving both as a place to relax as well as work, you can definitely paint it in a minimalistic shade of gray.
---
Read Also:
---
Shades of Blue
Blue is my all-time favorite paint color. It might seem a little odd for a man cave to be painted blue but hear us out. We are not talking sky blue here. There are specific shades of blue, such as navy, that have a very manly charm to them.
Like gray, navy blue serves as the ideal backdrop for a man cave, with its soothing undertone yet statement visual aesthetic.
It will be the perfect color for a man cave if your space is large, like a basement, and has little clutter. Azure and oxford blue are also great colors for a man cave.
Tones of Brown
Brown tones and specs of wooden furniture are always a surefire way to make your man cave appear bold yet comfortable.
Chocolate brown is a neutral color that complements all kinds of interiors, making it a safe choice for a man cave.
You can find various shades of brown for your man cave because it is a very versatile color. We would suggest going for brown if you want a classy but cozy aura in your man cave.
Variations of Red
We all have heard how red is a girly color. Well, if you like it, then go for it. Girly or not, your man cave should be aesthetically pleasing to you. Plus, there are some manly variations of red you can find, such as burgundy.
The deep burgundy color is especially popular for man caves. It has an understated elegance that will make your space look homey yet sophisticated.
Match it with Your Style!
At the end of the day, you should feel free to decorate your man cave as you see fit. After all, it is your personal space. It shouldn't be subject to judgment or held against standards of masculinity. What is important is for you to feel at peace when in it.
If you worry too much about your masculinity being too toxic or not being manly enough, you will never be able to design a man cave that you feel at home in.
So, before choosing a color for your man cave, abandon these anxieties and just go with what feels most in line with your personal style.