You might fail to complete an outdoor task due to weather conditions.
Nowadays, electric chainsaws have become very popular as they speed up the work by many folds and save your energy.
Electric chainsaws are perfect for light-duty cutting tasks at your residence. You can use them for pruning, cutting firewood, and similar jobs.
It's the reason no one wants to hire a gardener nowadays.
Generally, not no electrical device is recommended to use while raining. The same goes for any electric chainsaw.
A lot of users work in the rain, so it's important to know that whether you can use a chainsaw in the shower or not?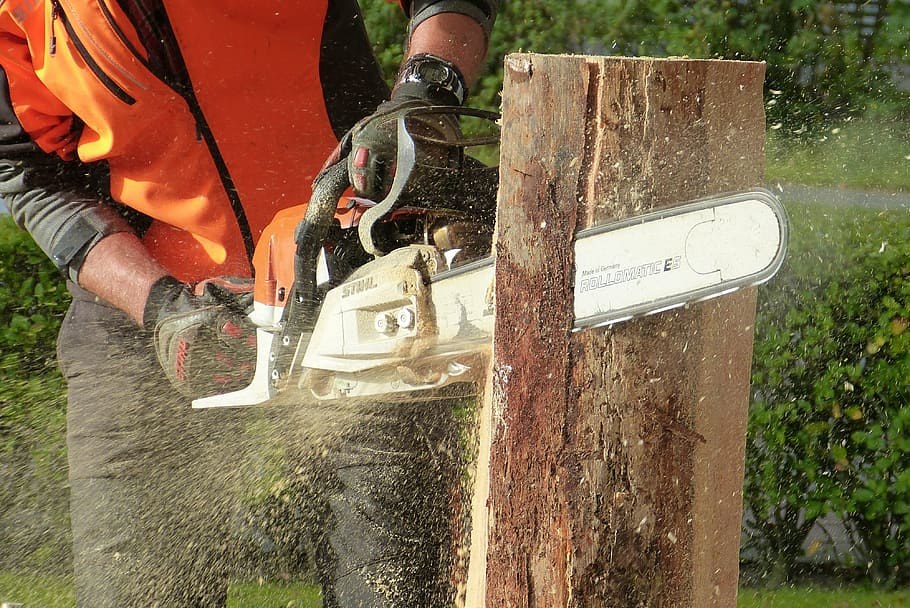 Who Can Try an Electric Chainsaw?
You can go for an electric chainsaw if you don't have much time to spend on maintenance.
Electricity port is near your working field, or you own a power generator
You only need trimming of small trees and herbs
Doesn't like noise and wants a quitter chainsaw
You need a lightweight and compact outdoor cutting tool.
Gas Chainsaw Vs Electric
The weather doesn't affect gas-propelled chainsaws, and it might work even after getting wet.
On the other hand, an electric chainsaw is very easy to use compared to a gas chainsaw.
---
Read Also:
---
Basic Parts
Every electric chainsaw contains two parts:
The electric engine is operated by a battery pack or cord.
The second is the chainsaw blade. A metallic wrapped-up guide bar is attached to it.
User Guidelines
Enlisted below are some of the basic steps while using an electric chainsaw:
Plug your chainsaw into an electrical port.
Switch on the flick button for gearing up your chainsaw.
Now, let the chainsaw do its job of cutting or pruning wooden trees, etc.
Can you Use an Electric Chainsaw in Rain?
Since it's pretty much clear that an electric chainsaw works through electricity, so it's not at all safe to use this device in the rain.
Unless you want to get an electric shock, it is not recommended to use it in wet conditions.
It's better to wait for the rain to stop and then use it safely. Human life is more precious as compared to any electric device.
You can use the chainsaw in any other weather, but not in the rain. Once water enters the internal parts of your chainsaw, its performance will degrade. Plus, the blades will rust if exposed to moisture for a long time.
Slipping chances are very high when you are using a chainsaw in rainy weather. Plus, it leads to chainsaw damage.
Water and electricity are a lethal combination. When water penetrates inside the chainsaw parts, it causes the malfunction of the machine.
You can check the https://gardengrower.co.uk/best-electric-chainsaw/
What to do if to Use an Electric Chainsaw in Wet Conditions?
It is best recommended always to use a chainsaw in dry conditions, but there are some exceptions.
For instance, in the autumn season, cutting trees is at its peak, and soils are wet.
 Following are two points that you should remember while using the chainsaw in wet conditions.
1. Slippery Soils
Wet soils are a common problem in rainy and irrigated areas. Ensure you have a solid footing while working on the chainsaw, and maintain a good grip on it.
2. Protective Clothing
Wear protective clothing as it will help to avoid any misadventure from happening in the woods.
This protective clothing will keep you safe if anything wrong happens. Wear water-resistant and warm clothes in cold weather.
The idea is to be comfortable so that you can use the cutting machine without any distractions.
3. Tree Debris
While cutting through rocks and debris might damage your chainsaw. So, it is highly recommended to check the tree for any residue before cutting through it.
Conclusion
In a nutshell, a little water won't hurt your chainsaw. Just dry the machine properly if it gets wet, and the tool will be fully functional again in no time. However, never use a chainsaw in wet conditions unless it's an emergency.