For most coffee buffs, the first cup of java acts as a catalyst between energy and revitalization.
Nothing can compare the purity of flavor to freshly ground coffee, so the demand for coffee grinders is on the rise. One of the prime choices these days is a silent grinder.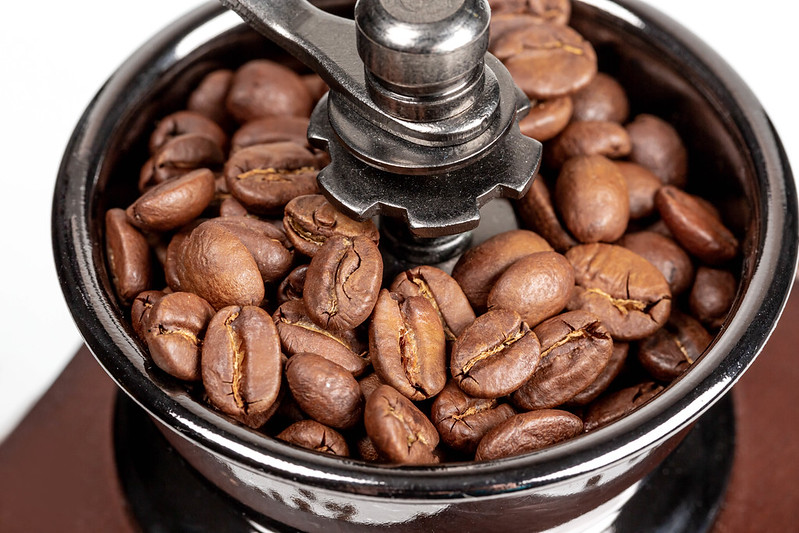 The choice of which coffee grinder to choose is an important one. A standard grinder is a common choice for many, but only after the initial usage do they realize that the noise is just too disturbing.
Therefore, the manufacturers came up with the concept of the silent grinder. Consider this quiet coffee maker to go with it.
There are numerous things to keep in mind when choosing a coffee grinder. The design, the material, the efficiency, and structure – all have a direct or indirect impact on the sound it would make.
If you are not well-informed, you might end up spending huge sums on the wrong grinder. If you are new to finding a silent grinder, you will find the coming sections very enlightening.
We have gathered some of the important aspects you must consider when buying a quiet coffee grinder.
Let us start by understanding the types of coffee grinders:
Burr Grinders
Burr grinders use two oscillating plates to grind coffee beans. Ceramic and stainless steel is highly preferred since they are consistent and reliable. You can choose from a conical or wheel when you plan to buy a quiet burr grinder.
Conical grinders are more consistent in terms of grind consistency. But they are more expensive.
On the other hand, a wheel grinder is a less expensive option if you're on a tight budget. However, because of its high-speed rate, it might generate more heat, which can alter the overall flavor of your coffee beans.
---
Read Also:
---
Blade Grinders
What sets blade grinders from the burr grinders is that these use two spinning blades for chopping. The only concern is the consistency factor, where the grinds are either over-extracted or under-extracted.
Apart from this, blade grinders are excellent for grinding coffee. They are also popular amongst coffee lovers.
What To Check When Buying Silent Grinder?
The primer purpose of the coffee grinder is to maintain the highest and purest form of coffee. That being said, you also need to ensure that your coffee grinder is not too noisy. Here is what you must check when looking for a silent grinder.
The Level of Noise
If you are the kind of person who prefers not to bother anyone in the mornings, then you need to scout for the very silent coffee grinder.
Generally, nothing beats a manual coffee grinder when it comes to the low noise levels. However, it does require a lot of time.
A good alternative is going for a conical burr grinder because you can expect less noise and higher consistency.
Bean Capacity
You have mentioned that you need a silent grinder, but what about the capacity? The volume of beans you need to grind would determine the cups of coffee you can prepare.
You can choose a standard grinder or a compact one if you need it for a limited number of cups.
Grind Consistency
Why do you need a consistent grind when you eventually plan to mix it all? If you want your everyday morning coffee just as you like, you would want to check for consistency.
And when your needs are clubbed with a quiet coffee grinder, the only best option is a burr grinder. A word of caution – the longer you use silent grinder, the more heat would be generated, and your beans would be exposed to it.
Blade Component
When choosing a quiet grinder, you also need to check for the quality and make of the blade. Ideally, stainless steel is preferred since they don't rust and are more durable.
You can safely use it for an extended duration without worrying about the rust contamination with coffee. Alternatively, you can also opt for ceramic blades since they are equally reliable and functional.
Grinding Power
When deciding on the power for your grinder, you have the option to choose from a manual grinder or an electric one. A manual coffee grinder is your best bet if you want a quiet grinder.
However, it can be inconvenient, particularly in the morning. On the other hand, an electric grinder grinds for you using a motor. Although most brands are noisy, certain brands are quieter than others.
Coffee serves as a wake-up call for most people as they begin their morning ritual. As a result, your coffee can make or break your mood.
As a result, some coffee drinkers prefer to grind their beans themselves. Even if it takes some effort, the ideal combination of freshly brewed coffee makes all the effort worthwhile.
Final Thoughts
Coffee has become a prerequisite for many in today's world. However, many of us hate the grinding noise before having the first cup. It is for this reason silent grinders are becoming a popular choice.
Along with the noise levels, don't forget to check the other aspects we mentioned in this write-up!