Modern parties for kids and teens should be colorful and dynamic.
This is a perfect description of what neon birthday parties can deliver. But it is not that easy to arrange such a party without help from professionals. People at least need to know about the great ideas for such type of party that will look good and creates a perfect atmosphere for all partygoers.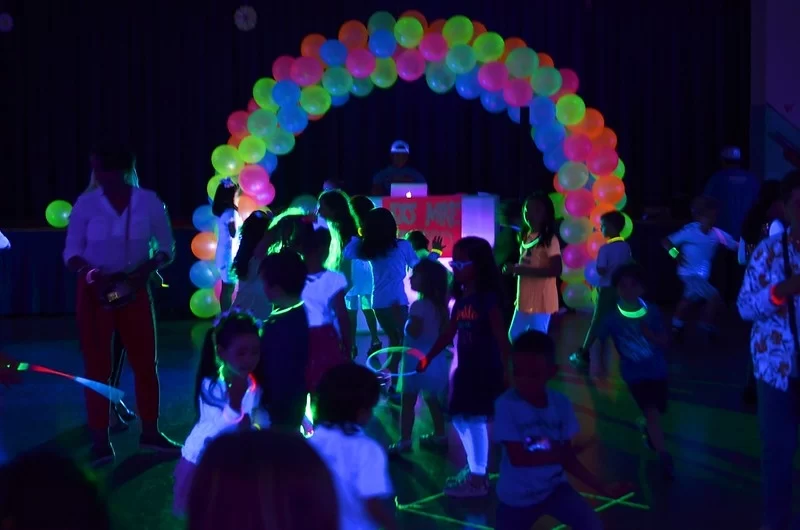 To make sure that all these ideas can be realized, it is worth purchasing all the necessary equipment. In particular, it is possible to use the services of the online shop https://balloons.online/neon-balloons/, which provides an opportunity to greatly simplify the process of buying neon balloons and other products for the party. Prices are attractive and the range of available items is pretty good.
Comfortable Set-Up
In order to make neon items look better, it is very important to use a dark enough place in the home. If there is enough space in the room, but the light creates a problem, it is important to spend a little time in preparation by covering windows and doorways with black plastic or fabric that would match the colors of the party.
A simple recommendation is to add a couple of details to the black plastic that is going to be used for decorations by using fluorescent paint. It will make the scene much better and more interesting to look at.
Prepare Decorations
The most important factor that can dramatically improve any neon glow party is the usage of bright and colorful decorations which will complement other items like neon yellow aesthetic or UV light from LED lights that should cover things and decorations by shining from all sides.
LEDs will allow you to prepare decorations with stunning neon effects and create a charming vibe for the neon party.
---
Read Also:
---
Suitable Outfit
To make sure that the party will set the necessary mood for partygoers, it is necessary to buy the right outfit. The use of a specialized online store will help you achieve the best result. Balloons, hats, belts, shirts, ties, or pants will become a nice addition to the party because it is going to create a vibe.
It is important to choose only the most toxic colors that will look bright and vibrant. This is especially true in the case of black decorations that are going to create a contrast and make bright paints look even more stylish.
Think About Games
It is impossible to imagine a neon party without games. Kids or teens should have at least some kinds of activities. It is possible to use bowling, ping pong, or scavenger hunt with bright neon colors of the outfit. It is not that hard to find items that will fill the need for any neon party.
Food
To make sure that a party will feel great, some dishes and drinks should never be forgotten. Just keep in mind that food should also have an appropriate look. It means that the colors of dishes should be white, green, red, yellow, or blue anything that will look bright in a dark place with LED lighting.
It is possible to find good ice creams, yogurt, cream pasta, or even potato chips. It will add another layer of pleasure to the atmosphere of the party. If the party is prepared for adults, you can also use some cocktails that will glow in the dark – a very important attribute of any 18+ neon party.