Nowadays the market for finishing bathroom walls materials is very rich and gives us unlimited possibilities for bathroom designs
Bathroom walls no longer have to be painted with light semi-gloss paint as have been the traditional pattern of the past.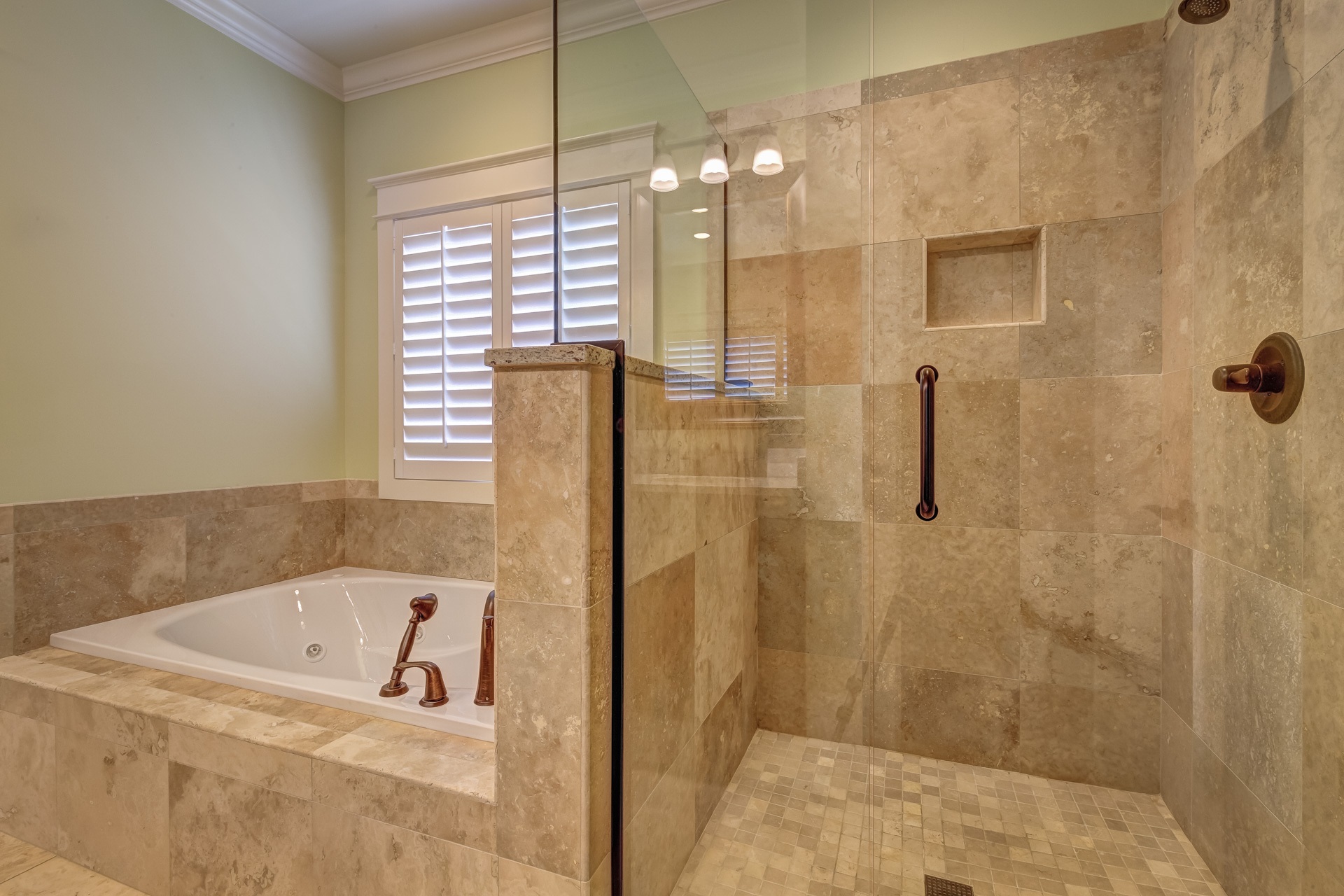 New materials make it easy to upgrade your bathroom and one of the most dramatic changes you can do is to change your bathroom wall.
Below are some of the best materials to use. It is recommended to use professional bathroom remodelers whenever doing any serious work, although painting can be easily done
Painted Walls
If you like the ease and relative cheapness of paint, there are several options in blending colors to create your own bathroom design.
Painted bathroom walls shouldn't be boring. Stencils or wall murals are possible to add to bring out a new exciting look.
For a streamlined modern effect, two wide stripes in different colors will bring balance to an empty wall without going overboard.
Bathroom Wallpaper
When considering a new wall covering, remember that the bathroom has much more moisture exposure than other rooms in your home.
For this reason, wallpaper is not always a good choice for a bathroom. If you have adequate ventilation, wallpaper is a possibility but it may curl and attract mold when exposed to moisture.
Always look for the words vinyl and scrubbable when considering wallpaper for your bathroom, otherwise, the cons outweigh the pros.
However, wallpaper can be easily added by anyone and it shouldn't be discarded if you have the proper bathroom for it.
---
Read Also:
---
Ceramic Tiles
Ceramic tile is functional, washable, and durable to use as a wall covering. There are several more options today in color and design than there were twenty years ago.
You can also have exquisite patterns like stone or marble without the high cost associated with these materials.
Good quality tiles are not cheap but with proper installation, they can last a lifetime.
Wall Paneling
Wall paneling for the bathroom is easy to install and it looks well. Manufactured with thermoplastics, or UPVC, these panels are waterproof and come in an array of designs.
A wood grain, marble, or mosaic effect is possible with wall paneling in addition to several different plain colors.
Many good manufacturers offer a 10 to 15-year warranty on them. This is one of the newest types of bathroom design for DIYers but a professional should install them regardless unless you have vast experience in renovating.
Wall Decals
Wall Decals are the latest trend in bathroom design. These wallcoverings are fashionable, cool, super versatile, and are so easy to use!
Wall decals are similar to vinyl stickers, which means they can be used on all types of surfaces including; tile, glass, wood, metal, and plastic.
Wooden Walls
Wood is very popular in almost every room of the house although it is a more exotic cover for bathrooms.
Given the fact that wood is an enemy to water and moisture, great care must be given to using wood as a wall covering.
It must be treated and finished very well with a urethane finish and even then, you are not guaranteed a long life.
Marble Walls
Marble tile remains the number one choice when looking for luxury and longevity. It is also one of the most expensive walls to have installed.
If you own your house and plan to stay there for a very long time, it is worth taking it into consideration.
Cost, wear, and maintenance should all be considered when choosing a new bathroom wall covering.
If you like to remodel your bathroom every five years, affordable paint and vinyl wallpaper will work fine for your needs.