In today's world, indoor air quality is a growing concern for homeowners seeking a healthier and more comfortable living environment. Air scrubbers represent an advanced solution to combat pollutants, odors, and airborne contaminants that can compromise your respiratory health.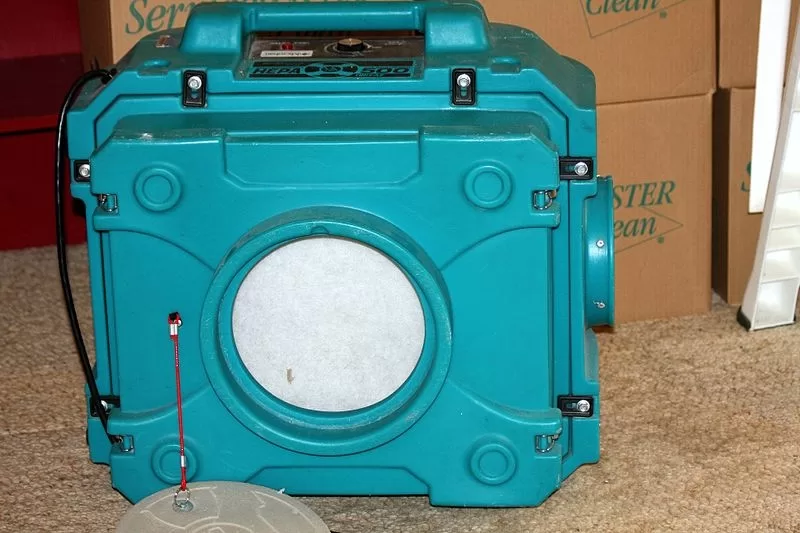 This blog post will explore the numerous benefits of using air scrubbers in homes and buildings as well as provide helpful insights into selecting the right one for your needs. We've also determined some of the best Phoenix air scrubbers to help homeowners get an idea of the kind of options available to them.
What Are Air Scrubbers and How They Work
Air scrubbers are advanced filtration systems designed to improve indoor air quality by removing pollutants, contaminants, and odors from the air. They function as an integral part of your HVAC system or as standalone units strategically placed around your home for optimal effectiveness.
The core of an air scrubber's functionality lies in its specialized filters most commonly HEPA (High-Efficiency Particulate Air) filters which can trap up to 99.97% of microscopic particles larger than 0.3 microns, such as dust, mold spores, and pet dander.
Some models also incorporate UV-C light technology to neutralize bacteria, viruses, and volatile organic compounds (VOCs), while others use activated carbon filters to adsorb gases and chemical fumes responsible for unpleasant smells in the home.
Benefits Of Using Air Scrubbers in Homes and Buildings
Air scrubbers provide a plethora of benefits for homeowners, including improved indoor air quality, reduction of airborne pollutants and contaminants, elimination of odors, and prevention of mold growth. If you want to ensure that your home has cleaner air, efficient ventilation systems, and healthier living spaces overall, it's definitely worth considering investing in an air scrubber.
Improved Indoor Air Quality
One of the primary benefits of using air scrubbers in homes and buildings is improved indoor air quality. Airborne pollutants and contaminants like pet dander, dust, and volatile organic compounds (VOCs) can accumulate in closed spaces over time, leading to respiratory problems for occupants.
By removing these particles from the air, air scrubbers can help promote a healthier home or workplace environment. Improved indoor air quality can also enhance the efficiency of your HVAC system by reducing strain on its filters.
In some cases, poor indoor air quality has been linked to long-term health risks like cancer or pulmonary disease. An effective way to reduce this risk is by investing in a HEPA filter-equipped air scrubber, which catches even small particles like mold spores and bacteria that are often missed by other ventilation systems.
Reduction Of Airborne Pollutants and Contaminants
One of the main benefits of using air scrubbers in homes and buildings is the reduction of airborne pollutants and contaminants. Air scrubbers work by continuously filtering the air in a space, trapping particles and molecules on various types of filters such as HEPA filters or activated carbon filters.
This process cleanses the air and makes it healthier to breathe for occupants. In addition to improving your health indoors, reducing airborne pollutants also contributes to cleaner facilities overall—especially relevant for homeowners with children who have allergies or asthma.
Elimination Of Odors
Air scrubbers are an excellent way to eliminate odors in homes and buildings. Whether it's cooking smells, cigarette smoke, pet dander, or musty odors caused by mold growth, air scrubbers work effectively to purify the air and leave your space smelling fresh.
Using air scrubbers for odor elimination is especially useful for those who suffer from allergies or respiratory issues. Chemicals and VOCs released by some household products can be harmful to our health if not removed properly from indoor spaces. Air purifiers remove these pollutants from the air we breathe which greatly contributes to improving respiratory health.
Prevention Of Mold Growth
Mold growth is a common problem in many homes and buildings, especially those with poor ventilation or high levels of humidity. Mold not only looks unsightly but can also cause health problems such as respiratory issues and allergies. Fortunately, air scrubbers can help prevent mold growth by removing excess moisture from the air.
When left untreated, mold can spread quickly and become more difficult to remove. By using an air scrubber with a HEPA filter or UV sterilization technology, homeowners can effectively purify the air and prevent mold spores from settling on surfaces where they can grow into larger colonies over time.
---
Read Also:
---
Types Of Air Scrubbers and Which One Is Best For Your Needs
Air scrubbers come in different types such as HEPA air scrubbers, UV air scrubbers, and carbon air scrubbers, each with unique features that suit specific needs.
HEPA Air Scrubbers
HEPA air scrubbers are among the most effective types of air scrubbers when it comes to eliminating airborne pollutants and contaminants. HEPA stands for High-Efficiency Particulate Air, which means that these filters can trap even tiny particles as small as 0.3 microns in size.
HEPA air scrubbers work by trapping these particulates as they pass through their filter system. This helps improve indoor air quality and makes for a healthier home overall. It's especially useful for those who suffer from allergies or asthma since cleaner air can help alleviate symptoms.
UV Air Scrubbers
UV air scrubbers, also known as UVGI (Ultraviolet Germicidal Irradiation) air purifiers, use ultraviolet light to neutralize microorganisms in the air. These microorganisms can range from bacteria and viruses to mold spores and allergens like pollen or pet dander.
One of the biggest benefits of using a UV air scrubber is its ability to eliminate airborne pathogens that can cause respiratory problems or worsen allergies. This type of air purification is especially useful for homes with elderly individuals, young children, or anyone who may have a weakened immune system.
Carbon Air Scrubbers
Carbon air scrubbers are ideal for removing unpleasant odors and chemicals from the indoor air of homes and buildings. They use activated carbon filters to remove volatile organic compounds (VOCs), toxic gases, and other contaminants that can negatively affect your health.
One example of when a homeowner might want to use a carbon air scrubber is during home renovations or painting projects. These activities release harmful VOCs into the air that can be dangerous if inhaled over time. With a carbon air scrubber in place, these airborne chemicals are collected before they have a chance to circulate throughout your home's ventilation system.
Conclusion
In conclusion, air scrubbers are highly beneficial to homeowners and building occupants in many ways. Not only do they significantly improve indoor air quality by reducing airborne pollutants and contaminants, but they also eliminate odors and prevent the growth of mold.
There are different types of air scrubbers available such as HEPA, UV, and carbon air scrubbers which cater to specific needs. Installing an air scrubber is a low-maintenance way to efficiently purify your indoor environment while promoting respiratory health for you and your family.
With proper use of ventilation systems and other air purifiers like HEPA filters or HVAC systems, it's now possible to breathe fresh clean healthy air indoors even with pollution from pet dander, dust, chemicals, or VOCs lurking around. When considering environmental remediation for industrial operations or building maintenance needs look into the benefits that these filtration devices offer.