Skid steers are four-wheeled vehicles designed to have the wheels which are locked in sync with each other. The operator can move them left or right, and one side can be moved independently of the other side of the wheels.
Skid steer loader is a rigid and small frame machine or equipment that can be used to attach various effort reducing and labor-saving tools called attachments. Using caterpillar skid steer attachments has its advantages.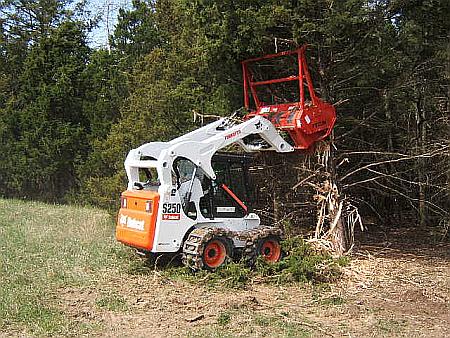 The skid steer loader comes with a default bucket attachment, which can be replaced with various skid steer attachments.
Few of the Caterpillar attachments are Augers, Backhoes, Balespears, Blades, Booms, Bucket accessories, Grapples, Hitches, Land Levelers, Pallet Forks, Sweepers, Tillers, Trenchers, etc. A few models of skid steer loaders also have an automatic skid steer attachment changer mechanism.
The operator can easily switch between various shapes, terrain handling, and leveling tools without leaving the machine since it uses a hydraulic control mechanism to get paired up or latched with the attachment.
The powered caterpillar skid steer attachment may be lined with hydraulic supply to be routed so that the coupling is near the cab, and hence the driver need not leave the skid steer to disconnect or connect these supply lines.
As already discussed, skid steer loaders are very versatile, and they can perform different types of tasks related to construction. The skid steer can either have track or wheels.
The skid steer features are incredible, and most of the job sites use skid steer since they provide many benefits. A few of the benefits of caterpillar skid steer attachments are as follow:
Visibility and control
Size and Weight
Ease of Access
Ease of Use
Portable
Added Safety Features
Easy to Maintain
Optimal visibility and control
Greater maneuverability
Operator Comfort
Compact
Agile
Strong
The skid steer loader can be used to replace the large excavators by digging a hole from within. A skid loader can perform various tasks right from grading, demolition to excavation, and debris removal using different skid steer attachments.
The Caterpillar backhoes are more effective to dig a small area rather than using lengthy and tedious processes.
The skid steers are also used for transportation. Transportation is used to transport the raw materials all around the construction site, or skid steers also help in the rough grading processes.
Depending upon the size of the skid steer, the application changes and hence the use of attachments.
A small skid steer is used in tight workspaces where a piece of large equipment can hardly fit itself. It is the best choice for most interior related work. The medium-sized skid steer is most productive since it is larger than the small skid steer and quite smaller than the large skid steer.
They can be used for a variety of purposes using the right caterpillar attachments. The large skid steers can be used where heavy-duty work is expected.