A houseplant can have many benefits for you and your environment. Among the benefits of a houseplant are:
Lower stress levels
Better air quality
A higher level of wellbeing
Supports cognitive health
The benefits of house plants are easy to identify. Green-colored house plants can be easy to care for and benefit every aspect of our lives.
We often want a splash of color to improve the aesthetic appeal of our homes, with the houseplant a colorful addition to any home. Better known as the Aglaonema Chinese evergreen, this plant can make an easy-to-care-for addition to your home.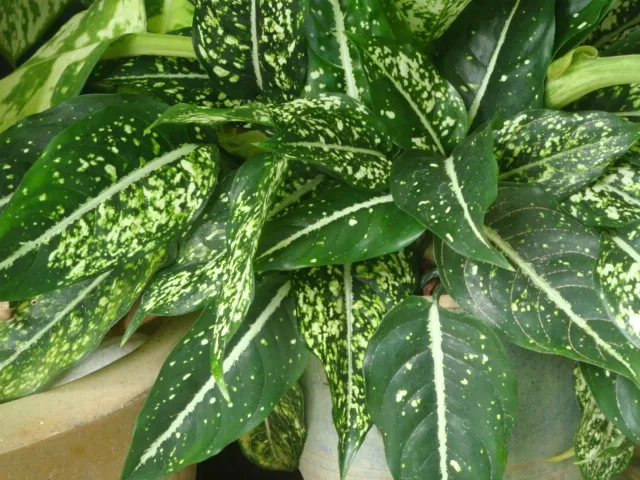 What is the Aglaonema?
The Chinese evergreen is a popular houseplant native to Asia. Aglaonema varieties thrive in the hot, humid, tropical forests of New Guinea and Asia. These plants are members of the Araceae family which has given us several varieties of popular houseplants. Close relatives of the Chinese evergreen are philodendrons and monsteras.
The reason why Aglaonema silver bay plants have become popular is their dark green leaves, with different colors on the interior. The large, dark green leaves have short stems that are easy to clean. These plants grow to between one and two feet tall to make them manageable for novice plant owners.
How Much Light Do Chinese Evergreens Need?
Aglaonema snow white and other plants grow on the floor of tropical forests throughout Asia. The Asian forests this plant calls home have limited them to areas of shade. The Chinese evergreen does not require a large amount of light.
If you are looking for a house plant that can be located away from windows, the Chinese evergreen is a good option. Despite the reputation of Chinese evergreens as requiring little light, some species do. Aglaonema reds require a medium amount of light to remain happy and healthy. Always remember to determine the species of the plant when looking for a shade-friendly house plant.
The Right Amount of Water
One of the areas of concern for owners of tropical plants is how much to water them. Changing the way you look at watering tropical houseplants is important to keeping them healthy.
Instead of watering the plant, you should be thinking about keeping the soil moist. Keeping the moisture level at the right rate will help you care for your Chinese Evergreen.
There is not the perfect amount of water to give a Chinese evergreen when you are growing it. Caring for these evergreens requires making sure the soil remains moist, but not flooded.
A water probe will help you to keep your houseplant healthy. using a probe will help you to recognize when your plant has 50 percent of its soil dry. Using a finger test will not give you an accurate view of your plant's soil moisture.
One of the enemies of Aglaonema varieties is flooded soil. It is important to use potting soil with high drainage levels for any tropical houseplant. Many plant owners use a substrate alongside high-drainage potting soil.
A perlite is a popular option for adding extra drainage. This volcanic glass can help drain potting soil and keep your Chinese evergreen healthy.
---
Read Also:
---
Feeding Your Aglaonema Maria
When you buy a houseplant from a nursery, you are buying a plant that has been grown in the perfect conditions for rapid growth. The nursery will have created a combination of nutrients and minerals to speed its growth. Getting your houseplant onto the shelf for you to buy is in the interest of the grower.
Each houseplant is pumped full of nutrients and minerals to help it grow quickly and in good health. Phosphorous and potassium are two of the most important parts of the diet of your Chinese evergreen. Nitrogen aids growth and gets your plant to your door as healthy as possible.
You can simply care for the Aglaonema Maria using fertilizer and feed off the shelf. The most important aspect of caring for the Aglaonema Maria is to choose a balanced liquid fertilizer that will help keep it healthy. Choosing a fertilizer or feed that is high in nitrogen will help keep its leaves healthy and dark green.
When you start to consider watering and caring for your Aglaonema plant, you should think about the type of fertilizer you use. A fertilizer will keep your evergreen Chinese plant healthy for months to come.
If you have purchased your Chinese evergreen from a reputable nursery it should be filled with nutrients and minerals for weeks ahead. A nursery-grown and fed Aglaonema plant will have enough nutrients and minerals to remain healthy for up to six months.
This gives you time to consider the appropriate Aglaonema care for your indoor environment. The evergreen will remain happy and healthy when is fed and watered correctly. You should remain alert for growth changes around six months after buying your plant. The development will have been rapid in the nursery and you should be aware of any long-term issues that can develop.
Because your plant is filled with nutrients and minerals from a nursery, you could see rapid growth when you add in an over-the-counter fertilizer. As the initial batch of nutrients is used and departs, your plant may start to look ill. If you continue to use a fertilizer, you will see a return to health within a few weeks.
Cleaning is Part of Aglaonema Care
Whether you choose the Aglaonema silver queen or another variety, you will need to keep its leaves clean. You are probably wondering why cleaning your Aglaonema silver queen is so important. The answer is that your houseplant relies on sunlight and water to survive. If the leaves are dirty the process of photosynthesis is slowed.
How do you clean the leaves of an Aglaonema silver queen? The cleaning process is simple. Every couple of weeks, you should mix a small amount of dishwashing detergent with water. Using a towel or damp cloth, wipe down the leaves until dust and dirt particles are no longer visible.
When wiping down the leaves of your aglaonema plant, you need to be careful because your houseplant is fragile. Damage to the leaves of your Aglaonema silver queen draws nutrients away from the rest of the plant. An unhealthy plant will not look its best for several weeks. Damage can lead to further problems and disease if left unattended.
Repotting is Important
Your home needs to be kept humid between 60 and 80 degrees for perfect Aglaonema modestum health. The Aglaonema commutatum, the Philippine evergreen requires similar environments to the Chinese variety.
After a few months, your plant may begin to droop and look unhealthy. When this happens, you should take the time to change the pot you keep your plant in.
The Aglaonema commutatum will outgrow a pot within a few months and start to look unhealthy. A sign of outgrowing its pot is a drooping of the leaves no matter how much they are watered. Choosing a pot with adequate drainage will help your Aglaonema varieties to stay healthy. The steps to choose a new pot include:
Find a pot a couple of inches wider than the one being used
Fill with new potting soil
Unless it is an emergency, do not change pots until the growing season begins in the Spring
Pruning Your Houseplant?
Pruning is not needed often for these evergreens, with the Aglaonema red needing some leaves and dead flower buds removed. The biggest issue to avoid when pruning is damage to the roots and stems. Removing the dead flowers and yellow leaves should be done carefully.
Using shears will help create less damage and keep your plant healthier. In most cases, pruning will only need to be done once per year. As soon as you spot a yellow leaf it should be removed. leaving dead and dying leaves on your plant will draw nutrients away from the healthy leaves.
Avoiding Infestations
When you buy aglaonema varieties, you should be aware of the bugs and diseases that can affect them. In terms of infestations, the mealybug is the main problem owners encounter. The mealybug is a small, white insect that can cause tremendous damage to different varieties. The mealybug leaves behind a powdery residue that is a sign an infestation has begun.
Many owners of Chinese evergreens are concerned about using insecticides on their plants. The fear of damage and disease caused by insecticides has grown recently. Home remedies are available to handle a mealybug infestation. A cotton swab soaked in rubbing alcohol will end most infestations. Other options include using insecticidal soaps and neem oil.
Consider Propagation
Propagating your aglaonema modestum and other varieties will continue to reproduce for years after they are purchased. Chinese evergreens reproduce at the stem and grow eider throughout their lives. The different varieties of this houseplant will need to be propagated to maintain good health.
A healthy and well-cared-for aglaonema modestum will need to have new sprouts removed from the stem to avoid becoming unhealthy. The houseplant needs to have new shoots removed to avoid it becoming wider than it requires to stay healthy in its current pot. By removing new growths, the houseplant will not need to be moved to a new pot.
Propagating your Algaonema will help you to produce more plants for your home. Planting and growing new stems from the base of your houseplant will help you to continue to grow your interest in these evergreens.
Keep Your Plant Out of the Way of Pets and Children
The aglaonema varieties you can buy at stores and nurseries do contain a small amount of a toxic substance. Calcium oxalate is a toxic substance that can be harmful when ingested. For families and pet parents with inquisitive children and pets, it can be a good idea to place your plant on a high shelf.
By keeping the plant out of reach of cats, dogs, and children, you should avoid problems with toxicity. Avoid ingesting the leaves or any oils that are associated with your plant to stay healthy.
Will My Plant Flower?
Aglaonema varieties do flower and produce a scent. The Chinese evergreen and other varieties will flower after a few years of good health. The flowers of the plant do not have traditional petals but grow from a modified leaf. Different varieties will look slightly different, with the overall structure similar in all.
A leaf will appear that is fatter than those you normally see. When the leaf opens, you will see a long central structure that adds interest to your plant. The flower will last a couple of weeks before it dies and needs removal.
Should You Prune Flowers?
There is no requirement to remove the flowers of evergreen Chinese plants. Some experts argue the plant is not grown for its flower but for its impressive foliage. Some cultivators do remove the flowers of the evergreen to reduce the loss of energy directed toward the foliage.
It is your choice if you choose to remove the flowers of these Asian plants. many owners enjoy the change in appearance of their aglaonema snow white and other varieties when they begin to flower. A flowering houseplant can provide a new level of interest for you in your care of our plant.
Be Careful at Night
Winter nights can be dangerous for evergreen Chinese plants. The temperatures at night should not fall below 60, with moist air the perfect growing conditions. using a humidifier can help you to keep the indoor environment in the correct zone for your evergreen plants.