"Sometimes, you have to destroy something in order to build something better." This is one of my favorite quotes from one of my favorite authors, Brandon Sanderson.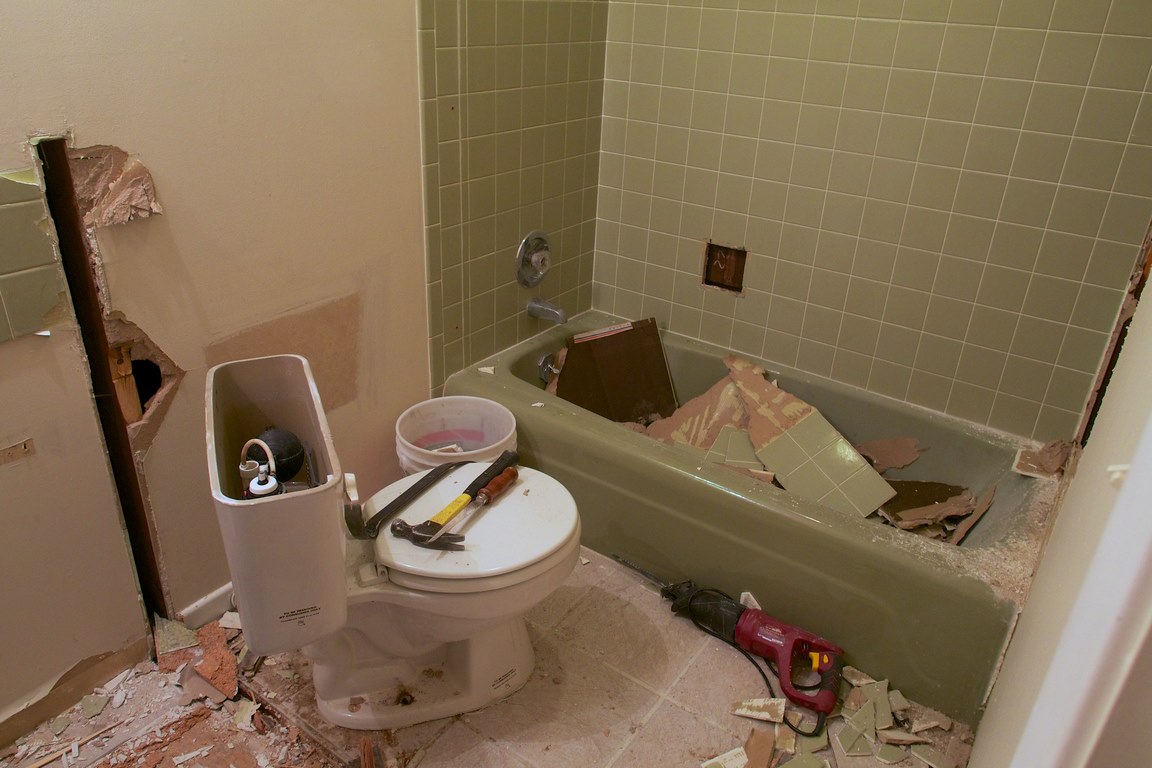 When it comes to renovation work, you always need to destroy something to build something better. Want a redesigned bathroom? You have to knock down the old one first!
Redoing a bathroom is not an easy DIY challenge to undertake. Sometimes, you would be better off relying on a professional bathroom demo company.
If you insist on doing the job yourself, you need to prepare appropriately. This article aims to give you all the information you need to make your bathroom demolition task safer.
Cut Off Water, Gas, And Electricity Supply
Chances are, you already know that you should turn off the utilities before starting any kind of demolition work. But, just on the off chance you didn't, we had to mention this. Cutting off water, gas, and electric supply should be the first thing on your bathroom demolition safety checklist.
The power, water, and gas supply should all be shut off. The last thing anyone wants to do is get electrocuted or accidentally cause a water line to explode. It's always better to be safe than sorry.
If you don't feel comfortable removing a particular unit like a basin or a power outlet, don't hesitate to ask for professional help.  Even after shutting down the utilities, many things can go wrong. So, don't do it unless you have confidence in yourself.
Double-check the service meters before starting the work. Once you are fully assured that none of the utilities are live, clear the area for demolition. This is the most important step in the demolition safety guide.
---
Read Also:
---
Plan Ahead
Draw out a complete plan before you begin to hammer down the walls. It will save you money and time. On top of that, it will minimize the risks of accidents to a significant degree.
If you go straight in without giving much thought to what you want to achieve, the results can be far from satisfactory. A casual approach can make the operation lengthier and costlier. What's even more concerning is that it significantly increases the danger factor.
Demolition might appear pretty straightforward to the naked eye. But the reality is that your bathroom remodeling will get delayed without an effective demolition strategy. Worst case scenario, it might never go down the way you had envisioned.
Therefore, you should take the bathroom demolition work seriously. Map out every step beforehand. What do you need to remove? What to do with the rubbish? Are their health hazards like asbestos? Make plans for all of that.
Seal the Bathroom Off
Once the demolition begins, plasters and dust will fly around. They tend to get to the trickiest places in your home. Nope, just closing the bathroom doors will not prevent them from getting elsewhere in the house. You have to seal off the bathroom altogether.
Cover drainages and seal off any other areas that aren't part of the demo project. Use plastic sheets and tape to cover the non-demolition sections. Setting up a dust barrier system around the demolition spot would be a fantastic idea too.
Don't forget to cover up air ducts and cold air returns because the forced air HVAC system can spread a lot of dust around your house.
Wear Appropriate Safety Clothes
Make sure you are dressed for the occasion! While helmets, goggles, and respirators will not indulge your fashion senses, they will do a remarkable job of keeping you safe.
A bathroom demolition site is a boobie trap full of potential perils. It's possible to tread on a sharp object, for example, or hurt your hands on a pointy wall. Also, there may be falling objects, dust, asbestos, and flying debris. Take caution by ensuring you have the correct safety attire.
Put on boots with thick soles to protect your feet from nails and screws. If you're going to be doing something messy, like tearing down a ceiling, you can get temporary paper coveralls to wear over your clothes.
Knee pads are a must-have whether you're tearing up floors or performing any other work that requires you to be on your hands and knees. Wear a heavy-duty plastic hat to cover your head while working on the ceiling.
Check Behind the Walls
If the house had a previous owner, you might not have had the chance to look at the blueprint. So, check the bathroom walls before tearing them down. You wouldn't want any surprise to pop up and make your job harder.
Keep an eye out for live wires, water and gas pipes, and other potential dangers. Take the help of specialized testing equipment to acquire a clearer image of what's going on behind the wall. Until you know for sure, always assume there are live electrical walls or asbestos behind the walls.
Use Proper Equipment
You'll need to be very careful when choosing the tools, you use for your bathroom demolition
project. Power saw, impact driver, and wrecking bars are some of the essentials. Pick top-quality brands to maximize performance and safety.
Dispose of the Waste
As long as the waste is lying around, there is always a risk of danger. There could be asbestos in the rubbles, or you could get hurt by a pointy edge poking out of the pile.
This material can be fatally dangerous if mismanaged, and the worst part is that you won't realize you've infected yourself or your family until years have passed. Those who are exposed to asbestos are at risk of death. Please don't take a chance on it.
Leaving waste management to professionals is the wisest thing to do. Renting a dumpster, filling it, and driving to landfills will take a lot of time and effort. Hire a skip hire company and clean up the area in an instant.
Final Remarks
Demolition is the first step you have to take while remodeling a bathroom. It can be a risky, unpleasant, and hazardous process. However, you can significantly reduce the risk factor by exercising appropriate safety measures.