Avoid Mesothelioma while Working with Asbestos — The EPA declared an asbestos ban for most products in 1989, but it was used for years in home construction resulting in asbestos cancer, mesothelioma, and asbestosis.
Avoid Mesothelioma while Working with Asbestos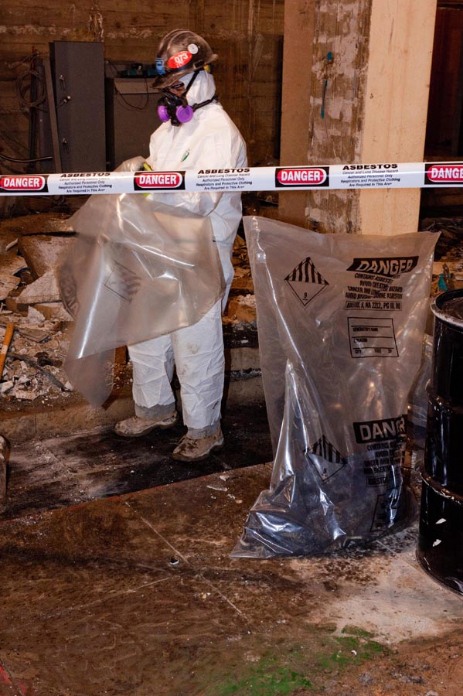 An Insulating and Fireproofing Material Causes Asbestosis and Cancer
This insulating and fireproofing material is a naturally-occurring silicate mineral that was once considered a miracle material. And it is affordable and very effective, but as we now know, it can be deadly.
It is effectively harmless if left undisturbed. It is only a problem when movement causes the light fibers to become airborne and are inhaled. Before this danger was commonly known, it was handled, cut, and installed extensively in both residential and commercial construction.
The resulting deaths and cases of mesothelioma and asbestosis are now crowding the courts with what Supreme Court Justice David Souter calls "the elephantine mass" of asbestos litigation.
Lab Testing and Asbestos Abatement During Residential Remodeling
Only an accredited lab should be used to test building materials before beginning a home renovation project in a house built before 1989. Homeowners are most likely to encounter this mineral when removing floor tiles, replacing siding, and removing popcorn ceiling textures.
Always wear a respirator when taking any samples.
Spraying on these drywall finishes were very popular with subdivision developers because it was inexpensive to apply and covered up a multitude of sloppy sheetrock installation practices, which minimized taping and floating drywall.
If the lab sends back a negative verdict for the sample, the removal can begin. If it comes back positive, a professional asbestos abatement company should be hired for removal using special protective gear and techniques.
Home Building Materials Containing Asbestos Fibers
This material was incorporated into a vast range of house construction components. Why? Because of its thermal insulation, chemical and stability properties; fireproofing ability; high tensile strength; and its effectiveness as an acoustic insulator. It was used in:
Ceiling Tiles
Lap siding
Roofing composition shingles
Asbestos-cement shingles
Other roof coatings
Insulation
Spray-on popcorn ceilings
Roofing Felt
Floor Tiles
Diseases Resulting from Exposure
The three main diseases that have been contracted as a result of exposure to this mineral are lung cancer, mesothelioma, and asbestosis. These are threats to both workers in the construction trades and homeowners who have done their own remodeling projects and have disturbed and inhaled the fibers.
Symptoms of lung cancer are a noticeable change in breathing and coughing. It also presents as hoarseness, short breath, and chest pain.
Mesothelioma is a cancer of the thin lining of the heart, chest, abdomen, and lung. It is generally a delayed disease, not showing up until long after exposure.
Must Read:
Asbestosis is a progressive non-cancer affliction in the lungs. After the fibers are inhaled, they irritate and permanently scar the interior of the lungs, impairing the absorption of oxygen into the bloodstream. It presents as a crackling, dry sound while inhaling.
Obviously, this is one building material not to trifle with. When renovating any home built before 1989, care should be taken and any of the components listed above should be tested by an accredited lab. Always wear a respirator when taking any samples.
References & External Links