When it comes to soundproofing a room or space, the market offers a variety of options. Popular acoustic treatments include wooden acoustic panels and sound curtains. But which is more suitable for your needs?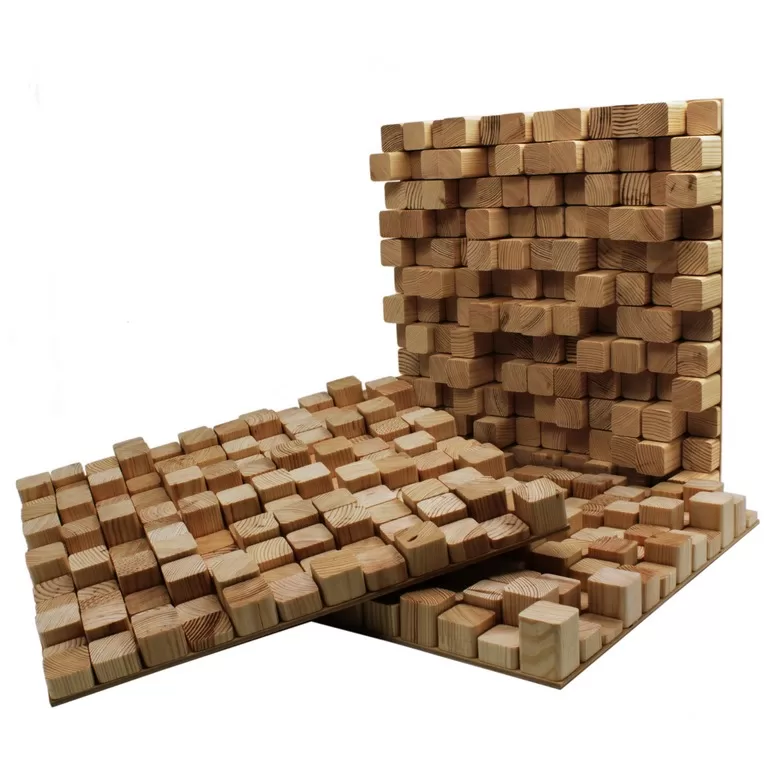 In this article, we will compare and contrast the features, benefits, drawbacks, and prices of these two products. We will also provide guidance on how to select the optimal solution for your unique circumstance.
By the conclusion of this article, you will have a clear understanding of which product is best for you and why.
Understanding Wooden Acoustic Panels
A Wooden acoustic panel is a form of sound-absorbing material composed of wood or wood-based materials. They are intended to reduce undesirable noise and enhance a room's acoustics by absorbing sound waves and preventing their reflection from hard surfaces.
Wooden acoustic panels have numerous advantages, including:
1. They can improve a room's aesthetic allure by adding natural warmth and texture.
2. By diminishing reverberation and echo, they can enhance the speech intelligibility and sound quality of a room.
3. Depending on the type of timber and coating used, they can provide thermal insulation and fire resistance.
Wooden acoustic panels are most effective in recording studios, auditoriums, theatres, conference rooms, and music venues, where sound quality and aesthetics are essential.
However, timber acoustic panels have some disadvantages, including:
1. They can be costly and challenging to install, particularly if they require custom cutting or mounting.
2. Depending on the type of timber and finish employed, they may be susceptible to moisture damage, warping, splitting, or fading with time.
3. They may have a low coefficient of sound absorption at low frequencies, indicating they may not effectively suppress or absorb low-pitched sounds.
Understanding Sound Curtains
Sound curtains are panels of flexible fabric that can be suspended from walls or ceilings to reduce noise levels and enhance acoustics. They are composed of sound-absorbing and sound-reflecting materials, such as fiberglass, polystyrene, and vinyl.
In situations where permanent soundproofing is impractical or undesirable, such as in rented spaces, transient venues, or outdoor areas, sound curtains are advantageous. They can also be used to construct enclosures or partitions for loud equipment or activities.
Examples of situations where sound curtains are most effective include:
1. In recording studios and private theatres, where they improve sound quality and block out intrusive sounds.
2. Where they can protect employees and adjacent residents from excessive noise exposure on industrial or construction sites.
3. In classrooms or offices, where they can foster a more tranquil and productive atmosphere.
Before choosing sound draperies over wooden acoustic panels, however, it is important to consider their limitations.
Among the limitations are:
1. They may not be as effective at blocking low-frequency noises as substantial materials like wood or concrete.
2. As they accumulate grime and debris over time, they may require more maintenance and cleansing than wooden panels.
3. Due to their more casual and transient appearance, they may not complement the aesthetic or design of some spaces.
Comparison Of Wooden Acoustic Panels and Sound Curtains
Wooden acoustic panels and sound draperies are two common methods for enhancing a room's acoustics. However, their advantages and disadvantages vary based on the circumstance and the desired outcome.
Consider the following factors when deciding between the two:
Aesthetics:
Wooden acoustic panels are more aesthetically pleasing and can improve a room's design. Sound curtains are more utilitarian and less aesthetically pleasing, but they are readily removable and replaceable.
Cost:
Wooden acoustic panels are more costly and require more time and effort to install than sound curtains. Sound curtains are less expensive and simpler to install than wooden panels, but they may not last as long or provide as much sound absorption.
Performance:
Wooden acoustic panels are more effective at reducing echo and reverberation in a room, particularly at mid and high-frequency ranges. They can also help block out noise from the exterior or adjoining rooms.
Sound curtains are more effective than windows or doorways at reducing noise transmission, particularly at low frequencies.
Application:
Wooden acoustic panels are best suited for permanent or semi-permanent installations in spaces where aesthetics and sound quality are crucial, such as theatres, auditoriums, studios, offices, and residences.
In areas where noise reduction and privacy are essential, such as construction sites, factories, schools, hospitals, and hotels, sound curtains are better suited for transitory or flexible installation.
Conclusion: Which Is Better? Wooden Acoustic Panel Or Sound Curtain
In this article, we compared wooden acoustic panels and sound curtains, two common materials for enhancing a room's acoustics.
We have observed that wooden acoustic panels are more effective at absorbing and diffusing sound waves, thereby producing a more natural and balanced acoustic environment. However, they are pricier, heavier, and more difficult to install than sound curtains.
Sound curtains, on the other hand, are more flexible, portable, and inexpensive, but they do not enhance sound quality; they merely prevent sound transmission.
Consequently, the selection between wooden acoustic panels and sound curtains is determined by your requirements and preferences. If you desire the highest possible sound quality, wooden acoustic panels are the way to go.
However, if you only wish to reduce disturbance and create privacy, sound curtains may be sufficient.