The TV area acts as a focal point in the living room.  Making this area exciting will transform your living room. One of the best ways to optimize the TV area is by bringing in a TV stand.
A TV stand frees the space and improves the safety of your TV. Additionally, a TV stand makes your living room look stylish.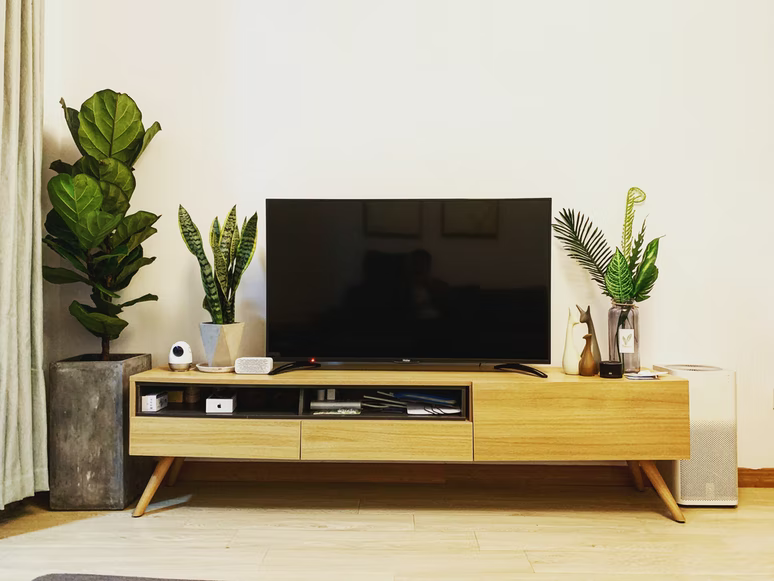 You don't have enough storage space for all the items you need to store. Tv stands are a great way to store your media and entertainment devices, but they can be expensive. Utopia Home offers affordable tv stands with a wide selection of colors and styles.
In a nutshell, a TV stand will make your living room look great in the following ways.
Frees Up More Space
Modern homes are quickly embracing the idea of wall-mounted TVs. These TV stands save space.
They also come in minimalistic styles. However, what happens when you don't have space for extra electronics like decoders and DVDs? Well, that's where a TV stand comes in.
With a TV stand, you can securely raise the TV, creating extra space on the surface for additional electronics. Consequently, it makes your living room tidy, inviting, and luxurious. View details here and purchase your unit today.
---
Read Also:
---
Comfort While Watching
A TV stand is designed to offer you better viewing. Remember, bad viewing can cause you back pain. It can also interfere with your comfort. However, a TV stand comes with an adjustable height to optimize your viewing.
Living Room Layout
You can adjust the height and viewing angle of the screen to suit the layout of your living space.
You can also use the height adjustment feature to move the TV down or up, depending on the viewers. Kids prefer a lower height. For a good movie with friends, adjust it upwards.
Safety
A falling TV can hit your kids and cause injuries. To avoid these accidents, bring in a TV stand. Remember, tall TVs can easily flip and fall, causing a lot of damage.
Besides causing injuries, they can break and bring a lot of loss. A TV stand solves these issues.
A TV stand is mounted on a good foundation, proving a good counterbalance. This reduces the chances of falling or tipping. For more security and safety, you can use an anti-tipping device to attach your TV to the wall.
Stylish
As one of the main focal points in the living room, TVs should look stylish. Things around the TV should have appropriate organization. This is where most things are coordinated from.
There are different styles, shapes, as well as sizes. It's up to you to choose a TV stand that makes your home complete.
Better Organization
TV stands come with a storage facility. This gives you a space to store your stuff. Whether it's extra electronics or accessories, a TV stand will offer your home a better organization.
Features like drawers, cubbies, and cabinets make it easy to organize and store things around the TV.
The Bottom-Line
Bringing a TV stand to your living room is an innovative way to make it look stylish and bigger.
Available in different colors, you can get a TV stand that complements your living room's décor. The above are compelling reasons why your living room requires a TV stand.