The sight of a candle with its flame flickering on the nightstand in your bedroom exudes an air of coziness and invitation.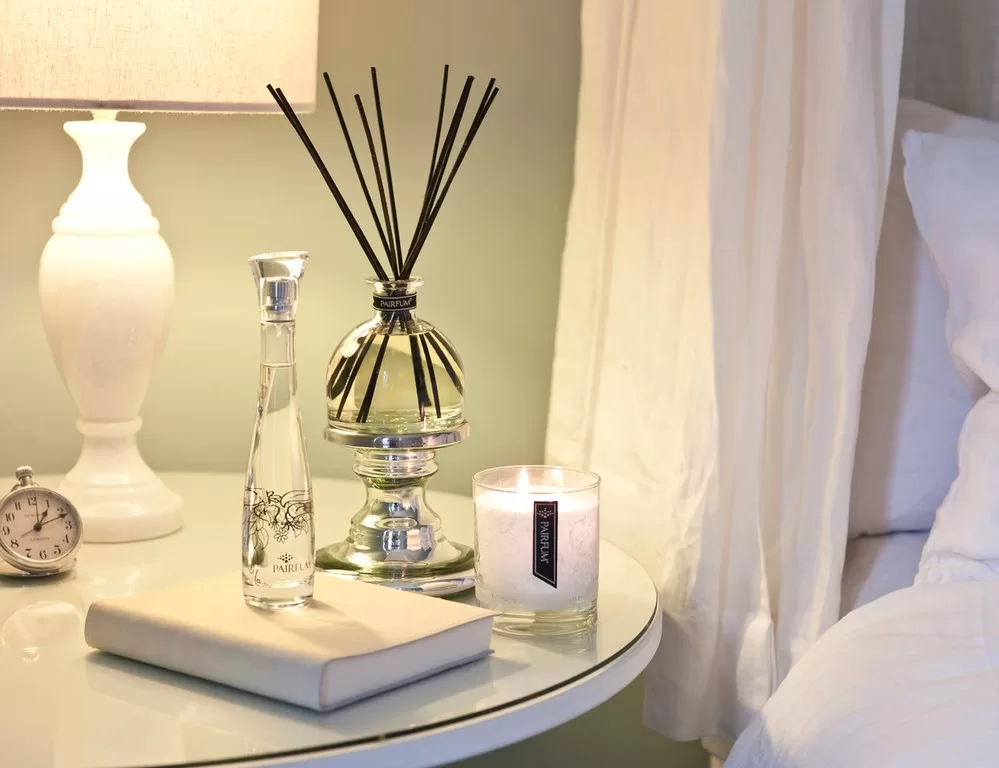 When you desire that much-needed relaxation and rejuvenation at the end of the day, scented candles provide that closeness that puts you in a good mood so you can get the most out of the rest of the day. The appearance of your bedroom may be completely changed by just giving it a nice arrangement and adding the appropriate furnishings.
There is a wide variety of packaging for scented candles to choose from. You'll be able to bring the decor to your bedroom along with the candles. If, on the other hand, your bedroom has more of a rustic or rural style to the décor with flameless candles, you should choose a more muted fragrance perfume to complement the atmosphere of your bedroom.
1. Grouping of Scented Candles on The Side Table
When you light the candles, not only does this include relatively simple steps, but it also has an instant effect on your mood. With a candle holder, you may adorn your side table by arranging a collection of some of the most exquisitely fragrant aromatic candles.
Just by themselves, the many candles you have displayed in a prominent location will provide an air of sophistication to your bedroom. For extra variety in the arrangement, use candles of varied sizes, colors, and designs. You may even try using candles of varying shapes.
2. Incorporating Natural Elements
Displaying a selection of natural artifacts may enhance the aesthetic value of any room. When you have a few fragrant candles burning on the table, it doesn't matter what organic artifact you pick. You'll definitely feel more at ease and like you've been given a new lease on life.
You could choose to put a flower vase on your side table or decorate it with seashells, crystal healing stones, or colored sand. Another option is to use colored sand. On top of the side table, you could also put a section of a twisted tree branch to further emphasize the natural and rustic feel you're going for.
---
Read Also:
---
3. Using Glass Jars
Putting your fragrant candles in a transparent glass jar topped with a metal cladding cover, which can be purchased, is another easy tip you can do to transform your candles into a beautiful pieces. You might also use the ribbed glass jar or the twiggy frosted glass jar which are both available.
Explore the options available in our glass jar category, where you can find a variety of glass jars to use in your creative endeavors. Jars made of glass that are filled with wax are yet another excellent choice to choose from.
With this method, you will be able to further improve its appearance by decorating it with flowers. Put a single large candle in the jar so that it may also serve as a source of illumination. Alternatively, you could have numerous jars of varying sizes put out on the side table.
4. Beautify with Wooden Trays
Imagine that you are concerned about the potential for your side table to get overcrowded. In such case, you may organize everything by arranging it all in a lovely frangipani wooden tray. This will allow you to keep everything in one place. In addition, we have some wonderful wooden trays in a variety of sizes and shapes, including round, square, and rectangular configurations.
5. Putting Scented Candles
It is essential that you be able to make an informed decision on which scented candle to use in order to bring light into your bedroom utilizing this method. Your choice of fragrance will have a significant impact, not only on the coziness of the surrounding environment but also on your own state of mind. Likewise, think about how many candles you'll need for the occasion.
6. Floating Candles
Tea candles and floating candles are quite similar in appearance and function. They are often put to use in containers filled with water, larger pools, or lakes where they are allowed to float. They do not produce an excessive amount of light, but they are ideal for creating an atmosphere and lighting up the area.
The sight of them is quite calming, and the effects that they have on the sea are really breathtaking. You could even arrange them in a large bowl and set them on the dining table if you were having a more formal meal with your family.
They come in a huge variety of colors and dimensions, and they are quite useful for ornamental purposes. There is an infinite number of options; all you need to do is be creative and let your imagination run wild.