Have you ever entered a room and been mesmerized by the exquisite decoration on the walls or floor? Decorative tiles can do that sort of magic!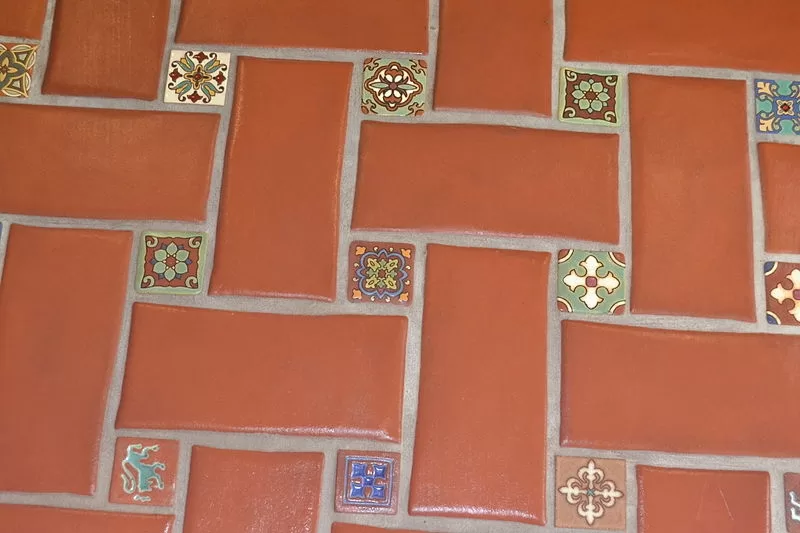 Decorative tiles have unparalleled adaptability and aesthetic appeal in the domain of home construction, renovation, and remodeling.
This article's goal is to provide you with information on ornamental tiles and their potential uses so that you can put your own creative ideas into action.
Types of Decorative Tiles
Decorative tiles come in many shapes, sizes, and materials, each with its unique charm and functionality. Here are some of the most popular types of decorative tiles:
Ceramic tiles: There is a plethora of colors, patterns, and textures to choose from when shopping for these multipurpose tiles. Use them to add a touch of elegance and sophistication to your walls, backsplashes, and floors.
Porcelain tiles: Porcelain tiles, due to their density and resistance to water, are frequently used in high-traffic areas and outside. Homeowners and decorators alike adore them for their longevity and refined appearance.
Glass tiles: Glass tiles, with their reflected and translucent qualities, are a beautiful addition to any room. They shine when used to play with color and light, or to give the illusion of depth.
Cement tiles: Cement tiles, which are both handmade and adaptable, can be used indoors or out. Because of their one-of-a-kind styles and luxurious textures, they are perfect for those who want to make their home feel like a reflection of their individuality.
Creative Applications for Decorative Tiles
The sky's the limit when it comes to incorporating decorative tiles into your home. Here are some creative applications to spark your imagination:
Kitchen backsplash: A backsplash that is both functional and aesthetically pleasing can be the showpiece of your kitchen. Pick the perfect colors and patterns to make your kitchen the place you can't wait to spend time in. Also, you can go for stone kitchen benchtops.
Bathroom walls and floors: Turn your bathroom into a personal oasis by using decorative tiles on the walls and floors. Mix and match different tile types to create a space that reflects your unique taste and style. If you're considering a bathroom renovation, decorative tiles are a must-have feature. Not only are they a practical and durable option for bathroom flooring and walls, but they can also add a unique and personalized touch to your space.
Fireplace surrounds: Instead of having a boring fireplace, why not make it the focal point of the room? You may improve the aesthetic of your fireplace while keeping it safe and usable by using heat-resistant ornamental tiles.
Outdoor patios and walkways: Decorative tiles can provide outdoor areas with personality and appeal. If you build your outdoor haven from materials that can survive the elements, it will look great for years to come.
Choosing the Right Decorative Tiles for Your Project
Selecting the perfect decorative tiles for your project can be both exciting and overwhelming. Keep these factors in mind to make the process smoother:
Consider the space and its purpose: Where and how the tiles will be utilized will determine the best tile for the job. Specific tile kinds that can endure the demands of the environment are required for high-traffic areas, moisture-prone rooms, or outdoor applications. Also Pairing your decorative tiles with matching shutters for windows will elevate your design game to the next level. Shutters add a classic and refined touch to any window while providing privacy and light control.
Factor in your design style and color scheme: Choose tiles that go with the rest of the decor or serve as inspiration for a new look and feel. In order to make a room that is uniquely yours, don't be afraid to play around with different colors, patterns, and textures.
Budget considerations: There is a wide range in price for decorative tiles; therefore, it is vital to strike a balance between quality and cost. Be cost-conscious but know that high-quality tiles will last longer and require less maintenance than cheaper ones.
Expert Tips for Installing and Maintaining Decorative Tiles
Proper installation techniques: There is a wide range in price for decorative tiles; therefore, it is vital to strike a balance between quality and cost. Be cost-conscious but know that high-quality tiles will last longer and require less maintenance than cheaper ones.
Cleaning and maintenance: It's important to know the tile you have so you can use the proper cleaning solution. A non-abrasive cleanser may be necessary for glass tiles, while sealing cement tiles may be necessary to prevent staining. Maintaining your tiles on a regular basis will keep them looking great and increase their useful life.
Repair and replacement: Tiles might become broken over time due to accidents. If you see any chips or cracks, fix them right once to prevent any more damage. Always have a few extra tiles available to ensure a seamless repair or replacement in the event of an accident.
Conclusion
The fascinating world of decorative tiles has been investigated, including the many varieties and uses to which they can be put. The appropriate decorative tiles may revitalize your home and make it a reflection of your personality and preferences.
If that's the case, then why delay? Get a free estimate and schedule an appointment with one of our specialists right away. Join me as I help you see the full potential of beautiful tiles in your home.
Keep in mind that your walls are a blank canvas and that ornamental tiles are the paint. With some ingenuity and some advice from the pros, you can make something beautiful that communicates your narrative and makes people happy. Greetings, tillers.