Fact: A messy, disorganized home can cost you a lot of stress.
There is so much for the eyes to see and process. In this setup, you spend more time looking for things when you need them and it can take all your energy in all ways possible. How then can you relax after a long, busy day if your home is taking your inner peace?
Home is supposed to be "where the heart is". It is a place where you can truly be yourself. If you feel that your home is an environment where you don't feel at ease, now is probably the time to step up and let that joy spark once again!
Decluttering your home using storage ideas need not be expensive. Sometimes, it just takes some useful hacks and a lot of perseverance. But if you are up to a total revamp, then there are also a lot of useful storage ideas that you can incorporate into your own space.
Smart storage ideas are very useful, especially for small spaces who don't have enough cabinets for you to place your stuff.
10 Storage Ideas That Will Take Your House to Another Level
There are a lot of smart home and storage ideas to inspire you out there. We've listed below our top 10 favorites below. Read on!
---
Read Also:
---
Storage Chest/Office Space
For small spaces, you can actually transform an old chest into a mini office complete with an improvised filing cabinet and bulletin board. Add some boxes for pens and papers and you're all set. You don't have the chest at home but loved the idea?
Buy a second-hand piece at a furniture store for an affordable price. The chest can serve as a table and couch too. Perfect for professionals living in a small space like in an apartment or condominium. (Photo from marthastewart.com)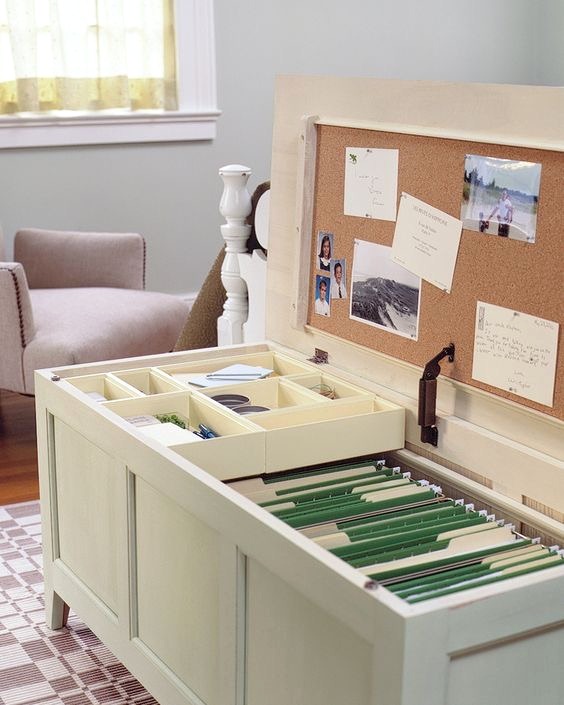 Sliding Storage
You can have this customized to fit your bathroom. Simple sliding storage can keep away your bathroom essentials. All of them.
With this installed, you won't have to worry about the clutter inside your bathroom as you can keep everything in here. Plus, it won't take a bigger space out of your bathroom. (Photo from goodnewsarchitecture.com)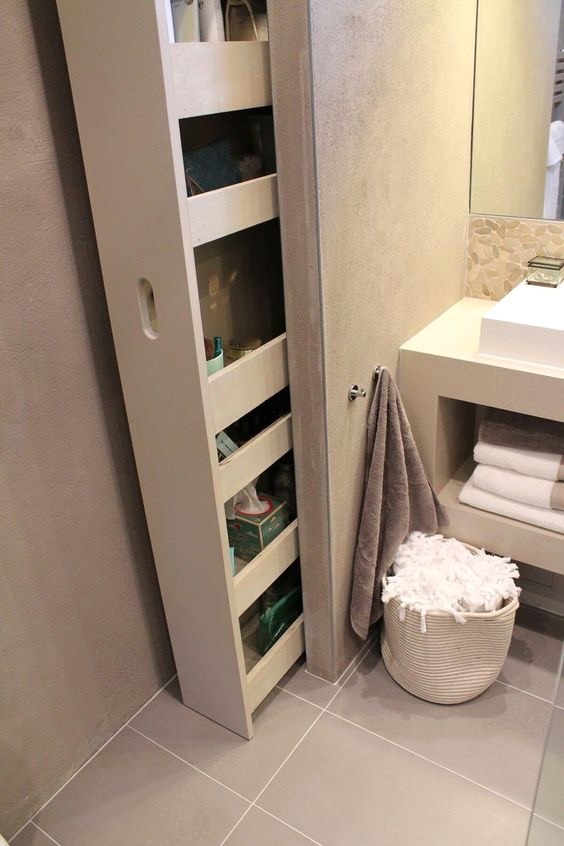 Television Storage
This is another brilliant storage solution for small spaces. With this, you won't have to worry about putting a small cabinet beside your television to put in things like remote control, CDs, and a lot more. The best part? You won't even notice it's there. (Photo from home-furniture.net)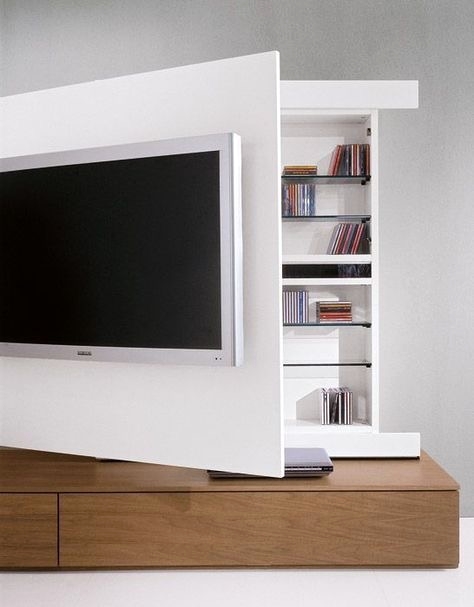 PVC Pipe Shoe Rack
This is a simple storage solution that you can DIY. It only involves PVC pipes that you need to attach in a wall in your home to carry your shoes.
Just make sure the pipe that you are going to buy will fit your biggest shoes. This one looks stylish and unique. (Photo from whowhatwear.com)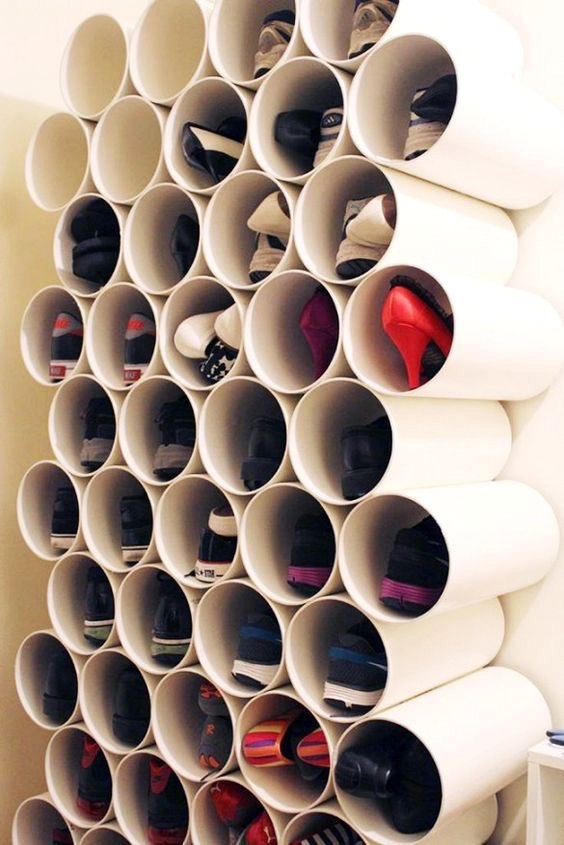 Bathtub Storage
You can simply use the additional space under your bathtub and just replace the panels with those that are easy to open. There is no available bathtub with storage area in the market today so this is something you need to DIY.
Yes, it may take a lot of time and you are going to need help but the amount of things it can store under is incredible and it might be worth it to give this project a shot. (Image from makespace.com)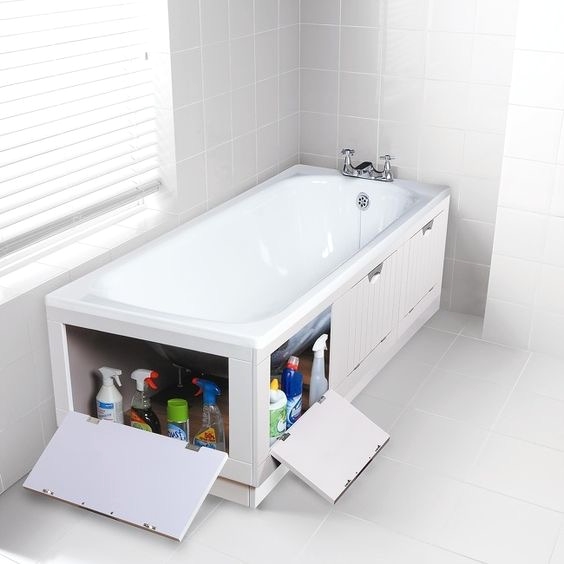 Stair Storage
This can be applied to new homes or those who are undergoing renovations. Each step on the stairs can have secret storage in which you can put clothes, towels, toiletries, and a lot more.
This solution will definitely get rid of the clutter at home because of extra cabinets without the home looking too crowded. A smart and very functional solution, definitely. (Photo from hgtv.com)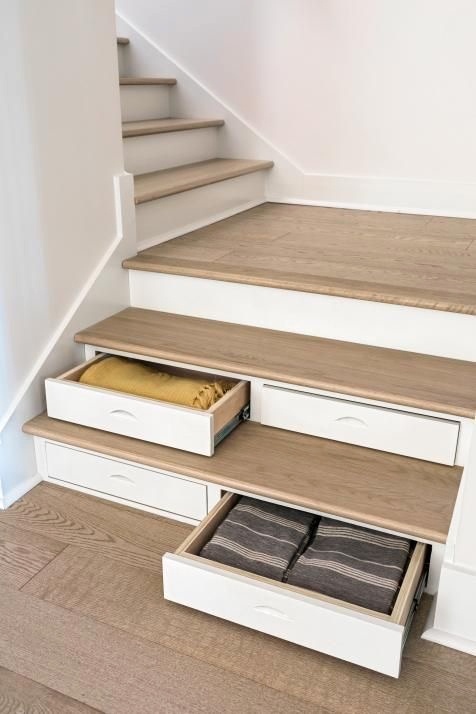 Wall-mounted Plants
This idea is perfect for those who have a green thumb but find it difficult to put on potted plants on very limited spaces like in a small apartment.
Wall-mounted plants are very stylish and surprisingly easy to maintain and it will also do your home good as plants purify the air indoors. (Photo from thediamondnest.wordpress.com)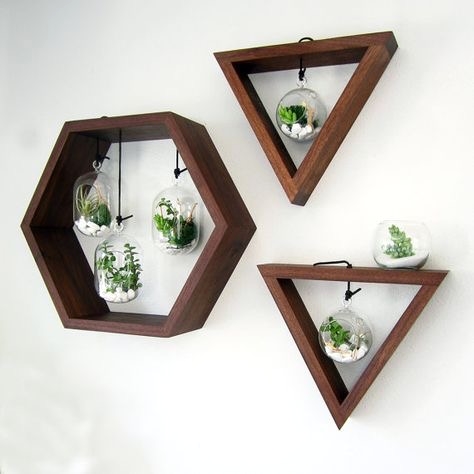 Garage Wall Hack
This is a very simple project that only involves hooks. Convert a small wall of your garage into space and mount all the things you use frequently. Here, you won't spend a lot of time looking for things everything you need them because they're literary on the wall. (Photo from blessedecor.com)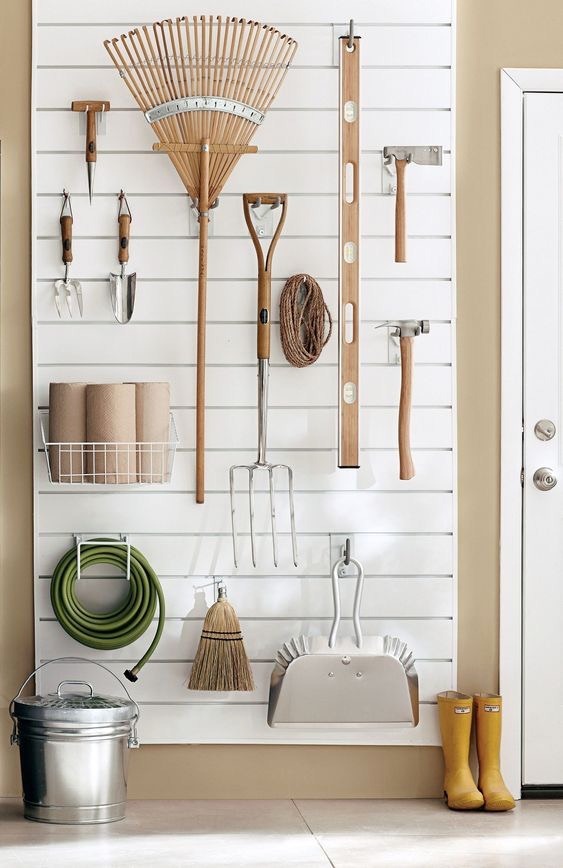 Kid's Art Corner Storage
Another simple yet tidy way to store your kid's art materials. You only need a small space here and it can be anywhere in your home. Just make sure everything your kids' need is there and you're all set.
It does not have to be Pinterest beautiful or overly made up. It just needs to be organized and neat. (Photo from projectnursery.com)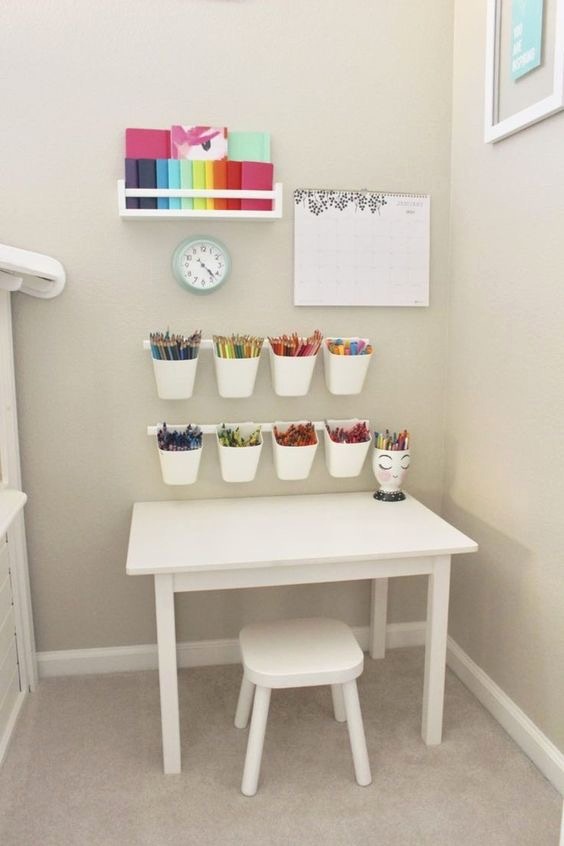 Invisible Equipment Rack
For the lovers of all things equipment — from music, games, and a lot more — storage can be a problem. One, most equipment are huge and second, they have a lot of wires.
This storage idea is very functional as it keeps all the equipment together in one place and it conceals them through panels so they would look neat on the outside or when not in use.
This, of course, needs to be customized as a professional carpenter needs to evaluate the sizes of the various equipment to come up with the perfect storage. (Photo from cool-rooms.co.uk)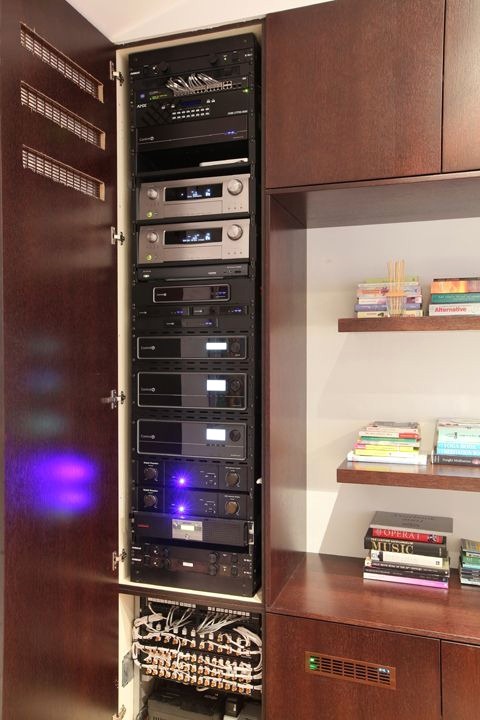 If you want to start your home organization project, look for inspiration on the internet. There are a lot of photos out there that can inspire and help you and you may compile them to see if they are doable. For projects that go beyond DIY, make sure to talk to your trusted furniture maker or carpenter to help you. It may take a lot of time but you have to start somewhere.
---
Author Bio
Harry loves traveling, taking photos, discovering unusual cuisines, and binge watching television series on Netflix during weekends. He works as a content creator for a PR company and enjoys writing about things that spark his interest… but his favorites are food and art. He finds joy in helping budding bloggers discover more about their passion for writing by sharing tips, exchanging stories, and putting their contents out for the world to see.