Imagine this. Your best friend just bought a new home and invited you to the housewarming party. The house was gorgeous, but she outdid herself with the living room decor. After all, she has great taste.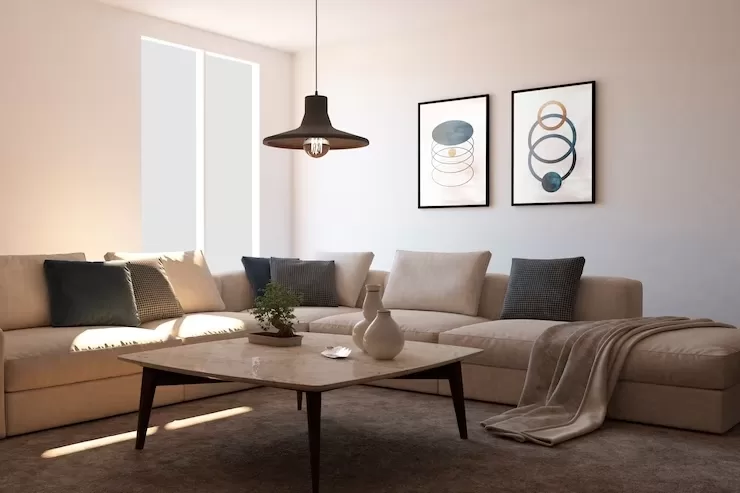 But now, your living room looks dull and outdated. In fact, it's screaming for a makeover. If you're nodding your head in agreement, I know you're looking for budget-friendly ideas to spruce things up. So let's learn how to rejuvenate your living room so that it's stylish and functional.
1. Display Artwork or Paintings
Art is the simplest way to add a personal flair to your living room and brighten it up. Some people prefer one large piece, much like the feature wall. However, you need to choose a picture that enhances the look and style of your space. More importantly, you need to tie it in with other aspects of the living room.
For instance, incorporate the colors in the painting into the space, such as cushions, decor, or furniture pieces. If one big picture is not to your taste, consider creating a gallery wall of several small pieces of artwork. Whether you display paintings, artwork, or photos, make sure to coordinate your collection.
2. Change the Furniture
Ah, this is a touchy spot with the ladies. Yes, we all get tired of looking at the same furniture day in and day out. But be honest. Can you afford to change the furniture every time you get bored?
Probably not.
So a budget-friendly solution that I apply all the time is to just rearrange the existing furniture. Believe it or not, shifting the pieces around can drastically change the look of your living room. I do it all the time.
But if your couch is past its prime, you have other options. For instance, you can buy new pieces or consider reupholstering the item, especially if a particular piece has a great deal of sentimental value attached to it.
3. Replace the Cushion Covers
Another economical way to revamp your living room is to change the furnishings. Transform your lifeless living room with new cushion covers. They can help add a pop of color to the monotone theme and make the space come alive.
Don't be afraid to experiment with different colors, prints, textures, and sizes. However, make sure to select a type that adds warmth and vibrancy to the place.
Furthermore, scatter the cushions around the room to spread the color evenly across the space. Plus, this way, it won't look like you simply dumped the cushions in the living room on the spur of the moment.
4. Hang Statement Mirrors
Statement mirrors can be a real game-changer. They can transform the look of your living room, making it look more elegant and beautiful. What's more, since they reflect light, mirrors are a great way to brighten up the room. But the best thing about mirrors is that they help make your living room look bigger.
Like artwork, you can hang one big statement mirror or create a gallery of several small ones. But take the time to find the best place to hang them so that they can catch the most natural light and reflect it into your home.
---
Read Also:
---
5. Revamp the Decorations
The decorations you use in your living room can make a dramatic impact on its overall appearance. So use this opportunity to express your personality with little trinkets from your vacations, or keep it natural with fresh flowers. You can even display a collection of antiques.
These pieces are brimming with history and heritage, so they're great conversation starters. But I like adding oomph to my space with crystal, marble, and metal decorative pieces. They instantly give my living room an ultra-modern vibe.
6. Upgrade the Lighting Fixtures
Lighting is a crucial element of your living room. But a simple alteration in the style of your lighting fixtures can transform the entire space. For example, a pendant light or chandelier can transform your ordinary living room into a chic, expensive one.
Another easy method to uplift the atmosphere is to incorporate multiple light fixtures around the room. For instance, install accent lights to highlight artwork or paintings. Or position stylish table lamps and corner lamps at various spots to create a soft glow in the room.
7. Incorporate Bookshelves into the Design
If you love reading books, create a library in your living room. But just a heads up, you don't have to fill the entire shelves with books. You can display a variety of things, such as pictures, artwork, antiques, awards, vases, and just about anything you want.
Bookshelves come in numerous styles and designs. Therefore, you should choose the one that fits well in your living room and enhances its elegance. Personally, I like floating shelves since they don't use floor space but offer a small platform where I can display a few of my favorite books and cherished mementos.
8. Repaint the Walls
If you really want to refresh your living room, you should consider repainting the walls. It's one of the easiest ways to make the room look as good as new. But I feel that clean walls give your furnishings and decor a new lease on life.
So what color is best for living rooms? A survey from Fixr claims that sage was the trending color in 2022 to paint living rooms. But other popular options include cream, off-white, taupe, and terracotta. But you can choose any light shade that strikes your fancy since these colors help enhance the natural brightness of the room.
Another piece of advice is to hire professional painters for the job. Since the living room sets the tone for the entire home and it's the place where you receive your guests, let the experts handle it. They have the tools and skills to complete the task quickly and flawlessly. So without any further delays, Google 'residential painting services near me' to locate professionals in your area. You can hire a company after asking for references and looking at customer reviews and ratings.
Over to You
Your living room is an essential component of your home. Everyone wants their living room to be refreshingly vibrant and full of positive energy. After all, it's where you entertain guests and spend time with your family. It's time you put the ideas mentioned above to good use. Are you ready to take your living room to the next level?