Having limited space in your living room doesn't mean you should settle for a not-so-appealing setup. In fact, many people are now looking into ways how to decorate small spaces without compromising aesthetics.
However, we all know how televisions ruin the look and feel of a room. With its bulky appearance, it might seem challenging to maintain a stylish living room with a TV.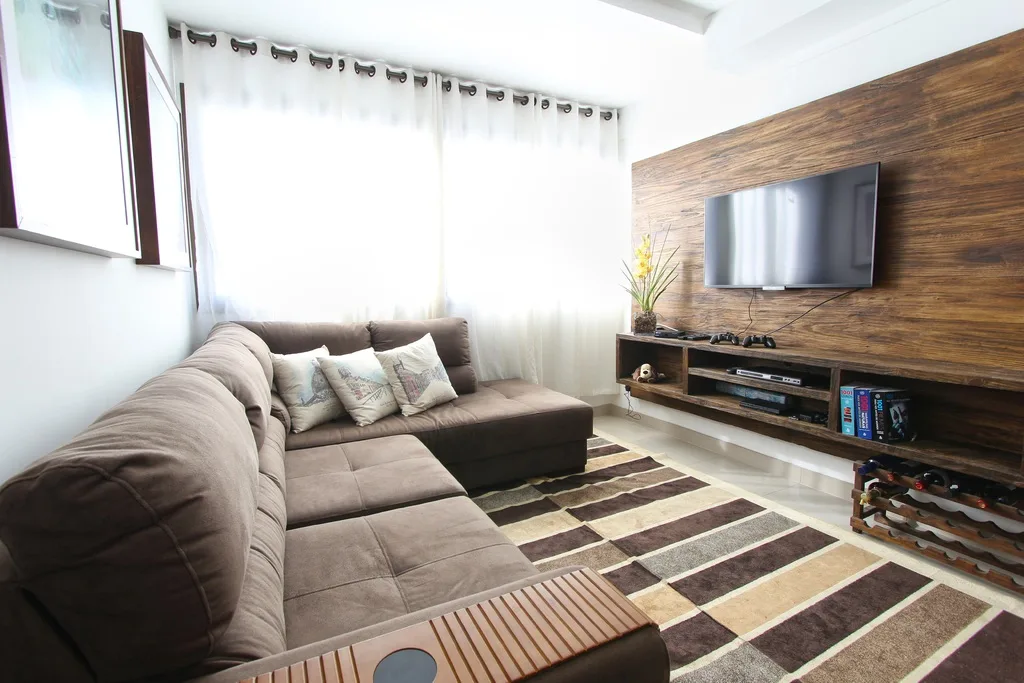 But what if there's a way to stylishly integrate your television into a tiny living room? Here are some ideas on how you can transform your living room into an area you, your family, and your friends can enjoy while catching up, TV streaming, and more.
1. Place Your Tv on A Floating Shelf
If you want to achieve a sleek and modern look in your living room, then consider placing your television on a floating shelf. This way, it won't take up too much space, and it will also blend in with the other decor in your room. You can even use this opportunity to style the shelf with some cute knick-knacks or plants.
A white floating TV stand is a sleek and modern furniture piece that adds a touch of sophistication and functionality to any living room or entertainment area. This contemporary design features a minimalist aesthetic, with clean lines and a glossy white finish that exudes a sense of freshness and simplicity.
One of the standout features of a white floating TV stand is its space-saving design. Unlike traditional TV stands that rest on the floor, a floating TV stand is attached to the wall, creating a floating effect that gives the illusion of more floor space. This can be especially beneficial in smaller living rooms or apartments where space is limited, as it frees up valuable floor real estate and creates a more open and airy atmosphere.
---
Read Also:
---
2. Use A Tv Stand with Storage
Another great way to save space in your living room is by using a TV stand that has storage. This way, you can keep all your media devices, internet equipment from your internet provider, and other things in one place, and you won't have to worry about them taking up too much space. Just make sure to choose a storage that's not too bulky but can store a lot of things.
3. Hang Your Tv on The Wall
If you want to completely get rid of any bulky furniture, then you can opt to hang your television on the wall. This will definitely give your living room a more spacious feel, and it will also allow you to experiment with different wall decor. Just make sure that you use the proper mounting hardware so that your TV is secure and won't fall even if an earthquake occurs.
4. Get Rid of Useless Wires and Cables
Another way to make your living room look more spacious and tidy is by getting rid of all the useless cables and wires. You can do this by using wireless devices or by hiding the cords in a cord cover. This way, your living room will not only look neater, but it will also be safer for you and your family, especially if you have small children who might accidentally trip on the cords.
If you're subscribed to cable TV, you might want to switch to streaming services to get rid of cables and wires needed just so you can watch your favorite TV shows. With streaming services, you only need to have a fast internet connection, and you're good to go.
4. Choose The Right Furniture
Of course, one of the most important things you need to consider when decorating a small living room is choosing the right furniture. You need to pick pieces that are not only stylish but also functional and space-efficient. For example, you can choose a coffee table with built-in storage or a sofa bed that can be used as an extra bed when needed.
5. Utilize Sliding Doors
One of the best ways to make your living room look and feel more spacious is by hiding your TV behind sliding doors instead of the usual swing doors. This way, you won't have to worry about the door taking up too much space when opened, and it will also add a more stylish touch to your living room.
You will also be able to hide your TV if you're having guests over if you want a cleaner, more minimalistic interior.
6. Place Your Tv Above a Fireplace
If you have a fireplace in your living room, then you're in luck because you can use it as an opportunity to place your television stylishly. This way, your TV won't be the center of attention and will also save you some space. Just make sure that the fireplace is not too high so you won't strain your neck when trying to watch your favorite shows.
Final Thoughts
These are just some of the ways you can decorate your small living room without sacrificing style. Just remember to be creative and resourceful, and you'll definitely come up with a living room that's not only aesthetically pleasing but also comfortable and practical.