An ergonomic workspace is critical for the highest possible employee productivity, requiring companies to provide a safe and comfortable work environment.
The idea is to have items that are beautiful to look at besides being functional, pairing well with the surroundings.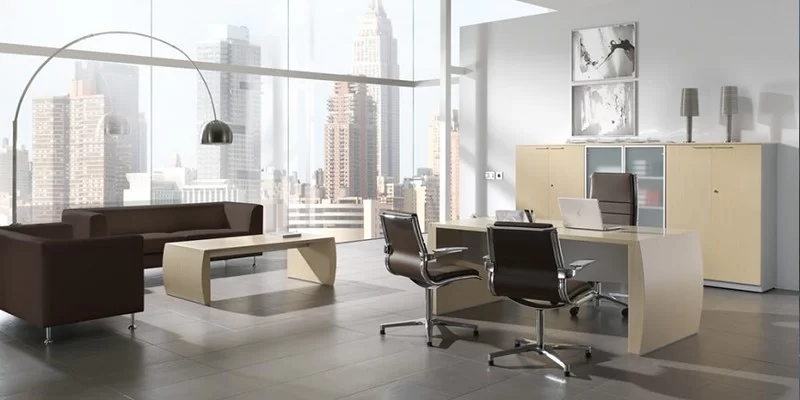 Although large corporations often buy these products, that may only sometimes be prudent for other companies. That's because items that wear and tear easily will lose their value and visual appeal quickly, proving to be a loss rather than an investment to the organization.
The following points will make you consider hiring the furnishings you need for your workplace, establishing why it is wiser than buying everything with your savings.
Money And Time-Saving
Hiring office furniture can save companies a lot of money, especially startups with limited funds.
You can rent a diverse range of products with flexible payment options, enabling you to save on expenses while raking in profits from the business. You can save money to buy the furniture you wish to have later.
Also, the professionals providing this service save you time by enabling you to view and order from product catalogs online. Once you place the order, they deliver the goods to your doorstep, saving you exorbitant transportation charges and travel time.
---
Read Also:
---
Accommodates Changing Needs
Many people prefer hiring office furnishings as they can regularly change styles per company demands and market trends.  For instance, if you want to showcase your increasing revenue to prospective customers, grasp the latest designed round meeting table online that is available in all sizes according to your requirement.
Furthermore, there will be no logistical nightmares if you plan to change office locations. Professional movers can take care of transporting the current and newly hired furniture to the new address promptly and securely.
Diverse Options at Affordable Prices
Reputable industry giants such as https://huntleyandco.com.au/catalogues/office-furniture/ enable you to choose from a vast array of exciting products, depending on your budget and tastes.
For instance, you can hire an Ada Occasional Chair in white or a Natural Rattan model for approximately $27.50 per week for a month.
Alternatively, you can opt for an Apolo Dining Chair for $14.00 per week for the same amount of time.
You can also hire a stunning Arabella Console in black or white color variants or an Audrey Console in black for around $35 a week, which is a very reasonable price for such exquisite items.
An unbeatable advantage of buying from respected vendors like these is that they provide delivery, placement, and even removal services at economical costs.
Besides real-time support, they also offer top-quality furnishings for the lounge, dining area, bedroom, kitchen, and outdoors. You can also hire bed linen and other homeware accessories from them.
Other Uses
You can use the furnishings you hire for an open house if you place your home on the market, giving potential buyers an idea of what each space would look like with proper fixtures.
Alternatively, you could decorate one corner to make it look like a dedicated workspace in the house, showing visitors its versatility and charm.
Some can be placed outdoors, too, allowing them to enjoy scenic views from the comfort of relaxing chairs and sofas. Finally, you can use it to create a workstation on your property, allowing you to enjoy a quiet ambiance as you use ergonomic chairs, desks, tables, and other functional items every day.