Your patio furniture has cost you much and therefore you will need to protect your investment from the natural elements.
If you want it to look good for years to come you will not want it to fade and rust. The best way to prevent it from happening is by using patio furniture covers.
This is the best way to extend the life and use of your patio furniture and keep it safe from the elements. There are different types of such covers available on the market but all of these are not created equal. You will need to choose the best among all these that will be durable and resilient to the natural elements.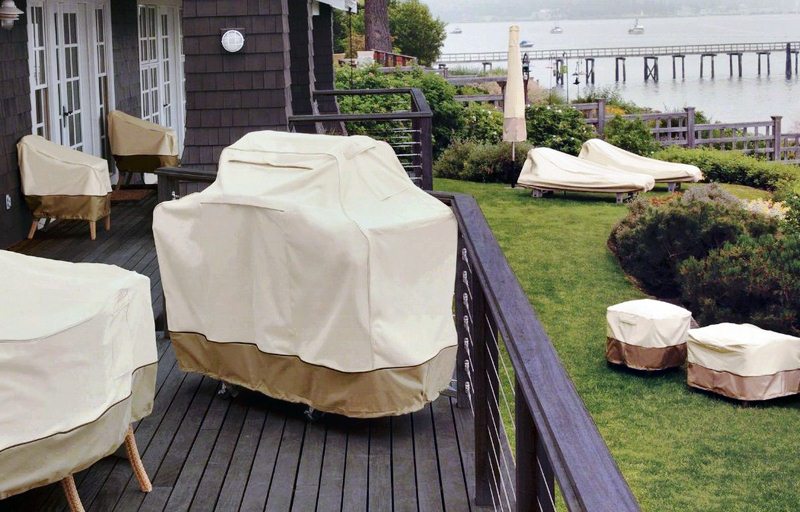 ---
Read Also:
---
Buying Patio Furniture Covers: Questions to Ask
Therefore, if you are considering buying patio furniture covers, here are a few factors that you should consider and questions that you should as so that you get exceptional protection for your patio furniture. These are:
Is the patio cover secured?
You will need your patio cover to stay secure no matter whatever is the condition of the weather outside, especially if you stay in an area that experiences strong winds. The cover should not be blown away by strong winds or harsh weather. Therefore, choose those covers that come with reinforced drawstrings and ties so that the overs will stay put.
You should always buy waterproof patio furniture covers that are rain repellant. This will protect your furniture from rains and sprinklers. Make sure that the outer layer or shell can repel adequate water and there are no leaks in it.
It is elementary that the patio furniture cover will protect your pieces from the harsh rays of the sun that contains UV rays. These rays are the primary factors that cause the furniture and its fabric to fade making it look worn out and old in just a year. Therefore, invest in quality cover that comes with sun protection.
You should look for patio furniture covers that come with a breathing mesh. This will prevent moisture formation that will give rise to mold and mildew formation. If it is breathable it will allow fresh air to get in. Covers with mesh vents and protective flaps will help in circulating the air inside to keep the air fresh.
Is it durable and long-lasting?
Make sure that the patio covers are double stitched and made up of durable material. This will make it long-lasting. Instead of buying any cheap variant of patio furniture covers that will last for only a few months, look for double-stitched seams so that it will not rip.
Satisfied with the answers, when you select a specific patio furniture cover, make it a point to check the dimensions, so that it fits well and does not drag on the floor catching water and dirt. Also, look for the design, ensure there are soft cloth backing and proper tie-downs as well to ensure the best possible protection.