Some of you may have seen my sneak peek of what I have been up to last week. Seriously, this project took me forever to do.
Day one consist of me going to bake some cuppy cakes and couldn't find the pan that I wanted and a glass mixing bowl sliding out of my bottom cabinet landing on the tip of my little piggy. So scratch the whole cupcake making day.
Read: Soft-closing drawer slides review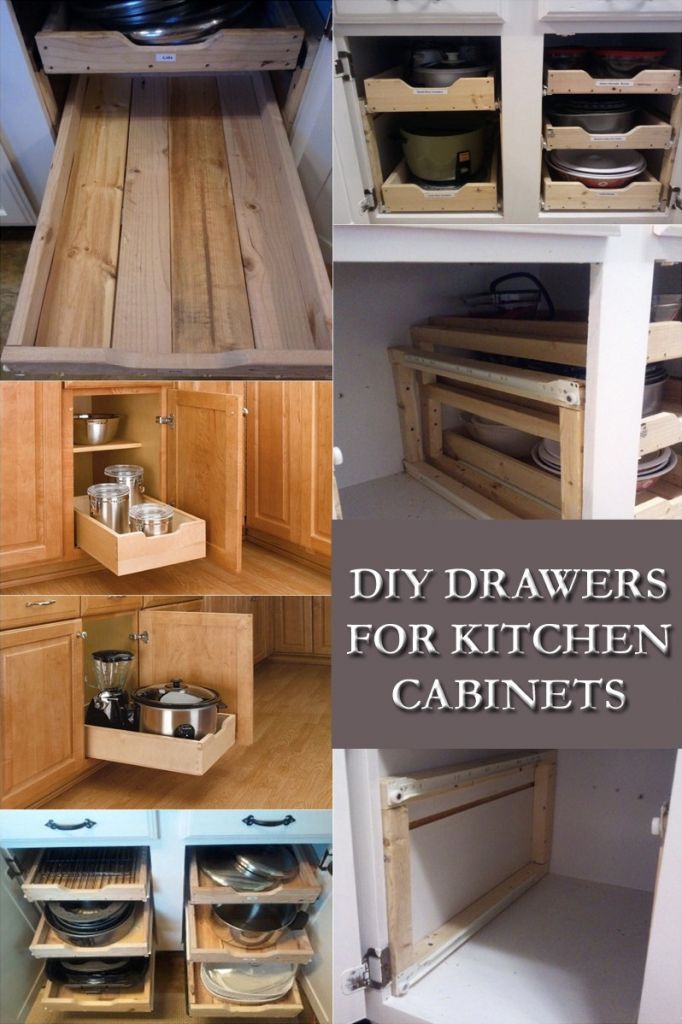 Kitchen Cabinet with Drawers: DIY Drawers for Kitchen Cabinets
I had a plan that I concocted in my head for about 3 seconds and got right to it. I prematurely busted out the small shelf in both cabinets and headed to the store.
I saw some cool kitchen drawers and drawer runners that you can install inside your cabinets at Lowes a while back and thought it would be a good way to get a little bit more organized.
Well, you might have a good-looking kitchen but its life and consistency only depend on the quality of water being used to clean the cabinet and that's why you need a descaler water softener to have quality water to wash/clean your cabinet.
I was going to run to Lowes, grab 11 of them. Install them and have the kitchen all cleaned up before my husband got home from work. Awesome!!! So, when I get there I realize that these darn drawers are $63-$65.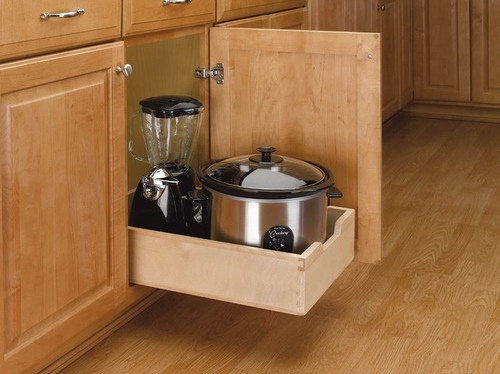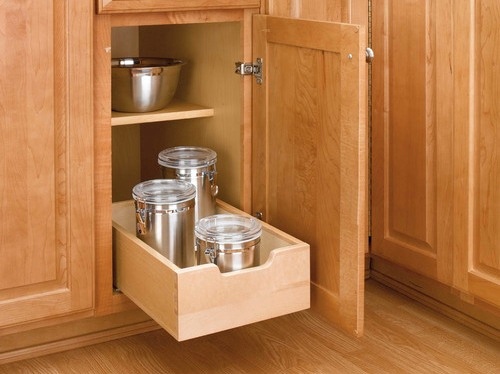 No way. That is so freaken insane. It would cost me over $700 to put drawers in my cabinets. Crap! I already busted out the shelf in my cabinets. Double Crap! I left Lowes to go to Homedepot just to learn that they don't have what I wanting.
Holly freaken cow, now what do I do? Crap again. I thought about making a trip to Ikea to check out what they have but Ikea is an hour away and I would be stuck in traffic. Houston traffic really bites by the way.
So instead I grab some 2″by2″s, 1″by2″s, 1″by3″,1″by4″s, a box of screws, and a few drawer hardware roller things. I got this, Right!? I spent $130 on supplies.
---
Read Also:
---
I got home and didn't have any energy to even begin. I called for some Chinese take-out and stared at all the pots & pans all over the house. I was thinking about what my husband was going to say coming home to this.
I love this man guys. He came home and stood there for a few seconds looking around at the pile of lumber and the pots & pans.
The only thing that came out of his mouth was "Did you get sesame chicken?" Why, why yes I did. I Really Love This Guy!
Here you can buy pots and pans under 200.
Day two I got down to business. This is what I did for the next few days. I started by making my drawers. 11 in all.
2) 13″by22″by4″
4) 13″by22″by3″
2) 11 1/2″by22″by4″
3)11 1/2″by22″by3″
I made them by using a basic drawer design. 4 sides and a bottom. It's so simple I don't even know how to explain. I used 1″by2″s, 1″by3″s and 1″by4″s for my bottoms.
Each one of my drawer bottoms is different. I just thought it was fun. You can use some plywood cut to size for the bottom thou.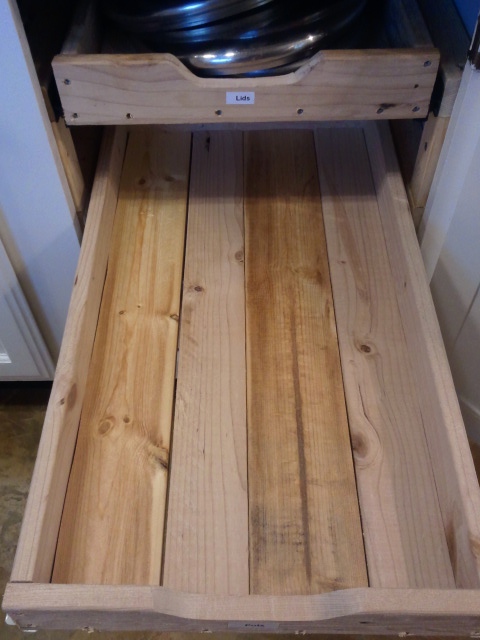 I decided it would be the easiest thing to make a housing or frame for my drawers and just screw the housing into the cabinets already assembled.
This worked well and saved me the trouble of climbing under the cabinets a lot just to measure and leveling cleats one by one.
This is what they look like.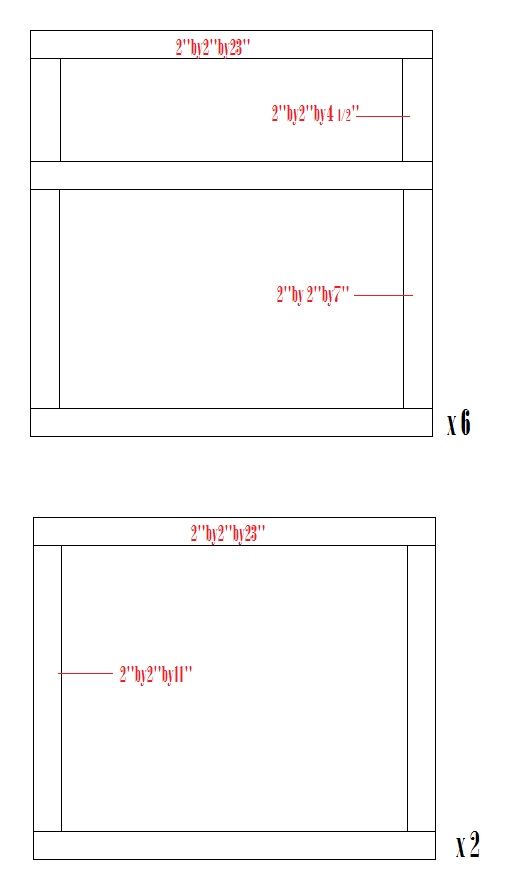 This is what they look like installed.
Add the drawer hardware to each drawer and the housing before installing the housing. I love the raw wood look and decided to leave them that way.
Maybe I'll get tired of it someday and give them a good sanding and coat of paint.
But for now, they are staying as is.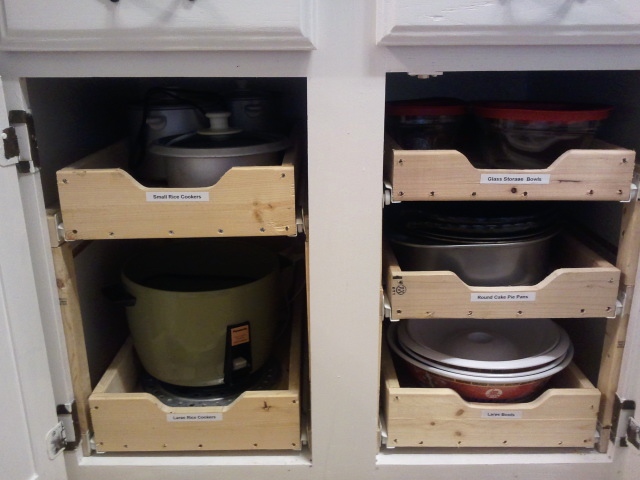 Go ahead and laugh that we need two drawers dedicated to rice cookers. We had six and I didn't even realize it. I did donate two and kept four. It's all good!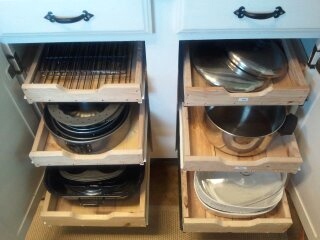 This is my favorite part. I saved a grand total of $570 by doing it my self.
Love to hear from y'all!
---
External Links