Mulching is one of the most important steps in landscaping.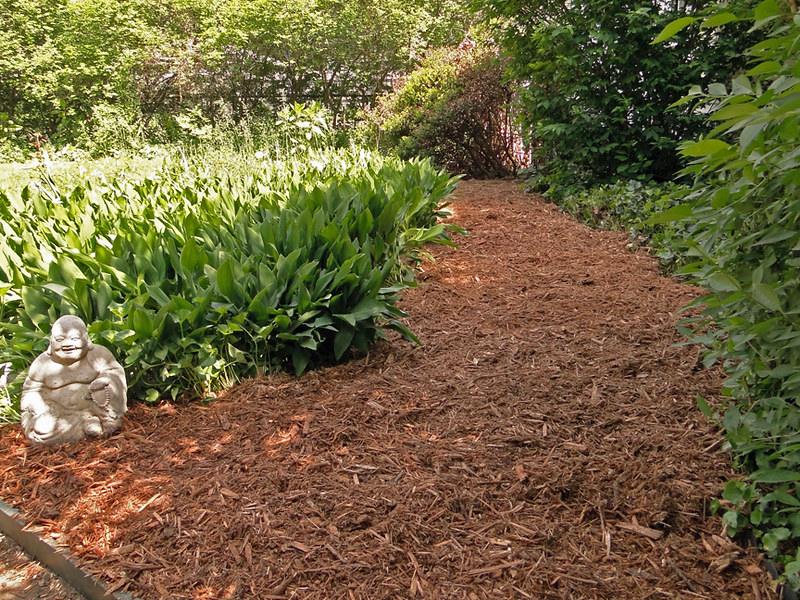 It is a great way to help keep your garden soil healthy and thriving. Mulch can be made from many different materials, including leaves, straw, or compost.
Not only does it help to keep your lawn green and healthy, but it also inhibits weed growth and prevents moisture loss from the soil.
Moreover, it helps to keep the ground cool in summer and warm in winter and helps to prevent weeds from growing.
But, if you want to get all the benefits of mulching, you need to have quality mulch and need to know the proper way of mulching. Mulching can be done in a number of ways, here are some tips on how to spread mulch like a pro:
What is Mulch Spreading?
Mulch spreading is the process of distributing mulch over the ground around plants in order to insulate them from the cold and keep moisture levels high.
It is also used to reduce soil erosion, control weed growth, and add organic matter to the soil. The right type of mulching component is important for perfect mulch spreading. That's why please do some research on quality mulch delivery before buying one.
Step by Step Mulch Spreading Guide
Remove the Weeds from the Not Mulching Part of the Garden:
Weed removal is always a necessary chore in the garden, but it can be especially tedious when there are a lot of them. Luckily, there are several easy ways to remove weeds from the garden without much hassle.
One of the most common methods for removing weeds is to use a Weed Wacker. This device uses blades to cut through the weed's stem and roots, killing them instantly.
Simply put the Weed Wacker in position, attach the hose and turn it on. Be sure to wear protective gear, including goggles and a mask, if necessary, as flying debris can be dangerous.
Another method for removing weeds is to use hand weeding tools such as hoes or rakes. Again, be sure to wear protective gear if necessary and keep an eye on your surroundings while you work; weed seeds can travel considerable distances.
---
Read Also:
---
Prepare the Part of the Area Where You Want to Spread Mulching:
Mulching is a great way to improve the appearance of your lawn and keep it healthy. The best time to mulch is in the spring and fall when the soil is still warm.
When mulching, it is important to make sure the area where you are going to spread the mulch is properly prepared. This includes smoothing out any bumps or holes in the ground, removing any fallen trees or other debris, and clearing away any dried leaves or branches.
Use a fork or shovel to loosen the surface layer of soil an inch or two.  By doing this, you will ensure a smooth surface on which to spread the mulch and avoid damaging your lawn.
Put a Fresh Layer of Mulching Over the Old Mulch
If you have mulched your lawn in the past, there is a good chance that you have already removed the old mulch.
This is a mistake! A fresh layer of mulching should be put over the old mulch to keep the soil warm and moist. The benefits of doing this are numerous.
First, removing old mulch will only create more work for yourself and likely result in less coverage.
Second, the new layer of mulch will help to prevent weed growth.
Third, it will keep your lawn looking green and healthy.
Finally, it will suppress any potential fungus or mold problems that may develop in the soil due to an accumulation of decomposing organic matter.
Now, Spread the Mulch to the Unused Part
After mulching the old part of the garden, it's time to spread the mulch to the unused part where no mulching was done.
This will help preserve the garden's moisture and slow down weed growth. Use a rake or trowel to spread a thin layer of mulch over the soil.
Make sure that all of the roots of plants are covered and that there are no large pieces of wood or other debris on top of the mulch.
The Next Part is Mulching Maintenance
Mulching is an important part of any gardening routine, but it's also important to keep the mulch layer well maintained. Here are some tips for keeping your mulching in good condition:
Water the mulch regularly: Mulching holds water, so make sure it stays moist. A well-watered mulch will stay firm and prevent weeds from growing through it.
Remove weeds: Remove any weeds that grow beneath the mulch.
Mulch around plants: If you're planting flowers or vegetables in a bed of mulch, be sure to protect them with a layer of fabric or plastic sheeting so that they don't get hit by weed seeds as they grow.
Inspect and maintenance: Inspect the mulch for cracks or tears and replace it if necessary.
Maintain it every year: Make sure the mulch is properly maintained every year by removing any dried leaves or branches that have fallen off the mulch.
Conclusion
Spreading mulch can be a daunting task, but with the right tools and a little bit of knowledge, it can be done like a pro.
Make sure to take the time to properly prepare your yard and use the correct techniques to achieve the best results.
Mulching is an important part of any gardening or landscaping project and can help improve the overall appearance and health of your plants.