With all the things happening around the world, most of us are forced to work from home. This remote work setup has proven to effectively boost employees' productivity while lessening their expenses.
If you are in this situation, you might wonder and ask, "How do I make my home office comfortable?" Office Home Studio has a lot of ideas that may help you out. On the other hand, if you just want a brief rundown on making your home office more comfortable, below are some tips we have for you.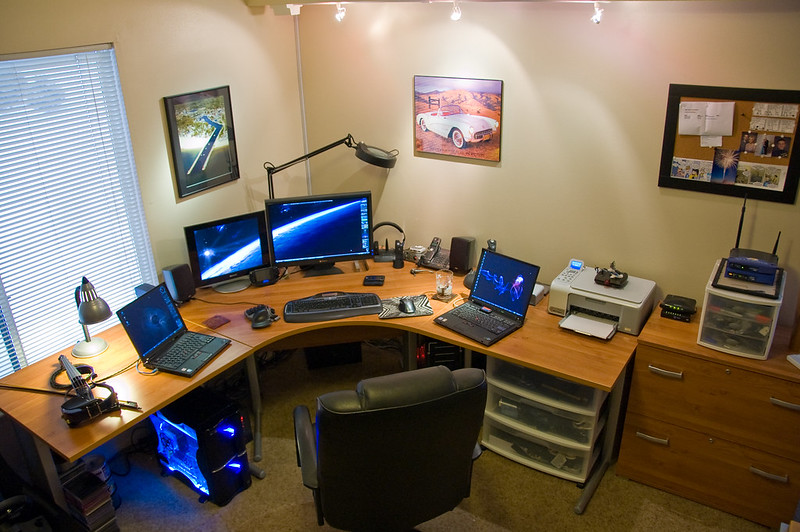 How Do I Make My Home Office Comfortable?
If you were given the opportunity to work from home, do not take it for granted. This is one of the best privileges you can enjoy from your job.
It just goes to show that you should know how to maximize your remote work setup. Here are some tips that may help you out.
Choose the Right Spot
The first and most important thing you need to do is choose the right spot in your home for your office setup. This will play a significant role in your work productivity.
Make sure that you choose a spot that's isolated from environmental distractions. For instance, outdoor noises like car horns or vehicles driving by shouldn't be heard from the room.
You should also be away from temptations like the television screen or gaming consoles. Having a room with good acoustics would also be helpful if you frequently attend meetings.
---
Read Also:
---
Reduce Visual Clutter
Visual clutter is mental clutter, and it's rather easy and frequent for us to fall prey to this because of failure to reduce the mess in front of us. When there are numerous things on your table or around you, your mind will continuously try to process everything it sees.
You will quickly deplete your brain's processing energy when this happens, preventing you from being productive at work. A comfortable office means everything is in the right place, and you can stay in front of your computer or laptop for a few hours without feeling stressed.
External Monitor
One of the first steps to making your home office space more comfortable is getting an external monitor. An external monitor makes it easier for you to view and work on multiple things at once, along with providing a better audio experience.
An external monitor can be a valuable tool in your home office if you need to view multiple things at once while working. For example, if you are working on a project and the client emails you some changes, all you have to do is open it up on your desktop and you'll be able to see the change right on the screen.
If you're on a budget, you can get a quality refurbished monitor for almost half the price of a regular monitor. External monitors are also very useful when you're doing graphics work. It increases your workspace, allowing more room for palettes and tools.
Ergonomic Chair
When asking "How do I make my home office comfortable?", perhaps the most important part of your setup is an ergonomic chair. You will likely spend hours in front of your computer screen while you work.
Staying in one position can put tremendous pain on your back and ruin your posture. That's why you need to have an ergonomic chair.
This type of chair supports the most vital points of your body. Thus, you are more adept at working for hours even if you stay in one position.
Regular Cleaning
You will most likely use your home office setup for a really long time. That's why you should also learn how to maintain it.
First, make sure that you declutter your desk at least twice a week. Remove all the items unrelated to your work so you won't have uncontrollable visual clutter.
Additionally, you should clean your chair. Vacuuming it every day will prevent it from getting too dirty. Nonetheless, you should also conduct deep-cleaning on it at least once a month.
Giving all the surfaces a general wipe-down before and after working should also maintain the cleanliness of your setup.
Invest in Cleaning Equipment
Keeping your home office setup clean and comfortable would be rather challenging if you don't have the appropriate cleaning equipment. Make sure that you have tablecloths, a vacuum cleaner, and a few brushes to keep everything clean and free of dust.
As you may have known, dust, dirt, and debris can quickly ruin a computer's electronics. Ergo, investing in cleaning equipment is also a means of maintaining your computer.
Adequate Lighting
To improve the comfort your home office provides, make sure that you get adequate lighting. Never underestimate how much good lighting can improve the quality of your work.
If you're not aware, getting enough sunlight can boost your productivity. That's why you should set your desk up near a window where sunlight can reach you.
Additionally, proper lighting can reduce the amount of light you receive from your computer screen. This helps you avoid eye strain or headaches.
Visual Motivation
You may experience feeling burned out at work, especially when you're at home where your bed is just within your reach. That's why it would also be a great idea to have visual motivations in your home office. Personalizing your setup and designing it to your own preference will provide you with a comfortable experience every time you need to work.
Having a Comfortable Work Environment at Home
The remote work setup is relatively new to a lot of people. That's why we're all still trying to figure out how to maximize it.
While setting up an office at home means it's really for work, there's no reason not to make it more comfortable. Invest in quality equipment and design it any way you want to. After all, it is your home office.