A well-maintained green lawn is a great garden feature of any property.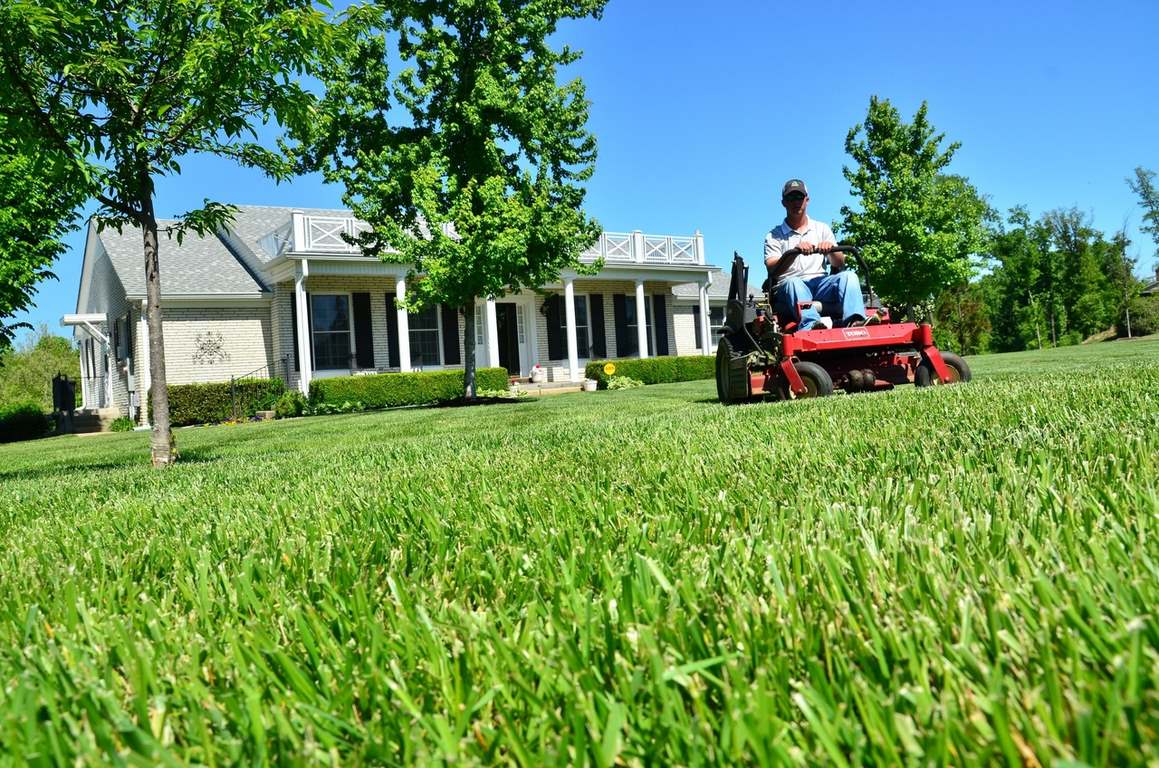 It makes an outdoor space more appealing and inviting and creates a close-to-nature atmosphere that all homeowners strive for.
But having a beautiful healthy lawn means you need to look after it like a professional. In this article, you will learn how to care for your lawn like a pro.
Why is Garden Care So Important
If you have a thriving garden, you already know how much work you need to put into it. It's not only planting and watering. You have to think about landscaping, trimming, pruning, lawn mowing, edging, enriching the soil, mulching, weed control, pest control, potential diseases, keeping up the right watering schedule, and the list goes on and on.
It is not easy to keep up a nice garden. But with enough dedication, you can build the garden of your dreams that will increase your property's value and provide you with a safe private space to relax or have fun with your family and friends.
Just like any gardening maintenance task, it is essential to pay attention to lawn care. There is the aesthetic side of it, that is all about how your grassy area looks. But there is also the fact that like other greens, grass needs special attention to grow healthy, lush, and weed-free.
How to Take Care of Your Garden Like a Professional
Cut Grass Once a Week
Step one is to mow your lawn regularly to foster lush, green growth and block weeds. It is best to cut the grass once a week during the hot summer months and once every two weeks through the rest of the year. No need to trim the lawn if the winter is cold, you can wait until it gets warmer in spring.
Make sure the blades of your mower are sharp and well maintained. It is good to raise the cutting height of your mower a bit in summer, as it will make the lawn less prone to drying out and decolorization. Another useful lawn care tip is to change the mowing direction with every session so that the grass doesn't lean to one side.
---
Read Also:
---
Clean the Grass Weekly
Leaves and other loose garden debris are blocking the sunlight from reaching the grass, so you should clean up and rake occasionally.
Remove pet waste and collect any scattered pieces of trash, large stones, pebbles, and branches and dispose of them safely. Next, rake or blow leaves into a pile, then bag them and use them as mulch in your garden.
Cleaning your grass is essential to keeping its neat appearance and avoiding injury during mowing or while spending time in your green area. For that reason, it is imperative that you clean up every time before mowing the lawn.
Water the Grass Every Other Day
To grow healthily, your garden grass needs to stay hydrated. With that in mind, make sure your young lawn gets enough water, but be careful not to overwater.
Otherwise, this could lead to shallow root systems and poor lawn health. For established lawns, the rule of thumb states it is safe to water them every other day. When watering your green area, use rainwater or gray water when possible.
Grass that is green is considered healthy while grass that is yellow or brown is unhealthy. Discolored grass may indicate inadequate nutrition and a wrong watering schedule. Brown grass can be caused by too little water, and yellow grass by too much.
Relieve Compacted Grass
Compacted soil prevents grass from thriving. A compacted lawn can cause bare patches in the summer and mud baths in the winter. To avoid that from happening, you need to aerate the soil.
Use a garden fork and push it about 10cm (4in) deep and gently rock back and forth on the fork handle to relieve the compaction. By opening up the soil, the prongs encourage grass to regrow and allow the roots to breathe.
Use Weeding & Pruning Services
Invasive weeds should be removed from the lawn promptly, and grass seeds should be spread into bare patches to encourage new growth. Overall, this task is extremely time-consuming and requires having the right weeding tools for the job and the knowledge of how to properly enforce weed control.
That is the reason so many homeowners actually prefer to use professional gardening services instead. By entrusting skilled pro gardeners with the wedding, your lawn and garden beds would always be in their best condition. What's more, you won't have to deal with unwanted plants as often nor invest in tools and equipment.
The same is valid for pruning, another essential part of lawn and garden maintenance. There are specific techniques and seasonal approaches you need to know to properly prune the different types of greenery in your garden. Plus, you need even more tools. So why not entrust professionals? You will save time and energy and enjoy a wonderful backyard!
Trim Hedges
Trimming the hedges around your lawn is key to a presentable outdoor space. It is a great way to take care of your garden and make your grass look even more aesthetically pleasing.
Hedge trimming is mainly a decorative procedure, but it also encourages healthy hedge growth. And just like with pruning and weeding, if you don't have the time, skills, or tools to do it, you can take advantage of hedge trimming services.
In conclusion, if you want to have a beautiful lawn you need to dedicate a lot of your free time and energy to its proper maintenance. Or you can hire Professional Gardening Services to take on all the gardening and lawn care tasks for you and make your garden dreams come true!