Inadequate outdoor space and rainy weather can tighten the laundry clothes within a small space.
Most of them will scramble for space with ad-hoc drying racks, stools, coat stands, chairs, turning tables, and within your home. It is required to have some spiffy and smart solutions for drying clothes without spoiling the home appearance.
You can find retractable drying systems, ceiling-mounted pulleys, invisible drawer dryers, wall-mounted clothes drying rack, and many more.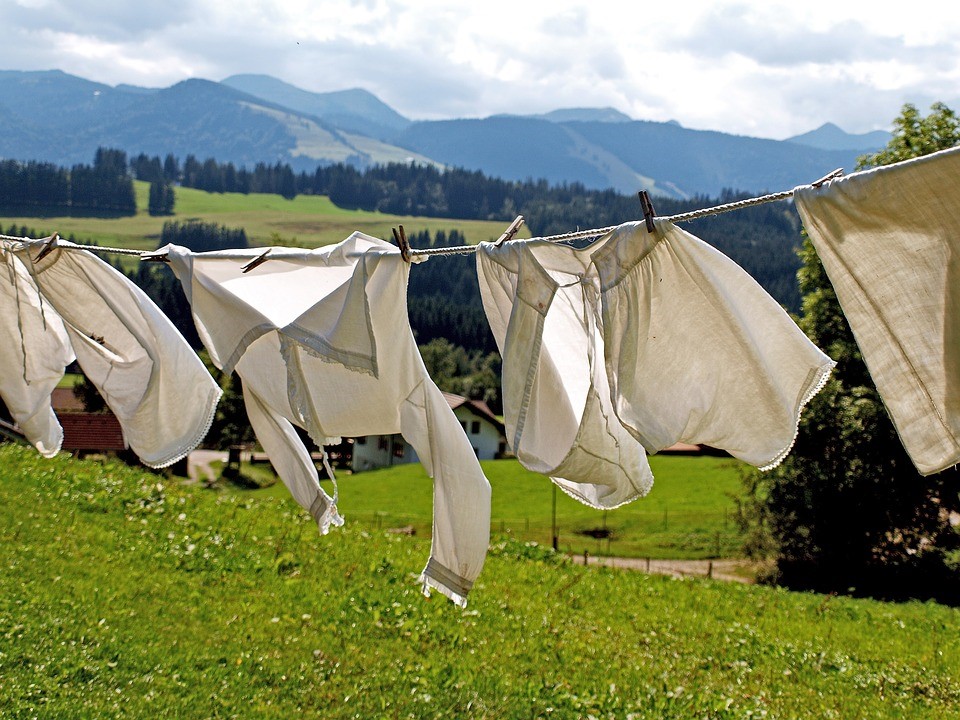 Find below the list of some best methods to dry clothes without compromising the space or style:
Purchasing a Tumble Dryer
Make use of a Tumble dryer and never worry about for creation of a manually airing or drying system for clothes. Press a button to dry your clothes toasty, warm, and soft using a heat controlled setting.
If a washing machine is already available then consider purchasing an in-built dryer machine as well. This way will never allow any extra space for utilizing another appliance.
Pull-out Vertical Racks Creation
If you have a tall niche then you can dry your clothes easily using the pull-out vertical drying racks system. This system has a rail mechanism to slide your dry-out racks and restore after use.
Utilize the best carpenter to create a trusty board to offer long-lasting life.
Creating a Retractable Accordion Drying Rack
The Retractable Accordion laundry drying system is ideal for small homes with the equal finesse of appearing & disappearing.
Create a full-fledged clothes drying system by pulling out the wall-mounted retractable accordion drying racks to spread out. You can place it near the dining area, in the kitchen, or above the washing machine and fold it after use.
Choosing the Ceiling-mounted Pulley Drying Rack
Make use of the drawstring to reel up & down the pulley drying rack. You can hang it above the washing machine for drying the completed machine load seamless, easy, and swift.
Ceiling-mounted systems are available in numerous both in-home convenience stores and also an online marketplace. It is much easier to choose the best design to suit your requirements.
Selecting the Hang Laundry Rods
Your kitchen should have steel rods and a perfect solution to dry your clothes using the hangers. Choose the sturdy drying rods, which is capable of holding the entire laundry weight.
Select the solid wood swish hangers that offer design statement and full display of your clothes. Ensure that the wood must be painted using the protective polyurethane coating like Touchwood.
Installing the Invisible Drawer Dryers
This elusive drying system will offer a beauty feature that it is completely invisible if not in use. Your clothes can be hanged overnight with each front drawer that is located behind the drying bars.
It will make dry and fresh by morning without any evidence to prove it. If you have kitchen drawers then contact a carpenter to make them a drying rack.
Choosing the Wall Mounted Clothes Drying Rack
The wall-mounted clothes drying rack are simple to unfold for drying clothes and fold it back if not in use. It is an excellent option for hosting multiple bars, dining areas, bedrooms, hallway, or kitchen.
The wall-mounted clothes drying racks can simultaneously dry numerous clothes on the racks.
The surrounding decor is not interfered with and folded back conveniently to offer the state of near-invisibility.
Choose your custom-made design to showcase your decor scheme and existing room's palette.
Staircase
The Staircase is another practical and suitable place for indoor to dry clothes. In Chawl type or small houses, the usable space of a few cubic meters is suitable to dry your clothes. Make use of your staircase railing to drying clothes.
Expandable Clothes Drying Rack
For drying your clothes, most of them will prefer to expand the available horizons. If so, then make use of the available Expandable drying clothes rack.
The adjustable drying clothes rack can fulfil your requirements irrespective of its size, load, or space. The adjustable racks will discreet storage and folds-up neatly.
Ceiling Clothes Drying Rack
Ceiling Clothes drying racks are more popular across the flats or apartments. Within a small space, make use of your balcony to utilize this drying rack. It will work with the help of a pulley system and can hang easily from the ceiling.
This system will assist to pull down the rack for hanging your clothes and then pull it back. It is similar to a window blind. They are the ideal indoor solution to dry your clothes even within a small space.
Foldable Clothes Drying Stand
Foldable drying stands are most useful and offer a better place to dry your clothes in a small space or house. It is not required to worry about aesthetics; they are much easier to fold. This rack is created using the stainless steel material for rust-proof and never stains your drying clothes.