When choosing a retractable awning for your home or business, it is important to consider several factors in order to ensure you are selecting a high-quality product.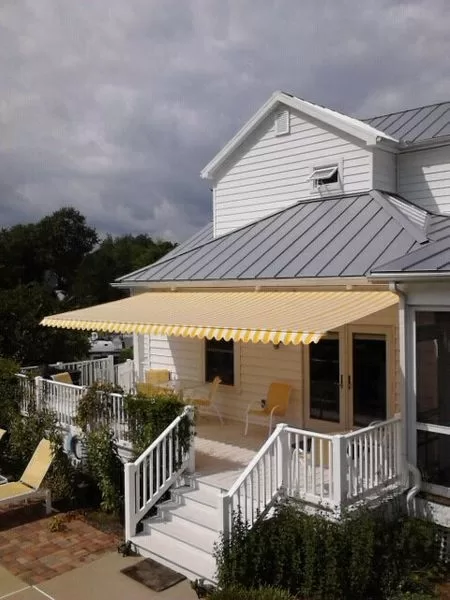 This guide will provide you with information on what to look for when choosing a retractable awning, so that you can make an informed decision.
Consider the Size of The Awning You Need to Cover the Desired Area
Choosing the right size retractable awning is essential when it comes to providing adequate protection from the elements. A retractable awning can provide up to 11 meters of shading, allowing plenty of space for seating or patio areas. However, when selecting an awning, you must ensure that the peak projection and width are exactly what you need to cover your desired area for optimal use.
You should furthermore take into account whether the installation requires posts or wall brackets so that you know exactly the type of support structure you need for the correct installation. Additionally, experts recommend that when choosing an awning, measure out with tape, rope, or material the area you wish to have covered so that estimates can be made as accurately as possible.
Determine What Type of Frame Materials Will Be Best Suited for Your Needs
Choosing the right frame material for awnings is essential in protecting structural integrity, energy efficiency, and a pleasing aesthetic. Durability and tolerance to a variety of elements should be a primary factor; aluminum is a popular choice due to its flexibility and longevity.
Steel is another strong option that tends to be more affordable, yet rust-resistant coatings may be necessary for some environments. For a lighter-weight alternative, composite materials can provide similar protection without the extra burden on the awning supports.
Ultimately, selecting a frame material will depend on function, budget, and desired style assessing these requirements will help you determine what is best suited for your needs.
Choose Between Manual or Motorised Operation, Depending on Your Preference and Budget
When deciding on a retractable awning for your outdoor area, you can choose between manual or motorized operation depending on your preference and budget. Manual awnings usually require a cranking mechanism to extend or retract the awning, whereas a motorized awning runs on a powerful electric motor with a simple switch operation.
Both options offer great features such as easy setup, durability, and protection from water, wind, and sun; while the choice between manual and motorized will depend on what features you value the most.
Motorized awnings tend to cost more but typically come with additional features that give you further control over your awning than what's available in manual models. Take your time to find which option best suits your needs, budget, and lifestyle for a pleasant experience of hassle-free shading.
How to Choose the Correct Company to Install Your Retractable Awnings
When it comes to a home improvement project, such as the installation of a retractable awning, selecting the right company is a crucial decision that should be made with careful consideration. A reputable company will be able to provide a quality product and a reliable installation.
It is a good idea to research a few contractors for comparison as some may specialize in particular types of awnings and others may offer a wide selection of products. Be sure to consider factors such as price, experience, customer service, and guarantees when making your choice.
Check that the contractor is insured and has positive recommendations from past customers. Taking these steps will help you choose a reputable company for your retractable awning installation so you can rest assured that the work will be done correctly and efficiently.
Ask About Warranty Coverage and Service Options Before Making Your Purchase
Making a large purchase like a new awning can have a significant impact on your budget, so it's recommended to ask the seller about warranty coverage and service options before committing. Knowing in advance that you have a solid guarantee of service should something go wrong can give you peace of mind when making a purchase.
Your warranty might cover certain parts or labor costs associated with future repairs, depending on the terms of the provider. Ask to see a copy of the warranty policy and make sure that it outlines exactly what is covered and how long coverage lasts in case you need to file a claim in the future. Being prepared for any eventuality will help ensure a smooth shopping experience and ensure your awning is kept safe and functional for a long time.
Conclusion
By using these tips and considering the factors outlined in this article, you can be certain that your new retractable awning will provide the protection and style you are looking for to enhance your outdoor space.
If you remember to weigh the cost, durability, and ease of use when selecting both frame materials and type of operation, you'll make sure that your purchase provides years of dependable service. Above all else, don't underestimate the importance of finding a reputable company to properly install your awning for maximum performance.
So before making your final choice, it is always best to consult with professionals in order to get the most out of your investment it could make all the difference between an enjoyable outdoor area and one that needs frequent repair or replacement. Thanks for reading!