Lab-grown diamonds have been around since the late 2000s. However, they are gaining popularity due to their numerous benefits over mined stones, such as being less expensive with no sacrifice on quality or aesthetic appeal.
This guide will discuss all facets of lab-grown diamonds, what they are, how they compare to traditionally mined diamonds, their ethical implications, and more. Read on as this piece investigates every aspect of lab-grown diamonds to help buyers decide whether these unique gems suit their needs.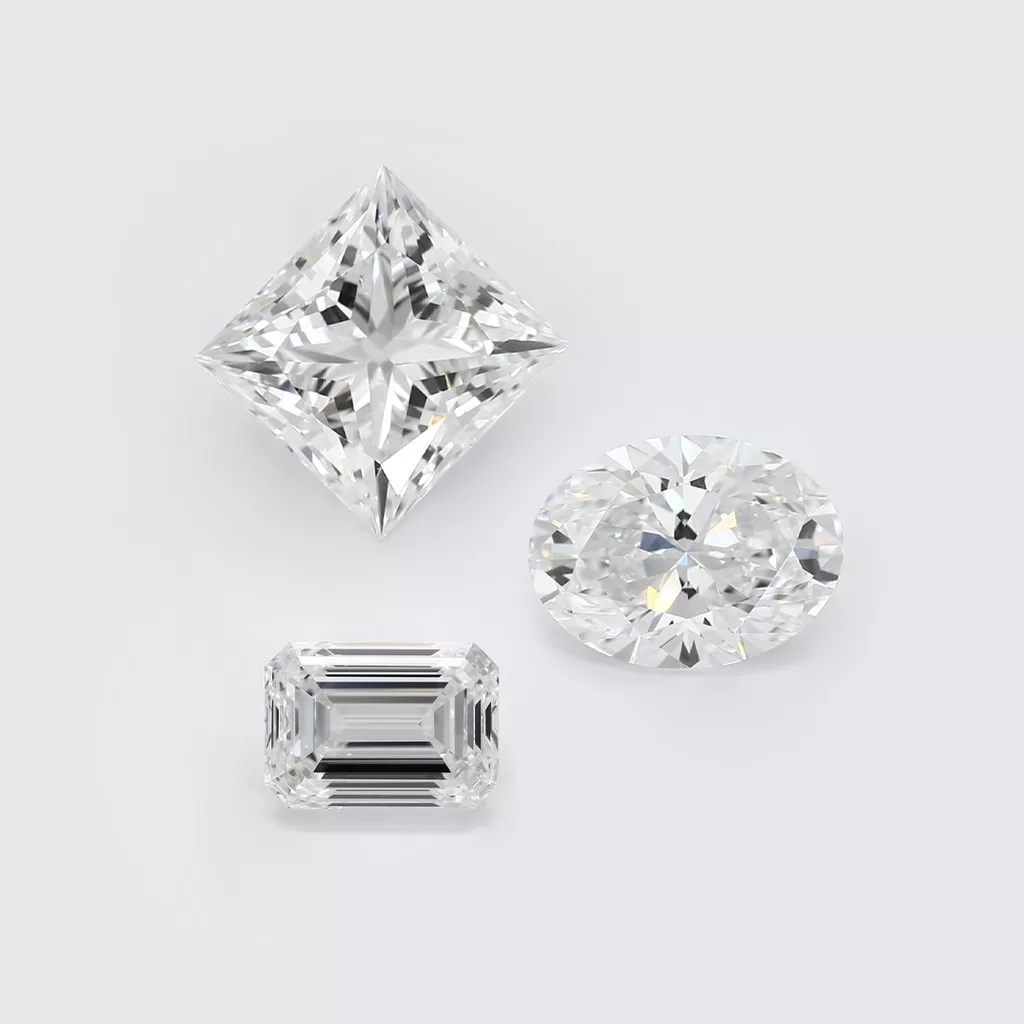 What are Lab-Grown Diamonds?
These are diamonds grown in a lab. As opposed to mined diamonds, lab-grown diamonds have the same internal structure, physical properties, and optical characteristics as diamonds found in nature. They are produced when the elements of heat and pressure used for creating diamonds are simulated in the laboratory.
Beyond being created efficiently and with significantly less environmental impact than its natural counterpart, modern technology makes it increasingly challenging to tell lab diamonds from those mined from the earth.
These eco-friendly diamonds have become increasingly popular amongst shoppers on a budget or those looking to make a more conscious fashion choice.
How are Lab-Grown Diamonds Made?
Through advanced diamond synthesis techniques, scientists can recreate the conditions that lead to diamond formation in nature. Lab-grown diamonds are made using one of two methods: high pressure, high temperature (HPHT), or chemical vapor deposition (CVD). HPHT involves subjecting a diamond seed to high pressures and temperatures to encourage growth.
CVD uses a plasma torch to deposit carbon onto a diamond seed, which grows into a full diamond. The carbon can be treated alongside further chemical or elemental additives within the conversion chamber to control their design and quality specifications further.
Additionally, lab-grown diamonds form faster than those mined from the ground, presenting a more affordable option that is physically and chemically identical to mined gems.
Are Lab-Grown Diamonds Real, and are They Less Valuable than Mined Diamonds?
Lab-grown diamonds are steadily rising in popularity in the precious gemstone community, as they allow for more ethical mining practices and can sometimes be more affordable than traditionally mined diamonds. While lab-grown diamonds are real, many connoisseurs of precious gems consider them less valuable than mined diamonds because they are not 100% natural.
However, while the flawless brilliance of a natural diamond is stunning, many experts in the jewelry industry believe that a lab-created diamond can still provide an incredible sparkle and shine. Choosing between a mined versus a lab-grown diamond is a matter of personal preference and budgeting. Both choices have plenty of advantages.
What are the Benefits of Buying a Lab-Grown Diamond?
Lab-grown diamonds offer a unique and responsible alternative to natural diamonds. These stones are made with the same structure as mined diamonds and have identical optical, chemical, and physical properties; only their origin differs.
Their production is much more sustainable for the environment than traditionally mined diamonds, and they can often be offered at more accessible prices due to a reduced cost of production.
Moreover, lab-grown diamonds provide a wide range of options on size, cut, shape, color, and clarity that aren't always available with natural stones. Those looking for conflict-free stones are sure to find it when purchasing lab-grown diamonds, as it takes out much of the labor exploitation that has become synonymous with some diamond mining.
How To Care for Lab-Grown Diamonds?
Caring for a lab-grown diamond is surprisingly easy. An individual can keep a lab-grown diamond looking sparkly and brilliant with a few simple steps.
Cleaning and inspecting the stone regularly is essential. Use only mild soap or detergent to wash the diamond, then use a soft cloth or brush to dry it.
Be sure to store it in a compartment lined with velvet or another soft fabric. That way, other jewelry won't scratch the diamonds when stored in a box together.
Take the gemstone to a professional jeweler for regular checkups and maintenance; this will help ensure that the precious stone remains pure and sparkly for years.
What Should People Look for When Buying a Lab-Grown Diamond?
When buying a lab-grown diamond, there are several key points to consider.
The size. Larger diamonds tend to come with a greater expense. People should also look at the carat weight and color of the diamond, as these factors will determine its overall value.
Buyers should check that the diamond is certified by a reputable organization, confirming that it meets industry standards for clarity and other aspects.
Before purchasing, shoppers should carefully read warranty or money-back guarantee policies to protect them if something goes wrong.
By considering all these factors when selecting a lab-grown diamond, consumers can ensure that they make an informed and rewarding decision.
Are Lab-Grown Diamonds More Environmentally Friendly than Mined Diamonds?
On the surface, lab-grown diamonds have many advantages in terms of environmental friendliness compared to mined diamonds. They require almost no force or energy to be extracted and don't risk negatively impacting the environment as their mined counterparts do.
However, when examining the environmental impact of any product, a closer look at all of its components needs to be taken into consideration. While lab-grown diamonds may not need as much energy and force during extraction, they still rely heavily on energy and materials in production, which can cause unintended consequences that must be weighed carefully before deciding.
There is also a lingering debate over whether lab-grown diamonds are indeed as ethical as they are claimed to be by their proponents due to their complex supply chain and their relationship with large-scale diamond mining companies. With these factors in mind, it's clear there is no one-fit answer for everyone when considering if lab-grown diamonds are more environmentally friendly than real ones.
Lab-grown diamonds are quickly becoming the go-to choice as they offer many benefits, like better price points, fewer environmental concerns, and a more extensive selection of options than mined diamonds.
While they may not be the traditional route, lab-grown diamonds are increasingly popular amongst couples who want a beautiful, eco-conscious option that will outlast even the most rigorous of adventures. With an abundance of color and cut choices along with reasonably priced options, it's worth considering these sparkling gems sooner rather than later.