Even Neighborhoods Are Losing Safety Now, Everybody knows Chicago is a hotbed of gang activity, which leads to homicides and property damage that is almost like a war zone in some "neighborhoods".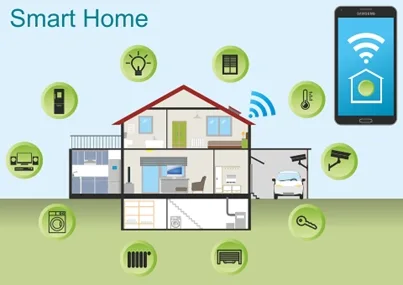 But for the most part, suburban subdivisions have avoided that violence. Well, then 2020 came, and now even neighborhoods outside Chicago proper are seeing a violent crime surge.
"Chi-town", as the metropolis is called, is not alone. Across the country, as the economy and political realities combine to create unrest, once safe neighborhoods are increasingly dangerous. You need to find a way of protecting your home. In fact, if you want to do so in multiple ways for the best results, we'll explore five strategies here.
1. Utilize IoT for Surveillance of Property
The Internet of Things, or IoT, can be used for visual surveillance. You can install cameras that activate based on motion, sending short recordings right to your phone. Often, it'll just be a raccoon or a bird that trips the sensor, but every now and again you'll catch a thief.
Some of this IoT includes speakers you can use to spook a thief. The camera activates, and you just say into your phone: "Hey! I see you and I'm coming, you stinker! Get out of here!". If you were trying to jimmy the lock on a home's door and the wall yelled at you like that, you would split. Most thieves will immediately run away.
2. Erect a Fence Around Your Home
A fence will keep unwanted people and animals from your house. Of course, it won't keep everybody out, but you're a lot less likely to see someone try if they can't see what's behind the fence.
Not only is it a barrier against the rest of the neighborhood, fences hide what's going on within your property. Thieves don't know if there's anyone at home or not.
---
Read Also:
---
3. Install an Alarm System
Like IoT surveillance, an alarm system makes a lot of sense for safeguarding your home. It's actually best to combine surveillance with an alarm option. Follow this link for some tips on DIY installation from Alarm Grid, a producer of top-tier alarm systems.
These are superior to just surveillance, as authorities can be contacted immediately. Also, going the DIY route keeps any information that could be used to deactivate the system from getting in the hands of under-handed security "experts".
This is a real danger; some who sell alarm systems are themselves, thieves. DIY helps cut them out of the loop. Because Alarm Grid understands that, they make it straightforward to install their options yourself.
4. Find Trusted Neighbors
Neighbors you can trust who are near your home help you keep watch. The big caveat here is, that you have to find neighbors that won't go inside. Some neighbors would use the information that, say, you and your wife went on a vacation as an excuse to intrude.

In an older neighborhood where crime has been historically low, you likely know Mrs. Grundy down the street can be trusted, but Mrs. Cavendish is a busybody. Well, you'd let Mrs. Grundy know you were headed out, and leave Cavendish to her gossip. You get the idea. As with other entries on this list, it's best to have multiple protections rather than only this strategy.
5. Fortify Doors
You might want to add some new locking mechanisms to varying doors on your premises. The same can be said of windows that might be forced. This way, even if other means of discouraging thieves prove less than effective, at least you will make it harder for them to get in.
Making Your Home More Safe
Fortified doors, trustworthy neighbors, DIY alarm systems, installing a new fence, and IoT surveillance represent several prime ways you can keep your property safe from criminals.
Hopefully, you don't need any of these security measures, but it's better to be prepared than to find yourself in a sticky situation without any real options.