People across the world have been fishing for thousands of years, not just to provide food for their families but also to get out into nature and relax.
Fishermen of all ages and skill levels enjoy learning new techniques, testing different strategies for catching specific species, and sharing stories among themselves. However, it takes some work to plan the perfect fishing trip.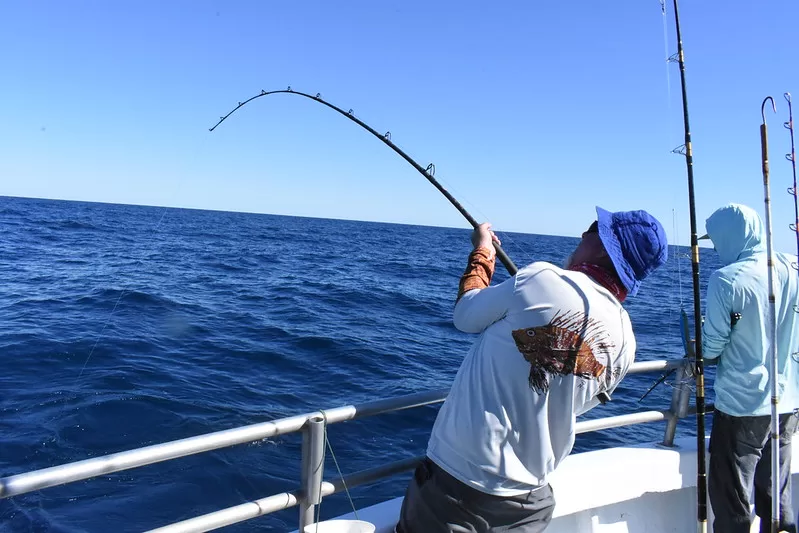 Check the Weather
Anyone planning on going fishing in Milwaukee needs to pay attention not just to the season but also to the weather forecast. This is particularly true when fishing on Lake Michigan. While there are plenty of fishing charters available, responsible captains will only take people out on the water when the conditions are safe.
Try not to be too disappointed if the weather turns south right before a fishing trip. When the weather forecast calls for rough winds, it doesn't matter how individual fishermen feel about whether the conditions are safe. The fish are smarter than some people, so they'll be in hiding to wait out the storm, anyway.
Of course, knowing what to expect in terms of weather isn't just about deciding if it's safe to head out on the lake. People also need to be prepared for different weather conditions. If the temperatures are going to drop around sunset, bring a jacket.
On warm, sunny days, don't forget to bring sunscreen. These things may sound obvious to some, but people who have never been out on a fishing charter forget that they won't be able to head to the local store if they forget something. Planning is the key to having an enjoyable day.
Know the Ecosystem
Deep sea fishing is a very different process from fly fishing, which is equally distinct from lake fishing on a boat. Just knowing whether they'll be fishing for freshwater or saltwater species and how close to the shore they'll be isn't enough for experienced fishermen. Try to learn about the specific ecosystem, including what fish live there and which of them are the most prized catches.
Keep in mind that local ecosystems change throughout the year. Some species of fish are only active in the early spring, for example, while others are easy to find year-round. Catching rare fish requires an even clearer knowledge of where to find them during different seasons, weather conditions, and times of the day.
Fishermen who aren't local to the area and have limited time for their tours should always enlist the help of an experienced guide. Charter fishing is by far the best way to maximize the chances of a good catch when fishing on inland lakes or the ocean. The captains and crews know exactly where to go and how to help newcomers to the area have a good time.
Get the Right Gear
Learning about the local ecosystem and determining which fish are most abundant there makes it easier to figure out what gear to bring. When fishing in new environments, it's often necessary to purchase new gear, so get organized early.
These days, serious fishermen bring along more than just lines, reels, and bait. Technological equipment like fish finders can be incredibly helpful, as can GPS systems. Humminbird Helix 7 reviews is one of the best fish finders on the market as noted in many positive reviews from satisfied customers
When vacationers book fishing charters, they don't have to worry about buying gear or trying to figure out which rods, hooks, lines, and bait will work best to catch the species they're targeting. They'll be provided with all of the right gear and told how to use it by an experienced professional, saving them both money and time.
Gearing up isn't just about finding the right poles. Fishermen heading out on chartered tours also need to be dressed comfortably and appropriately for the weather, and they'll have to bring along everything they could want for the day.
Everyone heading out on the boat should bring extra layers of clothing both because of the possibility of getting wet, which can be unpleasant on a cold day, and to deal with temperature changes.
Plan to Go Early and Stay Late
Fish in most areas are active primarily in the early morning and late evening. Some people plan shorter fishing trips to cover just those hours, but most opt for planning full days out on the water to enjoy their time out in nature to the fullest.
Just be sure to bring along a picnic lunch, some snacks, and plenty of water in addition to layers of clothing. Nobody will have fun if anyone on board gets hungry and cranky.
Invite the Right Friends
Not everybody is a born fisherman, so choosing the right people to bring along on a fishing trip is quite important. Fathers taking their sons and daughters out for the first time are typically pretty patient, but fishing tours with friends are different.
Trip planners should make their plans clear to everyone so that only people who are keen on spending all day on the boat will head out on the water. That way, people who don't like fishing can find other activities in the area.
If the primary purpose of the tour is to fish, there's little point in inviting a bunch of vegetarians who are scared of the water. However, plenty of families and groups of friends plan vacations together where fishing enthusiasts spend time on the water while others stay on land, then meet up in between to enjoy shared activities.
It's Not Just About Catching Fish
For competitive fishermen, the primary purpose to head out on the water is, of course, to catch fish. However, that doesn't mean a trip is a failure if nobody gets a prize catch. Chartering a boat with an experienced captain that knows the areas most likely to produce a good haul is a great way to increase the chances of catching lots of fish. 
Even if nobody catches a thing, though, inviting the right people and being adequately prepared can ensure that everyone enjoys themselves. Plus, if nobody gets a good catch, that's a great excuse to start planning another fishing tour.