Converting an attic into a living space is a great method of adding another room to the house, but it is not a job for the average DIY person.
Technical issues such as locating a safe staircase, and the distribution of additional joists required to accommodate the new load-bearing and stress factors.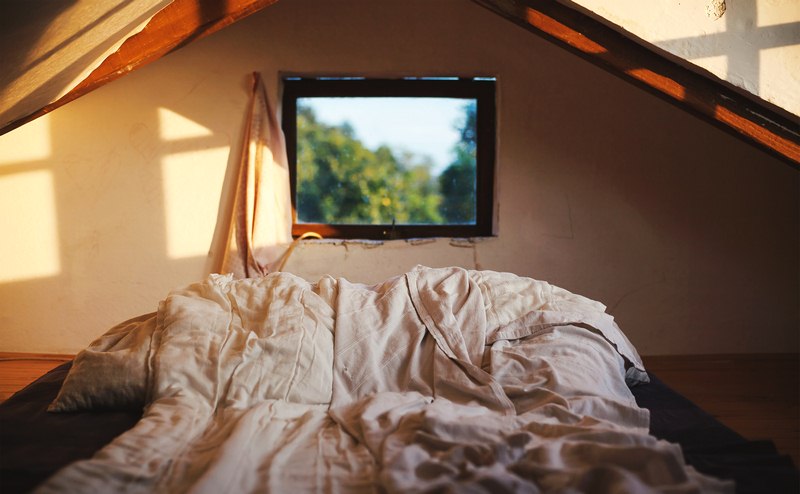 Guidelines to Converting Attic to Living Space: Cost & Building Requirements
If you require an extra room and don't want to move house, one answer is to convert attic space to living space. However, this is not a project for the average DIY person as there are many specifications to be met.
It is better to have a contractor carry out the work. However, learn the costs, building requirements, and more about the conversion before you make the decision for a contractor.
---
Read Also:
---
Introduction
Most houses have an attic suitable for conversion; however, there are a number of factors to be considered when contemplating converting an attic into a living space.
This is really a job for a contractor with attic experience as all sorts of problems can occur during the planning and building stages due to the complex nature of trimming back roof trusses and the addition of extra ones to bear the new loads.
The scope of the Work Involved in an Attic Conversion
No matter what the purposes of converting the attic to a living space, they will probably be less than the cost of moving to a bigger house for extra room. The popular uses of a converted attic are listed below:
A home office or study
A hobby room
A spare bedroom room for visitors
A permanently used bedroom
Once you decide what the extra room is to be used for, make sure you get at least three quotes for the whole job which should include the following items:
Drawing up of plans and submission to the local authority Buildings Control Department.
Detailed drawings of structural members along with calculations of load-bearing components such as roof trusses and joists.
Design of an approved stairway to give access to a converted attic space.
Fireproofing, fire escape, insulation, and air venting requirements.
Details of electrical wiring and certification of same.
Details central heating connections and also water and drainage if to be included.
Double-paned windows with various opening designs and blinds. (These are restricted due to fire escape regulations.)
Wood and wall finishes, painted or varnished wood, emulsion or papered walls, or just finished in plain wood and sheetrock/plasterboard with no decorating.
Precautions against damp, water ingress, or water leakage due to the conversion.
This is an overview to provide an idea of the scope of work involved in the project, but it covers most of the factors to look for in an estimate. However, I have added a few websites which give good advice on attic conversions, and these should also be consulted if in any doubt.
Reference:
hotfrog – USA building Regulations
aboveitall – loft conversions
Sketch of Converting an Attic Space to a Living Space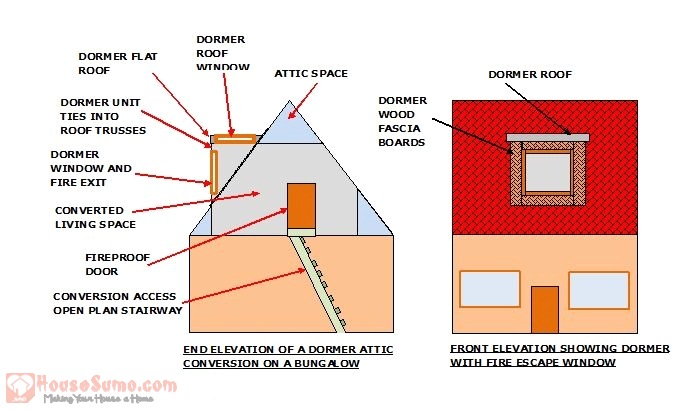 Main Materials Required and Approximate Costs
This will be designed by the architect, supplied by a stair company, and fitted by the contractor and can cost up to $3500 (£2000).
Double-paned units must meet fire escape regulations, and a 6′ x 3′ top-hung roof fire escape window will cost around $900 (£600).
These come ready-made to suit your conversion starting at 6' wide and the most expensive component at $7500 (£5000). It is mostly cosmetic, giving a little more space to the room, so consider if it is needed.
One or two required depending on room size costs around $450 (£300).
It Will Cost $1500 (£1000)
½ hour fire inspection will cost around $450 (£200)
If required this will cost about $2250 (£1500)
Wiring and sockets will cost around $350 (£200)
A regulation requirement will cost around $750 (£500)
Wood, plasterboard, structural trusses, etc, sand/cement, estimated cost $2250 (£1500)
Website estimates for a complete attic conversion vary between $24,000 and $36,000 (£16,000 and £21,000) depending on size and specification.
Reference:
aboveitall – prices of main components and full conversion costs
Summary
Converting an attic into a living space is one method of gaining an extra room without moving. The room can be used for a few purposes such as a home office, a study, or a bedroom.
Because of the complexity and safety of the load-bearing supporting structure, it is recommended that the work is carried out by a contractor with experience who will ensure current building regulations are met.
Planning permission for an attic conversion to a living space must be approved by the Building Codes for your area.
The cost of an attic conversion ranges between $24,000 and $36,000 (£16,000 and £21,000), which considering the value added to the home along with money saved from selling the house for more a larger one, it will probably be a sound investment.