Without a doubt, you will find a lot of scarves, shoes, jackets, and other types of clothing to leave somewhere in the home entrance area.
The more things you possess, the higher the risks to transform a cozy location into a garbage zone. To avoid this effect, modern coat stands are glorious ways out.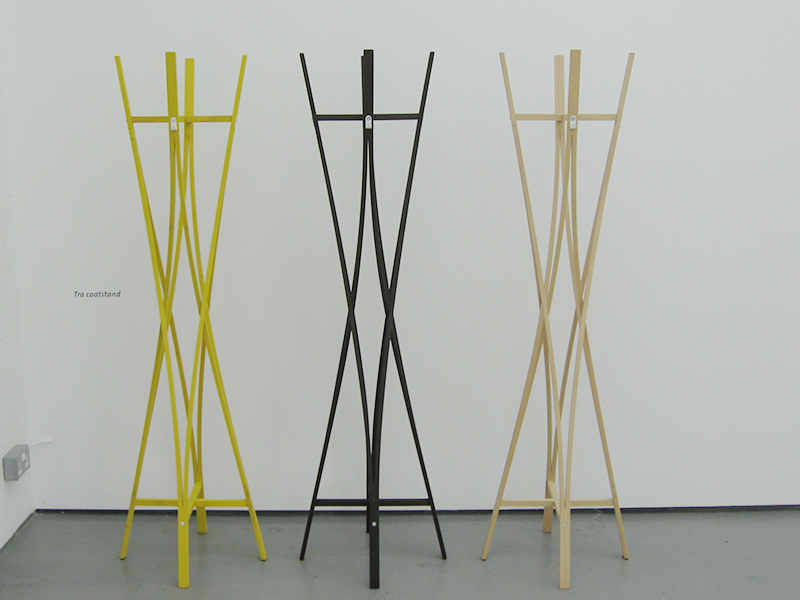 Stay tuned to get to know what styles will benefit your fashion sense and impress with their efficiency at the same time. Onwards!
Wall-Mounted Racks
With the help of modern coat stands, the fashionable vibe of your interior design will be only enhanced. You don't have to look for traditional solutions — high-end solutions are no less functional. Yet, they differentiate with their appealing attraction.
When it comes to sleek designs of coat and hat storage locations, hanging wall-mounted racks is a gorgeous decision. Unlike cumbersome cabinets, a set of unique and stylish hooks will be a more brilliant choice.
Such furniture pieces are distinguished by their compatibility, so there would be no difficulties in matching them with numerous interior styles. Here are some exclusive options to consider.
If you are interested in remakes of never-dying classics, Welcome Hooks and Shelf Set by Jose Maria Reina are lifesaving. This deal is exclusively designed for Nomon, a famous Spanish brand of indoor clocks.
Tonin Casa is the author of pretty eye-catching wooden hooks that resemble clocks and flat door handles simultaneously. You can find this creation under the title of Tweens Coat Hanger. Here is a little spoiler: the kit consists of eight separate pieces with a luxurious Canaletto Walnut finish.
Three-Legged Coat Stands
Three-lag designs are far from award-winning, but you can hardly go wrong with any option of this kind in terms of the presented functionality.
Apart from storage capacity for hanging things like bags, coats, and so on, extra points are given by its free room for keeping items on the floor in the triangle area.
They are pretty minimalistic and can be located near the door or in the corner:
Who says symmetrical solutions are the only possible winner? Don't hesitate to consider the functional design within the Tonin Casa deals — Wood Coat Rack.
Flamingo Coat Rack is a great chance to personalize the layout's visual aesthetics in the most appropriate way. Designed by Gino Carollo, its finish options vary from ash wood to pore matte lacquer.
Decors
One of the special types of modern design stands is distinguished with non-typical shapes and colors. It is better to take a closer look at them than to describe their fashionable glory:
Spiga Coat Rach by Angelo Tomaiuolo for Tonin Casa;
Alta Tensione Coat Hanger by Enzo Berti for Kartell;
Kadou Coat Rack by Ryosuke Fukusada for Bonaldo.
Unexpected Styles
What can be less predictable than changing the concept of coat tacks and stands completely? If you are opting for function and have enough space to tidy your room in a unique way, the following discoveries will be your cup of tea:
If you are a fan of glass and mirror surfaces, Shoji Mobile Wardrobe is the right choice. You can place an order for its fixed version or one on castors. It is introduced to the catalog of several furniture retailers by Tonelli. The design authorship belongs to Lorenzo De Bartolomei's.
Yannik Valet Stand by Andrea Lucatello for Cattelan Italia is interesting to monitor from different angles — it is always a unique vibe. The seat element is usually made of wood, but it is possible to switch it to a soft leather option.
Camper Coat Rack can open right or left, depending on your needs. Combined with a mirror, it is an authentic and unusual idea to combine two important home interior elements and increase their efficiency. Manufactured in Italy, this item is created by Tarcisio Colzani for Porada.
Minimalistic Coat Stands
Whether made of wood or metal, these solutions will suit different locations unlike four-legged constructions with in-built shelves or classic hall tree coat racks.
They are totally neat and clean, which is perfect for small spaces. Apart from their huge interior compatibility, such designs will help enthusiasts create smooth visual effects, making a room look more elegant, bigger, and tidier, of course:
Introduced by Michele De Lucchi, Segment Coat Hanger is metal construction that will work for both cozy and high-end environments. Its matte black finish transforms a simple item into a stylish treasure.
If you want to play with structures and colors, Igor Coat Rack is a great option. Designed by David Dolcini, this model is available in different finish covers, including piombo, granata, iron closed pore lacquer, as well as several Canaletto walnut variants.
Wrap It Up
Enthusiasts will be pleasantly surprised with how many stylish and extraordinary coat stands and racks are there in the market.
With the help of such retailers as room service 360°, it won't take a lot of time to find your perfect tool to cope with multiple things at home and tidy up your living space.