Are you tired of constantly dealing with HVAC system breakdowns and costly repairs? If so, it's time to start focusing on regular maintenance.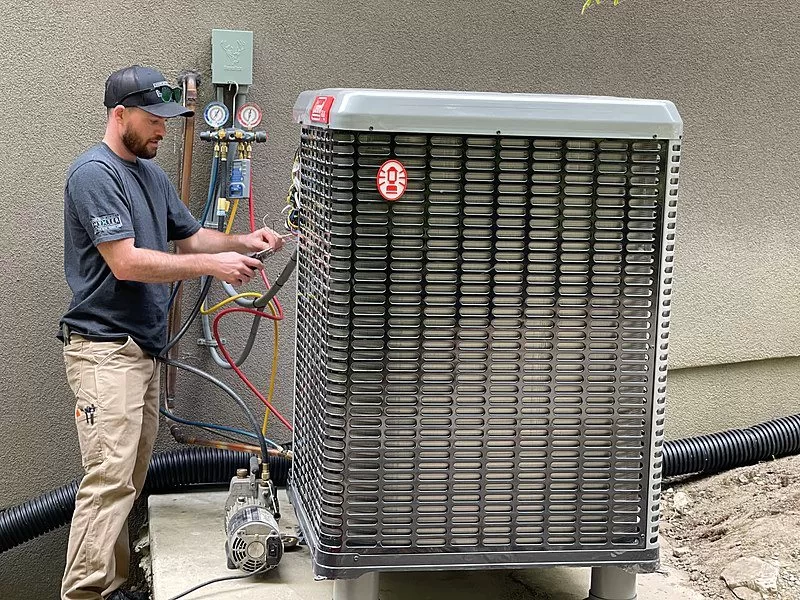 Many homeowners overlook the importance of routine HVAC check-ups, but by doing so they're missing out on a plethora of benefits. From extending the lifespan of your equipment to improving indoor air quality, there are numerous reasons why investing in regular HVAC maintenance is worth it.
In this blog post, we'll explore some of these key advantages and show you how staying on top of your heating and cooling system can save you both money and stress in the long run.
Let's get started!
What is HVAC Maintenance?
Your HVAC system is one of the most important parts of your home, and it's important to keep it running smoothly. That's why regular HVAC maintenance is so important. Not to mention that an HVAC unit costs quite a bit to have installed and if it breaks down, the repairs can also quickly add up!
Some people think that they can save money by skipping HVAC maintenance or that they simply do not need it, but that's not true. In fact, regular maintenance can actually save you money in the long run and is absolutely necessary.
Here's how…
The Benefits of Regular HVAC Maintenance
1. It Prevents Breakdowns
The last thing you want is for your HVAC system to break down in the middle of a heat wave or cold snap. Regular maintenance will help prevent breakdowns by keeping your system clean and lubricated.
2. It Saves Energy
A well-maintained HVAC system runs more efficiently, which means it uses less energy and saves you money on your utility bills.
3. It Extends the Life of Your Equipment
Regular maintenance helps extend the life of your HVAC equipment by keeping it clean and properly tuned up. This means you won't have to replace your system as often, which can save you thousands of dollars over time.
---
Read Also:
---
How Often Should You Have Your HVAC System Serviced?
Your HVAC system is one of the most important pieces of equipment in your home, and it's important to keep it running smoothly. The best way to do this is to have it serviced regularly.
Most experts recommend having your HVAC system serviced at least once a year, but twice a year is even better. This will help ensure that your system is running efficiently and not using more energy than necessary. It will also help prevent costly repairs down the line.
It also depends on how you use your HVAC system. For example, if we're talking about a vacation home that is only used half the year, then the maintenance on it would be less. Likewise, if you live in the home full time and also have pets, then you'll need it serviced more than usual.
Signs that your HVAC System Needs to Be Serviced
If you notice any of the following signs, it's time to call in a professional for HVAC maintenance. These are key indicators that your HVAC system needs to be serviced.
Your energy bills are increasing. This could be due to your HVAC system working harder than usual to maintain a comfortable temperature in your home. Regular servicing can help identify issues that are causing your system to work overtime and make the necessary adjustments.
You hear strange noises coming from your HVAC unit. These could be anything from banging or clicking sounds to squealing or hissing. This is never a good sign. Anytime you hear something out of the ordinary, it's best to have an HVAC technician take a look.
There is reduced airflow from your vents. This could be caused by a number of different issues, such as a dirty air filter or blocked ductwork. Reduced airflow can also make your system work harder, which can lead to increased energy bills and decreased efficiency.
Your home is not as comfortable as it used to be. If you find yourself constantly adjusting the thermostat or are noticing more fluctuations in temperature, it could be time for servicing. Small tweaks during maintenance can often make a big difference in comfort levels.
If you experience any of these with your HVAC unit, you should contact your local HVAC company and have them take a look. Most companies will also offer regular checkups for a discounted rate, which is usually the best option for people. Especially if you live in the home full-time and have pets.
How to Find a Reputable HVAC Contractor
When your HVAC system breaks down, it can be a major inconvenience. Nobody wants to deal with that. Not only will you have to deal with the cost of repairs, but you'll also have to deal with the hassle of finding a reputable contractor to do the work. Fortunately, there are a few things you can do to ensure that you find a reputable HVAC company quickly:
Check out online reviews. One of the best ways to gauge whether or not a contractor is reputable is to read online reviews. Sites like Angie's List and HomeAdvisor provide honest feedback from real customers, so you can get an idea of what others have experienced with a given company.
Get referrals from friends and family. If you know someone who has recently had work done on their HVAC system, ask them for recommendations. They'll be able to tell you firsthand whether or not they were happy with the contractor they used.
Make sure the contractor is licensed and insured. Before hiring any contractor, be sure to verify that they are licensed and insured. This will protect you in case something goes wrong during the course of the project. If it's not listed on their website, give them a call and ask.
Get multiple bids before making a decision. To make sure you're getting the best value for your money, get multiple bids from different contractors before making a final decision. Unfortunately, in our world today, there are many companies that will take advantage of consumers if they know they can get away with it. This will allow you to compare pricing and the services offered so that you can choose the best option for your needs and not be taken advantage of!
Getting Regular HVAC Maintenance
Regular HVAC maintenance is an important part of keeping your system running optimally and ensuring that the air in your home stays clean and healthy. Not only does regular maintenance help you save money on repairs, but it also helps you improve the efficiency of your system, which can result in lower energy bills.
If you want to ensure that your HVAC system remains reliable for years to come, make sure to invest in regular maintenance services from a trusted HVAC professional. If you enjoyed this article, make sure to check out the rest in our blog section on HVAC systems.